Molecular analysis of the prevalence of antibiotic resistance among Enterobacteriaceae in food-producing animals and humans in Southeast Nigeria
This project aimed to characterize the molecular epidemiology of extended-spectrum β-lactamase Enterobacteriaceae in food animals and in-contact humans in Southeast Nigeria.
Challenge
The indiscriminate use of antimicrobial agents in humans and livestock imposes a selective pressure for the emergence of antimicrobial resistance among bacteria. In Nigeria, the production of extended-spectrum β-lactamases (ESBL) has been recognised as a common mechanism of resistance to third-generation cephalosporins among Enterobacteriaceae. Initially, ESBL-producing bacteria were only observed in human medical practice but recent reports from Southeast Nigeria indicate a high prevalence in food-producing animals, which is of significant public health concern. The Enterobacteriaceae family harbours various antibiotic resistance genes, which may include ESBL genes, carbapenemases, and colistin resistance genes. Multi-drug-resistant ESBL-producing Enterobacteriaceae constitute an emerging public health concern, yet there is a paucity of information on the molecular epidemiology of ESBL-producing Enterobacteriaceae isolated from humans and food animals in Southeast Nigeria.
The objectives of the study were:
To determine the prevalence of ESBL-producing Enterobacteriaceae in food animals and in-contact humans in Southeast Nigeria.
To determine the antimicrobial resistance (AMR) pattern of ESBL-producing Enterobacteriaceae isolated from food animals and in-contact humans in Southeast Nigeria.
To describe the AMR genes harboured by multidrug resistant (MDR) ESBL-producing Enterobacteriaceae.
To determine the demographic and spatial distribution of the variants of ESBL genes harboured by Enterobacteriaceae in Southeast Nigeria.
To investigate the distribution of multi-locus sequence types (MLST) harbouring different ESBL resistomes variants in Enterobacteriaceae in Southeast Nigeria.
To evaluate and annotate the similarity in the plasmids harboured by ESBL-producing Enterobacteriaceae.
Solution
Phase One
The first phase of this study was conducted at the University of Nigeria Nsukka from January to August 2018. Four hundred samples (comprising faecal swab samples from food animals and human hand swabs) were collected from the five Southeast States in Nigeria during the harmattan (cold dry season usually between December and February), hot dry (between March and May) and raining season (between June and September) from slaughterhouses (abattoirs)[DJ2] , animal markets and animal farms.
Collection of faecal swabs from food animals (cattle, sheep, goat, pig and poultry) and hand swab samples from individuals who are in close proximity to animals and they comprised of veterinarians, veterinary attendants, farm attendants, farm managers, meat sellers, food animal processors and in-contact individuals. The samples were enriched in cefotaxime (5µg/mL) supplemented peptone broth overnight before culturing on specific media.
Culturing and isolation of Enterobacteriaceae on 5µg/mL of cefotaxime and ceftazidime supplemented MacConkey agar.
Biochemical characterisation using Analytical Profile Index 20E. This is specific for identification of Enterobacteriaceae by chromogenic fermentation of 20 sugars.
Phenotypic detection of ESBL-producing Enterobacteriaceae by Double Disc Synergy Test using Oxoid cefpodoxime kit.
Purification and storing of ESBL positive isolates in nutrient agar slants containing 50% glycerol solution.
Phase Two
The second phase of the study involved a 12-month placement based at RVC and the Animal and Plant Health Agency (APHA). The molecular analysis was conducted at APHA, and the epidemiological analysis was conducted at the RVC.
Molecular analysis
Isolates were shipped to the APHA for molecular analysis.
Optimisation of selected RT-PCR primers with Agilent technology.
RT-PCR amplification of different types of ESBL genes was performed: presence of carbapenemase enzymes and plasmid mediated colistin resistance were also determined in the ESBL-producing isolates. RT-PCR screening for presence of gene encoding blaTEM, blaSHV, blaCTX-M, blaKPC, blaNDM, blaVIM, blaOXA-48 (carbapenemases) and mcr-1-5 (colistin). This was performed on 220 isolates.
Whole genome sequencing was performed on a subset of isolates (n=180) to identify additional genes and perform in silico multilocus sequence typing (MLST) to determine phylogenetic relationship between isolates.
Epidemiological analyses
Descriptive analysis of the prevalence of resistance among different groups and in different areas.
Dimensional data reduction to understand clustering of phenotypic resistances.
Multivariable logistic regression analysis of factors associated with the occurrence of different resistance types / pathogens, with stratified analyses for different population groups.
Spatial analyses of the distribution of different resistances/pathogens.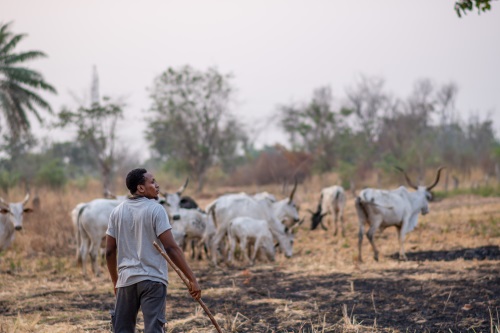 Impact
The study will provide information on ESBL-producing Enterobacteriaceae colonisation of animals. This information will add to our understanding of the risk to those who come in contact with, and those who eat meat from, food animals sold in different parts of Southeast Nigeria.
To improve our understanding of the prevalence and distribution of ESBL-producing Enterobacteriaceae in animals and humans within a region, we need robust methodical sampling from geographically distributed locations. Hence, this study was undertaken to detect the epidemiology of ESBL-producing isolates from apparently healthy humans and food animals across five different States (Abia, Anambra, Ebonyi, Enugu and Imo), and to characterise the carriage of ESBL genes by molecular techniques using real time polymerase chain reaction (RT-PCR) and whole genome sequencing to better understand the AMR genes harboured.
There are currently no holistic One Health approaches established in Nigeria to tackle infectious diseases. Establishing the molecular epidemiology of ESBL-producing Enterobacteriaceae in human and animal populations will provide information to help design One Health approaches to curb the incidence of infections with these resistant organisms.
Partners
This research was mainly funded by the Commonwealth Scholarship Commission in the UK and additional funding was from the RVC, University of London, and the UK FAO Reference Centre for Antimicrobial Resistance (which receives funding from the Department for Environment, Food and Rural Affairs and UK aid funding from the Department of Health and Social Care's Fleming Fund).
Researchers were Solomon Olorunleke, Lucy Brunton, Kim Stevens, Muna Anjum (APHA), Kennedy Chah (University of Nigeria Nsukka), John Nwanta (University of Nigeria Nsukka)
Publications
| | | |
| --- | --- | --- |
| Title | Publication | Year |
| Molecular Characterisation of Multi-drug Resistant Klebsiella pneumoniae isolated from livestock and in-contact humans in Southeast, Nigeria. | Front Microbiol. 2022 Jul 22;13:937968. doi: 10.3389/fmicb.2022.937968. PMID: 35935201 | 2022 |
| Predominance of CTX-M-15 among Cefotaxime-Resistant Escherichia coli from Food Animals and in-contact Humans in Southeast, Nigeria. | 6th World One Health Congress, Virtual Edition held on 31st October to 3rd November 2020. | 2020 |
| Molecular characterisation of extended-spectrum β-lactamase-producing Escherichia coli from food animals and in-contact humans in southeast Nigeria. | Book of Abstract 8th Symposium on Antimicrobial Resistance in Animals and the Environment (ARAE), Tours France. P 25 | 2019 |
| High occurrence of Plasmid Mediated Quinolone Resistance among Extended-Spectrum β-Lactamase producing Escherichia coli from Food Animals and in-contact Human in South-East, Nigeria. | Book of Abstract of the 56th Annual Congress of the Nigerian Veterinary Medical Association, Kogi State, Nigeria. P 40 | 2019 |