RVC research selected as a top ten case study showcasing the real-life impact of UK international development research
A study led by the Royal Veterinary College (RVC) has been selected as one of the top ten case studies, submitted to the most recent Research Excellence Framework (REF2021), to be showcased by the UK Collaborative on Development Research (UKCDR) on 'Realising the impact of UK international development research'.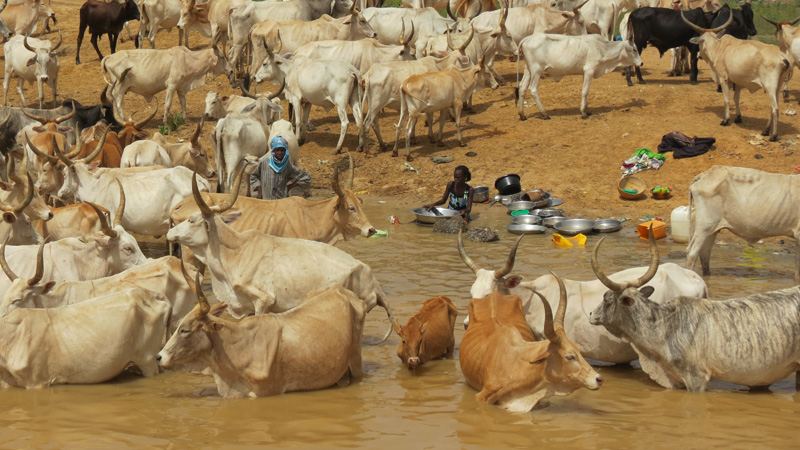 The research, led by Professor Joanne Webster, Professor of Parasitic Diseases at the RVC, and conducted in partnership with the Université Gaston Berger and Université Cheikh Anta Diop in Senegal, was selected from 891 shortlisted international development-associated REF impact studies across all UK higher education institutions (HEIs). It reveals the importance of a One Health approach if elimination of schistosomiasis, a parasitic disease, is to be achieved in sub-Saharan Africa.
Schistosomiasis, a neglected tropical disease caused by parasitic worms called schistosomes, affects over 240 million people and untold billions of their livestock across Low- and Middle-Income Countries (LMICs). It leads to serious health conditions that affect the wellbeing and productivity of humans and animals.
The RVC collaborated with African partners to uncover the nature of schistosomes and recommend adequate control approaches. The project's One Health approach recognised the role of hybridized parasites of humans and livestock in perpetuating transmission of human schistosomiasis. The work also highlighted unmet needs and the misuse of praziquantel, the only effective drug for schistosomiasis, in livestock, and the risk of drug resistance. This work underscores the need for interdisciplinary research and considering animal reservoirs in combating schistosomiasis.
The case studies and research enablers presented in this booklet exemplify diverse pathways towards achieving impactful research outcomes by showcasing different types of non-academic impact and the six dimensions of UKCDR's research enablers framework. They also highlight best practices that can help increase the effectiveness of development research and its outcomes.
The case study booklet has been released alongside the UKCDR's new report: 'The landscape of UK development research impact: An analysis of REF2021 impact case studies' and presents a 'deep dive' on ten case studies drawn from the most recent Research Excellence Framework (REF2021), a national peer review assessment of the quality of research undertaken by UK HEIs, which reflect a wide range of disciplines, topics and impact locations.
Professor Joanne Webster FMedSci, Professor of Parasitic Diseases at the RVC, said:
"It is wonderful to have research on a Neglected Tropical Disease of both humans and animals selected to showcase the impact of UK international development research and to provide insights for best practice - it is of course even more wonderful that it is our own ZELS One Health programme, in partnership between the UK, Senegal and Niger, that has been chosen here from almost 900 shortlisted. Once again, I am so hugely grateful to the amazing and multi-disciplinary international team members that made this all possible, the involvement and uptake of the communities within the disease-endemic countries themselves, and of course, our UK research funders without which such global impact could not be achieved – thank you."
---
Notes
About the UKCDR
The UK Collaborative on Development Research (UKCDR) brings together government and research funders working in international development. We exist to amplify the value and impact of research for global development by promoting coherence, collaboration, and joint action among UK research funders. Our core contributing members include the Department for Science, Innovation and Technology; the Department of Health and Social Care; the Foreign, Commonwealth and Development Office; UK Research and Innovation; and Wellcome.
For further information on UKCDR, please visit ukcdr.org.uk
---
You may also be interested in:
Joanne Webster FMedSci, Professor of Parasitic Diseases at the Royal Veterinary College (RVC), has …