New research paves the way for improved therapeutic methods for chronic inflammatory conditions in humans
New research from the Royal Veterinary College (RVC), Galvani Bioelectronics, Queen Mary University of London and Cambridge University has demonstrated how neural connections to the spleen, one of the body's main lymphoid organs, can be modulated with implanted electrodes to regulate systemic immune responses.
This is a significant finding with the potential to improve therapeutic strategies for the treatment of acute or chronic inflammatory conditions in humans.
Acute and chronic inflammatory conditions affect millions of people around the world and while effective molecular therapies, like small molecules and biologics, are available, many patients do not respond to treatment or become resistant to them over time.
Over the past 20 years, numerous studies have demonstrated an intimate interaction between the nervous and immune systems, which allow the brain to autonomously control and modulate immune response during infection and inflammation. However, this research has been conducted predominantly on rodents which do not provide an anatomically or physiologically relevant model for humans.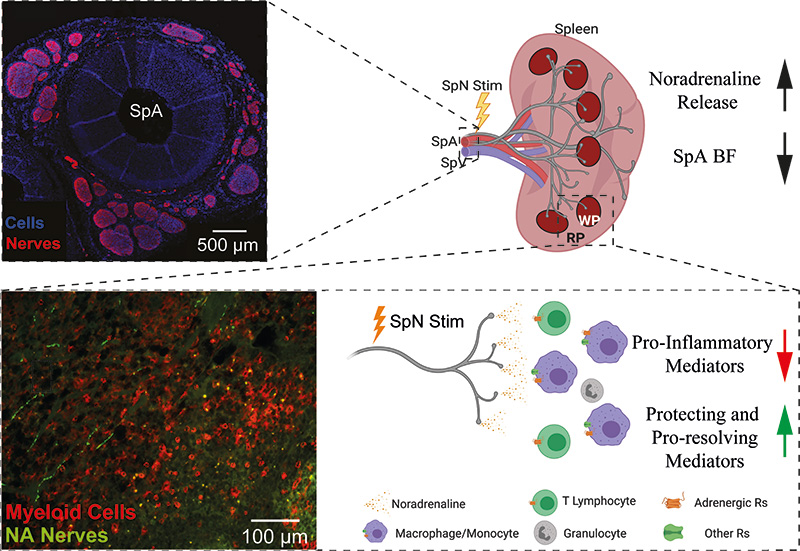 After determining that the neural connections to the spleen in pigs were a good model for the human spleen, the researchers used specifically developed techniques for nerve stimulation and recording to characterise and optimise human-relevant splenic nerve stimulation parameters. They then showed that splenic nerve stimulation protects animals from severe inflammation and promoted beneficial anti-inflammatory and healing responses.
The findings of this study show that electrical stimulation of the spleen can stimulate the nervous system to help regulate inflammatory responses as an alternative or adjunct to pharmaceutical therapies.
Professor Dirk Werling, Director of the Center for Vaccinology and Regenerative Medicine at the RVC, said:
"The identification that direct nerve stimulation can impact on the immune response generated opens up a really new and exciting avenue to potentially prevent for example overshooting immune responses under specific conditions."
Daniel Chew, Director of Translational Research at Galvani Bioelectronics, said:
"Galvani Bioelectronics is developing therapies to treat disease through modulation of neural signals to organs central in chronic disease. These therapies are designed as precision targeted and minimally invasive. These translational efficacy and mechanistic data collected through this very productive academic-industry collaboration, will support the progression of our therapy development for patients suffering chronic inflammatory conditions, transforming patient lives through pioneering precision neuromodulation."
Research references
Sokal DM., McSloy A, Donegà M, et al. Splenic Nerve Neuromodulation Reduces Inflammation and Promotes Resolution in Chronically Implanted Pigs. Frontiers in Immunology (2021). 12:965. doi: 10.3389/fimmu.2021.649786
Donegà M, Fjordbakk CT, Kirk J, et al. Human-relevant near-organ neuromodulation of the immune system via the splenic nerve. PNAS (2021), 118 (20). doi: 10.1073/pnas.2025428118
---
Notes to Editors
For more information please contact:
About the RVC
The Royal Veterinary College (RVC) is the UK's largest and longest established independent veterinary school and is a Member Institution of the University of London. It was the first in the world to hold full accreditation from AVMA, EAEVE, RCVS and AVBC.
The RVC is ranked as the top veterinary school in the world in line with the QS World University Rankings by subject, 2021.
The RVC offers undergraduate and postgraduate programmes in veterinary medicine, veterinary nursing and biological sciences.
In 2017, the RVC received a Gold award from the Teaching Excellence Framework (TEF) – the highest rating a university can receive.
A research led institution with 79% of its research rated as internationally excellent or world class in the Research Excellence Framework 2014.
The RVC provides animal owners and the veterinary profession with access to expert veterinary care and advice through its teaching hospitals and first opinion practices in London and Hertfordshire.
---
You may also be interested in:
Joanne Webster FMedSci, Professor of Parasitic Diseases at the Royal Veterinary College (RVC), has …