Improving antimicrobial stewardship: RVC research reveals extent of systemic antimicrobial usage in UK equine practice
To mark World Antimicrobial Awareness Week, the Royal Veterinary College (RVC) has released new research using real-world antimicrobial prescription data to investigate the use of systemic antimicrobials in UK equine practice. The research, which is the first of its kind, reveals the extent to which antimicrobials are prescribed to equids and uncovers the lack of routine culture and sensitivity testing, particularly prior to the prescription of the 'last resort' Category B antimicrobials, whose efficacy needs to be preserved for the treatment of serious illnesses in human medicine.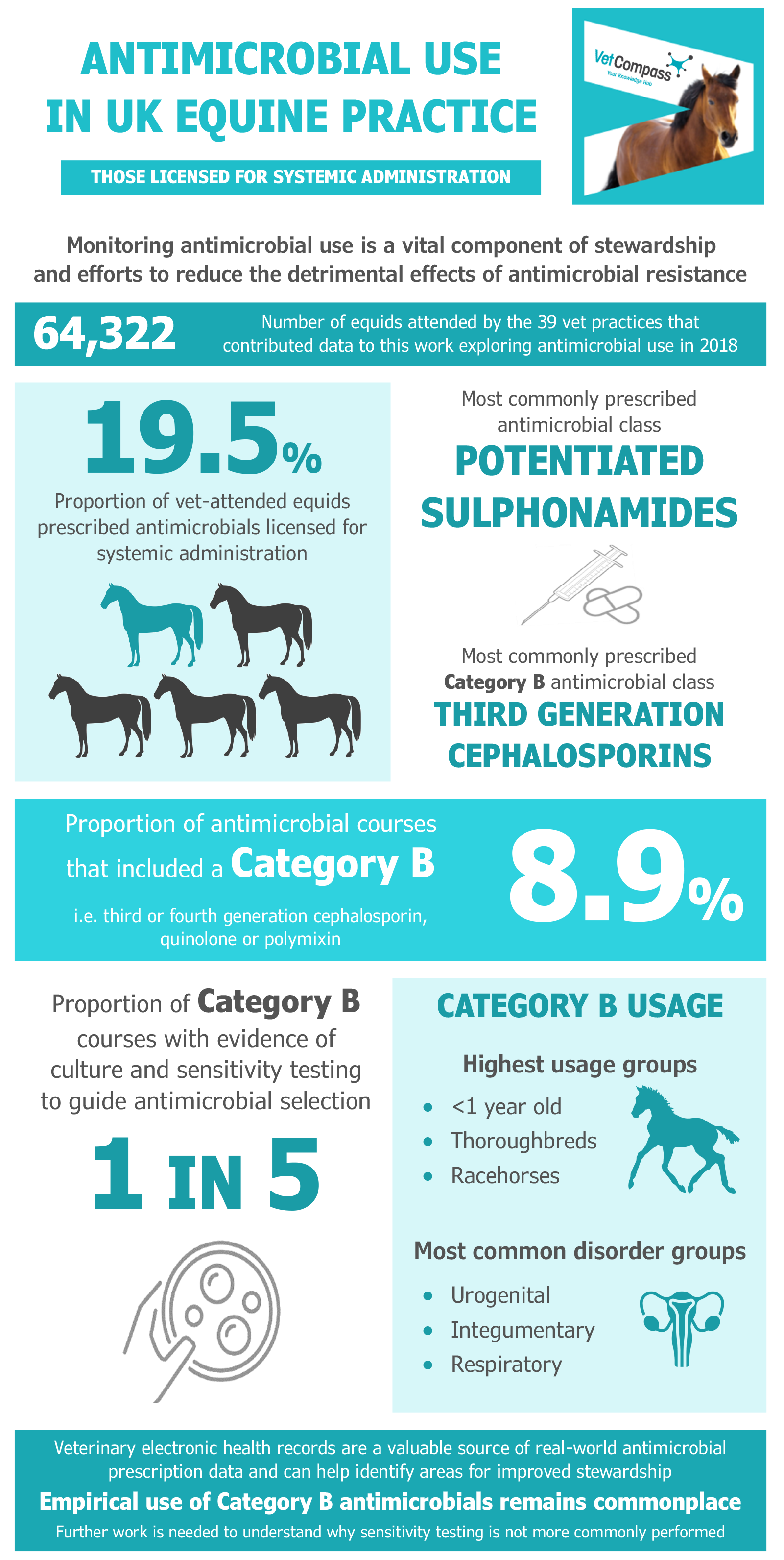 Antimicrobial resistance poses a significant and increasing threat to human and animal health. Concerns have been raised regarding the potential inappropriate and overuse of antimicrobials in veterinary species, which is known to contribute to the development of resistant bacterial populations. Once antimicrobial resistance develops, it can result in treatment failure in veterinary patients and, due to the proximity in which animals and their owners often live, the potential transfer of resistant bacteria to people.
While the investigation of antimicrobial use is vital, to date, little work has been done to monitor antimicrobial use in equids in the UK. Therefore, this study, conducted by the RVC's VetCompass programme and funded by Veterinary Medicines Directorate, set out to do so. The team used anonymised electronic health record data from 64,322 horses, ponies and donkeys in the year 2018, supplied by 39 veterinary practices participating in the UK VetCompass programme. The team analysed both the prescription data and clinical notes documented within these records.
The findings of the study highlighted that in 2018, approximately 20 per cent of equids attended by the participating veterinary practices were prescribed an antimicrobial licensed for systemic administration, and nearly nine per cent of those equids received a Category B antimicrobial - an antibiotic that is of highest priority critical importance for human medicine and should be used cautiously in animals to mitigate the risk to public health.
Bacteriological culture and sensitivity testing was found to be rarely employed, despite its importance in protecting against antimicrobial resistance, by identifying the most appropriate antimicrobial for prescription. The study found limited compliance with antimicrobial stewardship guidelines, with fewer than one in five antimicrobial courses that included a Category B antimicrobial supported by culture and sensitivity testing.
In addition, the study identified several important risk factors for increased antimicrobial usage. They found that the highest usage groups of Category B antimicrobials were equids under one year old, Thoroughbreds and racehorses. Meanwhile, the most common disorders that were treated with antimicrobials were urogenital (urinary and genital tracts), integumentary (skin and gland organs) and respiratory (airways, lungs and blood vessels) conditions.
By reporting on antimicrobial usage across a large number of veterinary practices, the study hopes to encourage others to consider and benchmark their own usage, and promote more responsible antimicrobial prescription, especially of those deemed of the highest priority critical importance for human health.
Dr Sarah Allen, VetCompass Data Analyst, RVC said:
"The surveillance of equine antimicrobial usage helps the veterinary profession demonstrate their commitment to the responsible prescribing of antibiotics in the horse. We hope that by reporting on how commonly antimicrobials are prescribed to horses, and demonstrating where stewardship may be improved, others will look to compare and better their own prescribing of these vital medicines.
"The importance of culture and sensitivity testing is well-known by veterinary practitioners, however, more still needs to be done to encourage its routine use, particularly prior to the prescription of Category B antimicrobials. Not only will this help preserve their medicinal effectiveness and ensure the continued rights of veterinary practitioners to prescribe these critical classes, it will also crucially help minimise the detrimental effects of antimicrobial resistance on human and animal health."
Dr Fraser Broadfoot, Head of AMU Surveillance and Stewardship, Veterinary Medicines Directorate, said:
"There is an increasing focus on antibiotic stewardship in the equine sector, through initiatives such as the RUMA Companion Animal and Equine group, VetTeamAMR and the Protect Me Toolkit. However, in order to drive improvements, it is important to understand how and why antibiotics are currently being used. This study provides some valuable insights and highlights the reasons for systemic antibiotic use in horses. It also looks into the risk factors relating to the use of systemic antibiotics which are highest priority critically important antibiotics for human health and shows the relatively low use of bacteriological culture associated with the use of these last resort antibiotics. I hope this information will prove to be really useful to the equine sector as they continue to look into areas where antibiotic use can be improved."
---
Notes to Editors
Reference:
Allen, S.E., Verheyen, K.L.P., O'Neill, D.G. and Brodbelt, D.C. (2022), Use of antimicrobials licensed for systemic administration in UK equine practice. Equine Vet J.
The DOI as a hyperlink is: https://doi.org/10.1111/evj.13878
For media enquiries, please contact:
About the RVC
The Royal Veterinary College (RVC) is the UK's largest and longest established independent veterinary school and is a Member Institution of the University of London.
It is one of the few veterinary schools in the world that hold accreditations from the RCVS in the UK (with reciprocal recognition from the AVBC for Australasia, the VCI for Ireland and the SAVC for South Africa), the EAEVE in the EU, and the AVMA in the USA and Canada.
The RVC is ranked as the top veterinary school in the world in the QS World University Rankings by subject, 2022.
The RVC offers undergraduate and postgraduate programmes in veterinary medicine, veterinary nursing and biological sciences.
The RVC is a research led institution with 88% of its research rated as internationally excellent or world class in the Research Excellence Framework 2021.
The RVC provides animal owners and the veterinary profession with access to expert veterinary care and advice through its teaching hospitals and first opinion practices in London and Hertfordshire.
---
You may also be interested in:
Joanne Webster FMedSci, Professor of Parasitic Diseases at the Royal Veterinary College (RVC), has …