RVC researcher presents poster on a potentially exciting new treatment for skeletal disorders
Dr Andrew Pitsillides, Professor of Skeletal Dynamics at the Royal Veterinary College (RVC) has today presented a poster at the American Society of Bone and Mineral Research (ASBMR) highlighting a potential new treatment for skeletal disorders such as osteoporosis.
Osteoporosis affects over 3 million people in the UK and more than 500,000 people receive hospital treatment for bones that break after falling from standing height or less every year due to the condition.
The condition also creates a significant social and economic burden, with fractures often leading to a downward spiral of disability, loss of independence and increased mortality.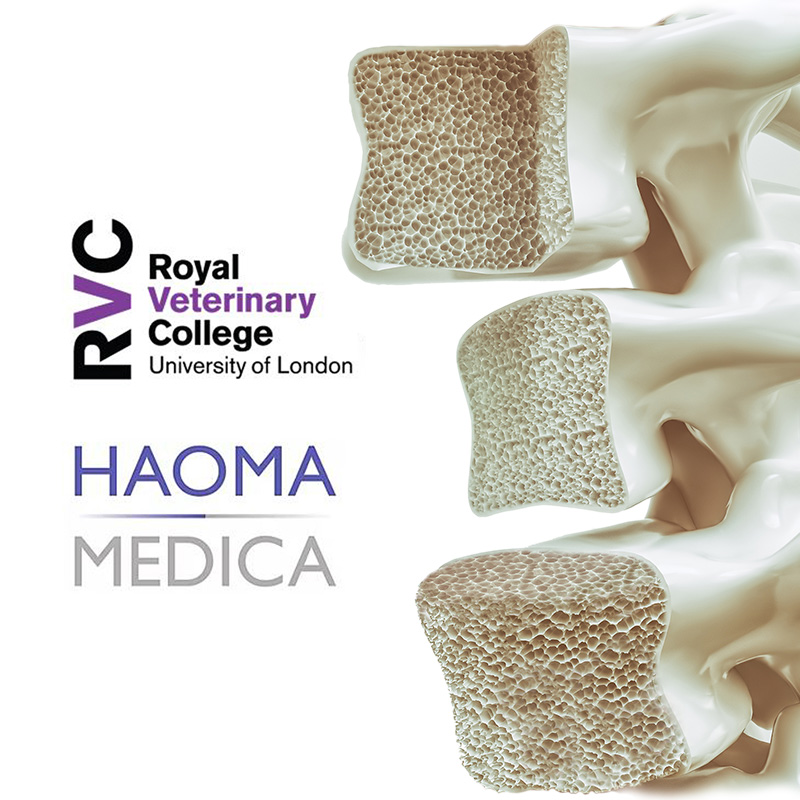 In previous studies, NaQuinate, a naphthoquinone carboxylic acid which naturally occurs as a metabolite of vitamin K, has been shown to protect against the reduction in bone quality and quantity that occurs in response to ovariectomy in rat and mouse models. But in this new study, developed in collaboration between the Skeletal Biology group at the RVC and biotechnology company Haoma Medica, NaQuinate was also shown to significantly synergise with mechanical loading in targeted cortical bone regions.
Female 12-week old mice were randomly assigned to two groups, receiving either NaQuinate or vehicle five days per week over a period of three weeks. On three alternate days in the final two weeks, the right tibia of each mouse was non-invasively subjected to dynamic axial loading with the left serving as non-loaded contralateral control.
This synergistic interaction between NaQuinate and mechanical loading indicates functional utilisation of bones' mechanostat, a term describing the way in which mechanical loading influences bone structure, in the regulation of bone mass and architecture, thus supporting the notion that NaQuinate treatment can provide a novel therapeutic approach to skeletal disorders like osteoporosis in humans.
NaQuinate as a treatment for post-menopausal women with osteoporosis is an investigational product, currently in Phase I clinical trials to establish its safety and efficacy.
Dr Andrew Pitsillides, Professor of Skeletal Dynamics at the Royal Veterinary College, said: "There are three main ways to maintain bone quality and strength to resist fracture: stop bone loss, build mass and enhance the topographical changes to optimise and enhance weight-bearing roles. It may be that NaQuinate can achieve a balance of all three to treat osteoporosis and better maintain healthy ageing.
"I would like to thank my colleagues at the Skeletal Biology Group at the RVC, and the team at Haoma Medical for their support in this important study. At the RVC we recognise the importance of a collaborative 'One Health' approach which operates at the cutting edge of veterinary and human medicine, and this research could pave the way for a novel treatment for this common and debilitating condition."
---
Notes to Editors
For more information please contact:
About the RVC
The Royal Veterinary College (RVC) is the UK's largest and longest established independent veterinary school and is a Member Institution of the University of London. It was the first in the world to hold full accreditation from AVMA, EAEVE, RCVS and AVBC.
The RVC is the top veterinary school in the UK and Europe, and ranked as the world's second highest veterinary school in the QS World University Rankings by subject, 2020.
The RVC offers undergraduate and postgraduate programmes in veterinary medicine, veterinary nursing and biological sciences.
In 2017, the RVC received a Gold award from the Teaching Excellence Framework (TEF) – the highest rating a university can receive.
A research led institution with 79% of its research rated as internationally excellent or world class in the Research Excellence Framework 2014.
The RVC provides animal owners and the veterinary profession with access to expert veterinary care and advice through its teaching hospitals and first opinion practices in London and Hertfordshire.
---
You may also be interested in:
New research from the Royal Veterinary College (RVC) and the Institute of Cytology and Genetics in …