RVC clinician selected for leading female researcher development programme
Dr Abbe Crawford, a Clinician in Neurology and Neurosurgery at the RVC has been selected for the fourth round of SUSTAIN, a training and development programme supporting female researchers in their first independent position within the scientific research community.
Dr Crawford's research focuses on brain abnormalities associated with Duchenne Muscular Dystrophy (DMD), the most common lethal genetic disorder diagnosed in childhood. Using a range of techniques to study brain function in the diseased state, the objective of this research is to understand why DMD patients show abnormal brain function and to ultimately develop therapeutic strategies to overcome these brain deficits.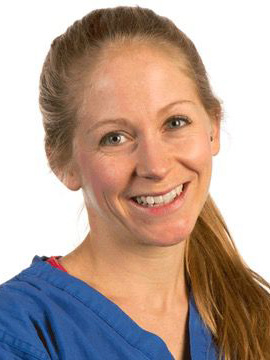 Dr Crawford's selection for SUSTAIN will provide her with the opportunity to join a network of early career female researchers. The year-long Programme includes mentoring from Academy Fellows, peer-coaching, and a series of bespoke training workshops.
Her participation in SUSTAIN will provide important training and skills to complement her ongoing research work at the RVC where she has received support from Professor Richard Piercy, Director of the Comparative Neuromuscular Disease Laboratory, Dr John Hildyard, a Postdoctoral Research Associate, the members of the Comparative Neuromuscular Disease Laboratory and the Neurology and Neurosurgery Team in the Queen Mother Hospital for Animals.
Dr Abbe Crawford, Clinician in Neurology and Neurosurgery at the RVC, said: "I feel very lucky to be joining the SUSTAIN programme. It is a wonderful opportunity to become part of a supportive cohort of like-minded female researchers, and to receive training from leading experts in a range of key, yet often undertaught, areas including mentorship, negotiation, and digital resilience.
"This course comes at an ideal time as I try to develop an independent research programme through my work with colleagues at the Royal Veterinary College. I am confident that the skills, knowledge and support network I will gain from this course will build upon the RVC's ongoing support and allow me to develop and thrive as I begin this exciting chapter of my career."
Professor Jonathan Elliott, Vice Principal for Research and Innovation at the RVC, said: "We are incredibly excited about Abbe's selection in this programme and take great pride in watching her research and career go from strength-to-strength.
"The RVC is renowned for its research excellence and we are committed to supporting all of our colleagues as they pursue their own personal development. In particular, there is an urgent need to develop the research careers of veterinary clinical scientists who work at the interface between veterinary and human health in the way that Abbe is doing"
Dr Elizabeth Benedikz, Programme Manager for SUSTAIN, said: "The Academy of Medical Sciences' SUSTAIN programme was developed to support female researchers and empower them with the knowledge and skills to excel in their careers. We are incredibly excited to launch the fourth round and welcome Dr Abbe Crawford to the Programme, alongside 23 other researchers across the UK.
"As a team, we're really looking forward to working closely with Dr Crawford to help further her leadership and career potential as she pursues her innovative research at the Royal Veterinary College."
---
Notes to Editors
For more information please contact:
About the RVC
The Royal Veterinary College (RVC) is the UK's largest and longest established independent veterinary school and is a Member Institution of the University of London. It was the first in the world to hold full accreditation from AVMA, EAEVE, RCVS and AVBC.
The RVC is the top veterinary school in the UK and Europe, and ranked as the world's second highest veterinary school in the QS World University Rankings by subject, 2020.
The RVC offers undergraduate and postgraduate programmes in veterinary medicine, veterinary nursing and biological sciences.
In 2017, the RVC received a Gold award from the Teaching Excellence Framework (TEF) – the highest rating a university can receive.
A research led institution with 79% of its research rated as internationally excellent or world class in the Research Excellence Framework 2014.
The RVC provides animal owners and the veterinary profession with access to expert veterinary care and advice through its teaching hospitals and first opinion practices in London and Hertfordshire.