Researchers develop combined cellular and molecular treatment to help improve recovery after spinal cord injury
A team of researchers, led by Dr Nicolas Granger at the Royal Veterinary College (RVC) and Dr Liang-Fong Wong at the University of Bristol, have developed a new type of combined cell treatment with the aim of improving recovery after spinal cord injury in companion animals and, ultimately, humans.
Paralysis caused by damage to the nerves in the spine can last for life and at present, there is no cure for this. Currently it is possible to inject cells derived from the nose (called olfactory ensheathing cells) into these damaged nerves and this has been clearly shown to improve walking in experimental animals and pet dogs. This process is also known to be safe for humans, but it has not yet been tested in a full clinical trial. Another potential treatment is the injection of a molecule called chondroitinase. This also improves recovery of walking in experimental animals and pet dogs. While both are promising therapies, they are limited and the responses can be unpredictable, particularly in canine clinical trials.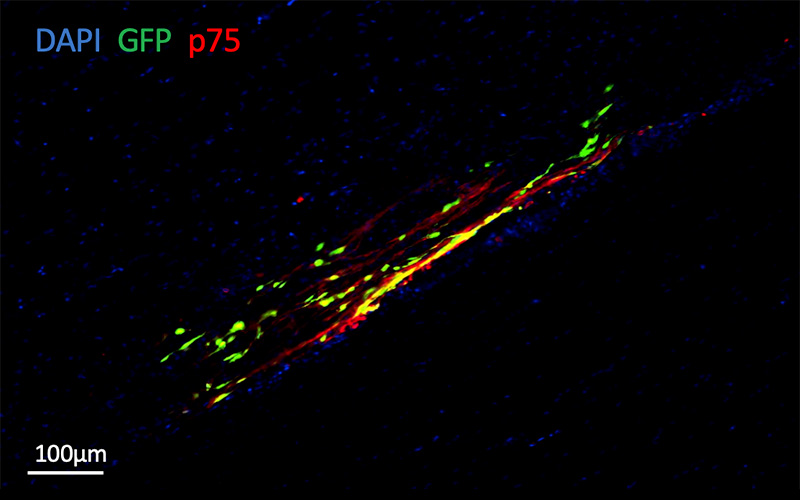 Based on the knowledge of the potential therapeutic benefit of chondroitinase and taking into account difficulties with its delivery to the spinal cord in patients, the team developed dog olfactory ensheathing cells able to make and release chondroitinase, with the aim of combining the two treatments into one. They discovered that injection into the spinal cord of this new type of cell transplant in rats improved recovery of hand movements after spinal cord injury. The treated subjects had increased accuracy of reaching and grasping when picking up food rewards compared to control subjects or those receiving cells alone.
While this new discovery marks a small but promising step towards improving recovery after spinal cord injury, it also highlights that new combinations of treatments could, in the long-term, be used to enhance cell transplant therapy.
The next stage in the research will be to test the efficacy of these treatments in 'real-life' injuries, such as those which companion dogs and people get.
Dr Jon Prager, Postdoctoral Researcher at the RVC, said:
"Spinal cord injury causes chronic paralysis and incontinence, and remains a major worldwide healthcare burden, with no regenerative treatment clinically available. This study suggests that our genetically engineered cellular and molecular approach is a feasible combination therapy for spinal cord injury.
"Our findings show that this treatment leads to a modest improvement in rats' ability to pick up treats and we are incredibly excited to see how the next stage of the research goes. This discovery is an exciting step in uncovering other possible combined treatments that have the potential to improve cell transplant therapy."
The research was funded and made possible by the Langford Trust for Animal Health and Welfare, which promotes the practice, advancement and teaching of veterinary science and fosters public education in health and welfare.
Dr Granger also receives support from the International Spinal Research Trust (ISRT) and he and Dr Liang-Fong Wong are able to continue this research thanks to the Nathalie Rose Barr PhD studentship provided by the ISRT.
Research reference
Jon Prager, Daisuke Ito, Darren R. Carwardine, Prince Jiju, Divya M. Chari, Nicolas Granger, Liang-Fong Wong (2021) "Delivery of chondroitinase by canine mucosal olfactory ensheathing cells alongside rehabilitation enhances recovery after spinal cord injury" Experimental Neurology. doi.org/10.1016/j.expneurol.2021.113660
---
Notes to Editors
For more information please contact:
About the RVC
The Royal Veterinary College (RVC) is the UK's largest and longest established independent veterinary school and is a Member Institution of the University of London. It was the first in the world to hold full accreditation from AVMA, EAEVE, RCVS and AVBC.
The RVC is the top veterinary school in the world according to the QS World University Rankings by subject, 2021.
The RVC offers undergraduate and postgraduate programmes in veterinary medicine, veterinary nursing and biological sciences.
In 2017, the RVC received a Gold award from the Teaching Excellence Framework (TEF) – the highest rating a university can receive.
A research led institution with 79% of its research rated as internationally excellent or world class in the Research Excellence Framework 2014.
The RVC provides animal owners and the veterinary profession with access to expert veterinary care and advice through its teaching hospitals and first opinion practices in London and Hertfordshire.