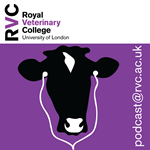 Mon, 5 Aug 2019
Author: Dominic Barfield
Duration: 00:37:15
Today we are delighted to have Dr Amy Barstow with Brian and myself in the studio. Amy has been finishing up at the clinical skills centre here after completing her PhD in equine biomechanics investigating shock absorption and load distribution in horses exercising on hard surfaces We discuss that and her interest in farriery which has gone on for her to be involved in the Graduate Diploma in Equine Locomotor, to engage farriers with research and address the dearth of farriery related research.
To find out more about Amy's work use the following link https://www.rvc.ac.uk/about/our-people/amy-barstow
If you have any comments about this podcast, please get in touch: email dbarfield@rvc.ac.uk; tweet @dombarfield. We would greatly appreciate your time to rate us on Apple podcast or Acast and kindly write us a review.