RVC study sets the agenda for the future of canine epilepsy research
A new study, conducted by the Royal Veterinary College (RVC), has identified improving drug management and the development of new antiepileptic medication as key research priorities for dog owners, general practice veterinarians and specialist veterinary neurologists in treating idiopathic epilepsy in dogs.
These findings provide valuable insight and highlight the importance of ensuring owners views integrated into the direction of future research planning. It will also ensure future research more effectively improves the quality of life of both affected animals and their owners.
Seeking to better understand these challenges, a team of researchers, led by Dr Rowena Packer at the RVC, alongside RVC PhD student Dr Gareth Jones and Professor Holger Volk at the University of Veterinary Medicine Hanover, conducted prioritisation activities to highlight the most important and urgent research needs. The study also investigated views on non-drug therapies for epilepsy, which is an emerging area of research in epilepsy.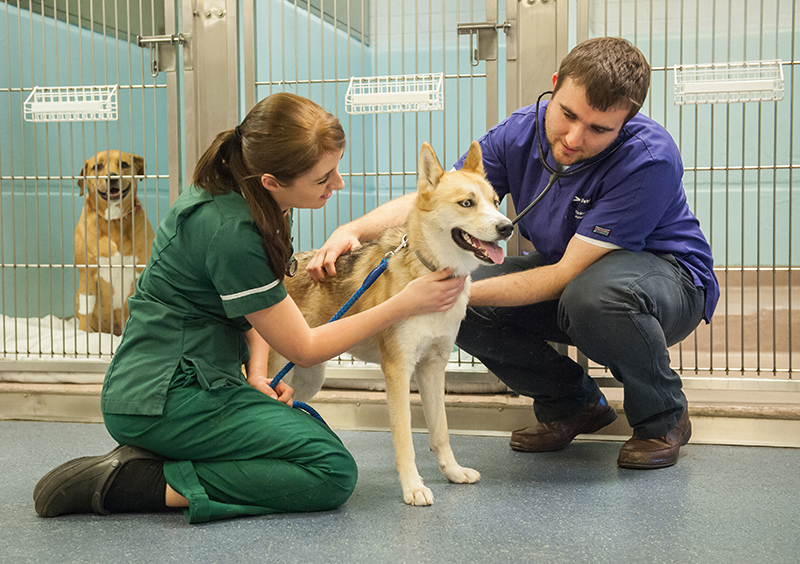 Epilepsy is the most common, chronic brain disease in dogs, characterised by recurrent seizure activity, and although anti-seizure medications are available, these are sadly ineffective for many dogs. Available treatments can also have unpleasant side effects for some dogs, including lethargy, wobbliness and extreme hunger.
Analysing the results of an online survey, the team were able to identify the areas of canine epilepsy research deemed most important by 414 owners of dogs with epilepsy and specialist neurology and general practice veterinarians. It also assessed how these views changed from 2016 to 2020. Key findings of the study include:
The research areas with the highest perceived importance were improving existing drug management of epilepsy, the development of new antiepileptic medication and improving the education of vets regarding epilepsy.
The research areas ranked as the highest priorities were the development of new antiepileptic medication, identifying genetic causes of epilepsy, and non-drug management of epilepsy.
Of 10 non-drug therapies, the five rated to have the highest potential positive impact on epilepsy management were behaviour management, gene editing, CBD oil supplementation, MCT oil supplementation and epilepsy surgery.
Priorities differed between vets and owners, with owners prioritising day-to-day quality of life issues for their dog, such as behavioural issues or the side effects from medications. In contrast, the vet groups prioritised clinical issues such as identifying the genetic causes of epilepsy and how different types of seizures are classified.
Dr Rowena Packer, Lecturer in Companion Animal Behaviour and Welfare Science at the Royal Veterinary College, said:
"Our study identified clashing research priorities for epilepsy between owners and vets, with owners prioritising research focusing on issues that impact upon their and their dog's day-to-day life, such as side effects and behavioural co-morbidities of epilepsy, whereas GP vets and neurologists focused more strongly upon clinical issues and longer-term strategies to manage or prevent epilepsy. This is perhaps unsurprising given the different experiences of epilepsy between owners and vets, with similar findings seen in studies of doctors and human epilepsy patients. "Although all of the research areas included in this prioritisation activity are important areas of investigation, ensuring that the voices of owners are heard in the planning of future research should be a broader goal in veterinary medicine, to ensure efforts are targeted at those areas most likely to improve the quality of life of both affected animals and their owners."
Professor Holger Volk, Professor of Small Animal Diseases and the Head of Department of Small Animal Medicine and Surgery, University of Veterinary Medicine Hanover, said:
"We all hope that our research makes a difference for pets, their owners and vets, but how often have we really explored what that means for the individual stakeholders? In this study, we have clearly shown that future research needs can differ depending on which group you ask. We do need to take this into account for our future research projects."
---
Reference
Research priorities for idiopathic epilepsy in dogs: Viewpoints of owners, general practice veterinarians, and neurology specialists.
The full paper is open access and is available at: https://doi.org/10.1111/jvim.16144
Notes to Editors
For more information please contact:
About the RVC
The Royal Veterinary College (RVC) is the UK's largest and longest established independent veterinary school and is a Member Institution of the University of London. It was the first in the world to hold full accreditation from AVMA, EAEVE, RCVS and AVBC.
The RVC is ranked as the top veterinary school in the world in line with the QS World University Rankings by subject, 2021.
The RVC offers undergraduate and postgraduate programmes in veterinary medicine, veterinary nursing and biological sciences.
In 2017, the RVC received a Gold award from the Teaching Excellence Framework (TEF) – the highest rating a university can receive.
A research led institution with 79% of its research rated as internationally excellent or world class in the Research Excellence Framework 2014.
The RVC provides animal owners and the veterinary profession with access to expert veterinary care and advice through its teaching hospitals and first opinion practices in London and Hertfordshire.