RVC hosts 'Symposium on the Future of Veterinary Research'
On Friday 29th March 2019, the RVC's Camden campus hosted the Symposium on the Future of Veterinary Research.
The event was a resounding success, with 150 key figures from the veterinary profession gathering together, including leading scientific researchers and PhD students focussed on advancing veterinary research.
The extensive programme of keynote sessions explored the development of veterinary research and encouraged further exploration within the field. The key sessions were delivered by prominent experts from the RVC, as well as other important research institutions across the country.
In between sessions, attendees had the chance to network and take part in lively group discussions.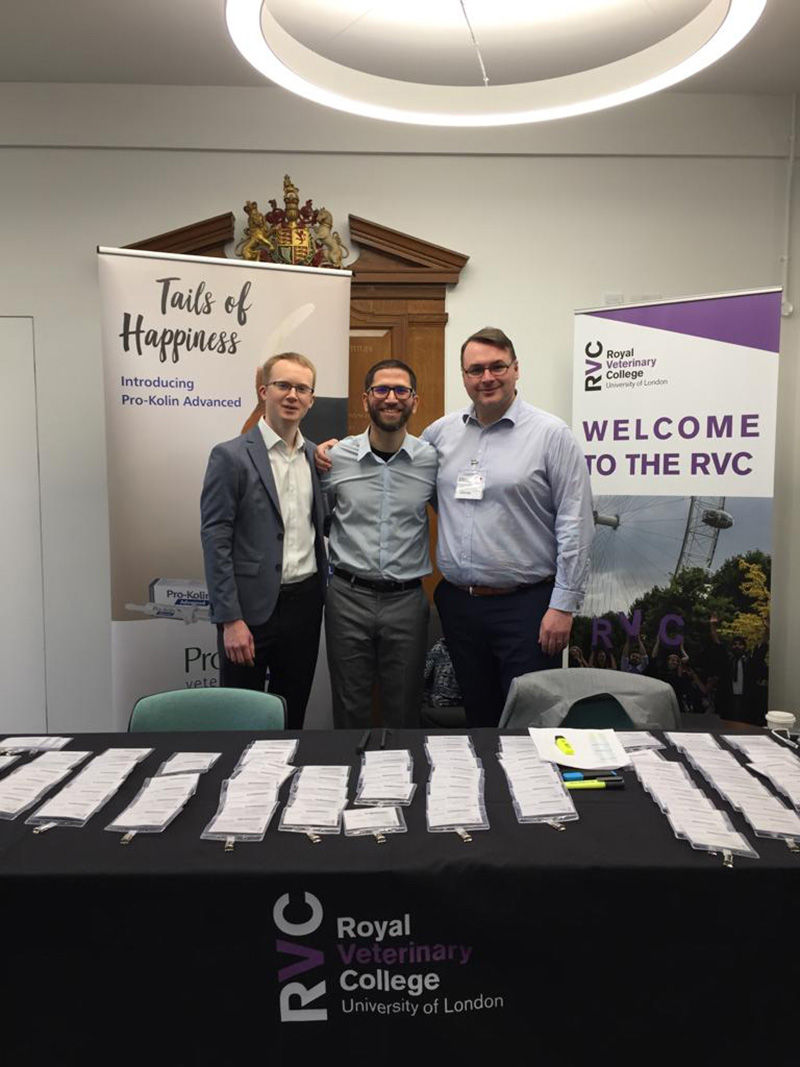 The keynote sessions and speakers included:
Development of veterinary research – Tim Skerry (University of Sheffield) and Professor the Lord Trees
Encouraging veterinary surgeons to consider a career in research – Linda Wooldridge (University of Bristol)
Veterinary clinical and translational research – Alex Clarke (University of Oxford), Richard Mellanby (University of Edinburgh) and Karla Lee (RVC)
Supporting veterinary research and veterinary researchers – Lucy Davison (RVC), Richard Piercy (RVC), Katarina Kolaric (University of Edinburgh) and Richard Mellanby (University of Edinburgh)
The final session also included a panel discussion with Bruna Galobardes (Wellcome Trust), Kristina Harrison (Medical Research Council), Clare McVicker (Academy of Medical Sciences) and David McAllister (Biotechnology and Biological Sciences Research Council)
Professor Jonathan Elliott, Vice Principal of Research and Innovation at the RVC, said: "The RVC was delighted to host this important symposium. Attracting veterinary graduates into research careers is vital because of the unique contributions they will make to science and its fundamental role in tackling society's major challenges, including food security, antimicrobial resistance and healthy ageing. I hope the symposium enabled delegates to share knowledge and experience that will inform new strategies for attracting more veterinarians into research."
---
Notes to Editors
For more information please contact:
About the RVC
The Royal Veterinary College (RVC) is the UK's largest and longest established independent veterinary school and is a constituent College of the University of London.
The RVC offers undergraduate, postgraduate and CPD programmes in veterinary medicine, veterinary nursing and biological sciences.
It is currently the only veterinary school in the world to hold full accreditation from AVMA, EAEVE, RCVS and AVBC.
In 2017, the RVC received a Gold award from the Teaching Excellence Framework (TEF) – the highest rating a university can receive.
A research-led institution, the RVC maintained its position as the top veterinary institution in the Research Excellence Framework (2014), with 79% of its submission being rated as world-class or internationally excellent.
The

RVC

also provides animal owners and the veterinary profession with access to expert veterinary care and advice through its teaching hospitals: the Beaumont Sainsbury Animal Hospital in central London, the Queen Mother Hospital for Animals (Europe's largest small animal referral centre), the Equine Referral Hospital and the Farm Animal Clinical Centre located at the Hertfordshire campus.
---
You may also be interested in:
Dr Ben Swift, Lecturer in Antimicrobial Resistance, at the Royal Veterinary College (RVC), has …