New H2020 EU grant awarded to RVC
The Royal Veterinary College has been awarded a H2020 EU grant under the European and Developing Countries Clinical Trials Partnership Fund EDCTPF project PANDORA IDNET. This is a 10M euro project with European and African partners including University College London, Chatham House and SACIDs, which are long term RVC collaborators amongst others from Institutions in Italy, Germany, France, Sudan, Gabon, Ghana, Nigeria, Sierra Leone, Tanzania and Zambia.
The principle investigator on the Work Package 5 of the project Dr Richard Kock, Professor of Wildlife Health and Emerging Diseases in the Department of Pathobiology and Population Sciences at the RVC, highlights the core principles of the work. "Our consortium will utilize a track record of building equitable Africa-Europe R&D partnerships, to build effective outbreak response capacities, aligned closely to research and training, across all geographical regions in sub-Saharan Africa."
Prof Kock was a part of the team in Africa which eradicated the first animal pathogen, rinderpest, declared to be globally eliminated in 2010, to equal the achievements of medical colleagues in small pox eradication. He continues to work on emerging diseases causing mass mortalities including peste des petits ruminants and haemorrhagic septicaemia caused by Pasteurella multocida in wild animals. "Through our 'ONE HEALTH' multidisciplinary consortium of partners derived from the human and animal health sectors in Africa and Europe we will strengthen, regional and pan-African capacities and systems for enabling rapid and effective response to infectious diseases with epidemic potential, arising from within Africa or those imported from overseas. There will be a series of actions to develop and enhance laboratory, public health and clinical trials capacities for the rapid investigation of outbreaks at source."
Prof Kock introduced the Masters in One Health course jointly with the London School of Hygiene and Tropical Medicine to the RVC in 2011 and this programme now trains about 20 students a year, from all over the world in the principle and practice of One Health at the interface between animals, people and the environment.
"RVC will focus on working with regional capacities in the implementation of a series of clinical trials (evaluating rapid diagnostics, biomarkers, treatments, vaccines, appropriate social or behavioural interventions and operational research studies) inter-epidemic and during an outbreak for targeted diseases of contemporary concern. This is likely to be addressing ebola, lassa, Rift Valley fever virus disease outbreaks and anthrax with a West and East African regional dimension. RVC will focus on the domestic and non-domestic animal epidemiological cycles, how these influence the expression of these zoonoses in human populations and how interventions at the animal level can prevent zoonotic outbreaks."
Chatham House, Global Health Security will lead on strengthening regional capacity for policy development and timely collection, analysis and communication of information. SACIDs will provide epidemiological capacity and research inputs to enhance surveillance, identify hotspots and help focus targeted interventions, including the development of 'mud shoe' epidemiologists and mobile laboratory services. "Our activities will be linked to other networks on emerging infections and will contribute to global preparedness and response activities. We will be recruiting a full time Post Doc researcher and 2 Research Assistants to help with the work which will be primarily in the field in Africa."
Animal human contacts are sometimes quite surprising in an African context. An elephant enjoying water provision in a Ghana village. Elephants are not a high risk but when these small rodents Mastomys natalensis (photo from Dr Jesse Bonwit former Masters Student in One Health at the RVC) get into the house, or are trapped and handled, sometimes haemorrhagic fever is the consequence.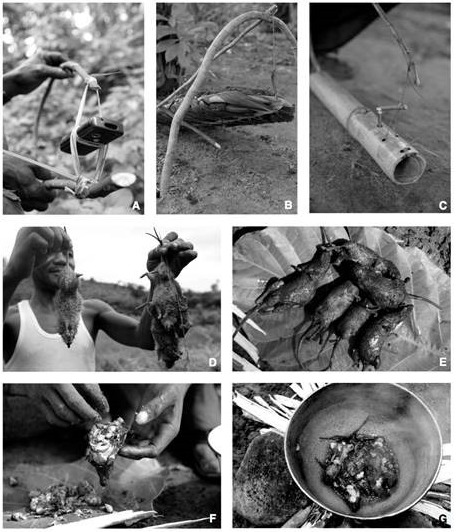 Photo credit Bonwit J. (2015)
---
You may also be interested in:
Joanne Webster FMedSci, Professor of Parasitic Diseases at the Royal Veterinary College (RVC), has …