How cheetahs find each other in their vast home ranges in Botswana
Researchers from the Structure and Motion Lab have published a paper on how cheetahs find each other in their vast home ranges in Botswana.
Dr Tatjana Hubel, Prof Alan Wilson and collaborators from Cheetah Conservation Botswana tracked a coalition of three cheetah brothers who shared a 300 square mile home range. During the study period, one cheetah split from the group for 31 consecutive days, during which the cheetahs ranged over most of their territory, resulting in a near-zero probability that they would meet by chance.
Separation and reunion are common in social animals, so how do they find each another after time apart in an area as vast as this? This study used GPS-IMU (inertial measurement unit) collars designed and built at the RVC to track every movement of the cheetahs for over six months. The cheetahs reunited in a part of their home range that they rarely visited, and met up within hours of finding the tracks of the other cheetahs. Since cheetahs do not use calls for long-distance communication, but they do leave scent marks like other cats, the researchers suggest that well-timed encounter of scent markings helped them to reunite.
This is the first study providing high-resolution position data for a reuniting cheetah coalition and allows a unique insight into challenges and possible mechanisms of cheetah reunion in large areas.
The study was funded by ERC, BBSRC and EPSRC. (Image credit CCB)
Hubel, T Y; Shotton, J; Wilshin S D; Horgan, J; Klein, R; McKenna, R; Wilson, A M.
Cheetah Reunion – The Challenge of Finding Your Friends Again.
PLoS One, (2016)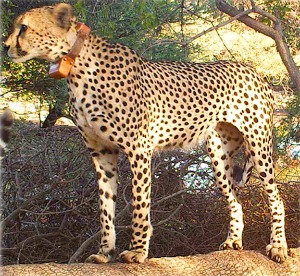 Image credit: Cheetah Conservation Botswana
---
You may also be interested in:
Laboratory rats have better welfare when picked up using methods that support their weight, …