Dragonflies and damselflies
This week, Dr Richard Bomphrey and his colleagues from Japan, Sweden and the USA have published a comprehensive account of how dragonflies and damselflies take to the air. These incredible animals, from the order Odonata, have changed little since taking to the skies around 350 million years ago.
The group have taken a comprehensive and integrated approach to study the aerodynamic forces generated by the wings, flight efficiency, vision-based flight control, and how flight performance changes when they switch behaviours between cruising, hunting and fighting-off other males. The article is part of a themed issue of Philosophical Transactions of the Royal Society B: 'Moving in a moving medium: new perspectives on flight'.
Bomphrey, R J; Nakata, T; Henningsson, P; Lin, H-T.
Flight of the dragonflies and damselflies. (2016)
Philosophical Transactions of the Royal Society B: Biological Sciences, 371;1704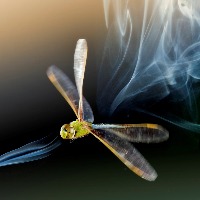 Photo credit: Igor Siwanowicz and Huai-Ti Lin