£1.2M Wellcome Trust Fellowship funds research into fundamental challenges of using muscles to power locomotion with legs
Have you ever wondered why you can't walk and run as fast or efficiently as you can cycle? Or why small children and birds don't run like adults or ostriches?
A new conceptual framework being developed at The Royal Veterinary College is approaching these issues by combining the mechanics of animal gaits with an understanding of why muscles use energy.
This 5 year project will test and expand the new framework using measurements of muscles and mechanics in running humans, birds and mice.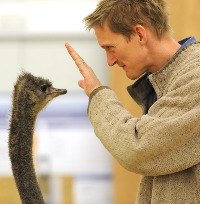 ---
You may also be interested in:
Joanne Webster FMedSci, Professor of Parasitic Diseases at the Royal Veterinary College (RVC), has …