Organising your own fundraising event is a fun way to support a great cause. You can choose from all kinds of activities, from dog walks to barn dances or quiz nights to auctions. Take a look at the Animal Care Trust's fundraising resources for more inspiration. Why not get your friends, family or colleagues involved too to share the work and the fun?
One of our supporters, Mark, decided to take on the challenge of how many keepy-ups he could do in a row with a football and raised over £200! Here's how he got on...
Planning your event
Whatever you choose to do think about how much time and effort you can spend on planning and organising the event. The better prepared you are, the more smoothly your activity will run, helping you to raise even more for the Animal Care Trust. Our fundraising resources have planning advice and tips to make sure your event is safe and legal!
Promoting your event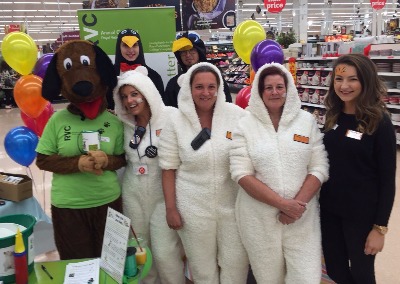 Once you've got your plans in place it's time to promote your event far and wide to get as many people as possible involved. Let us know what you're doing and we can advise you on the best way to get the word out to family and friends. We can also provide posters and flyers too.
Sending in your funds
All of the money you raise can be paid to us through a cheque, bank transfer or over the phone. Alternatively, you can use an online fundraising site such as Virgin Money Giving to raise money quickly and easily.
Putting your feet up!
Once the event is over give yourself a well-earned rest. You can put your feet up knowing that the funds you've raised will help save the lives of thousands of animals that visit the Royal Veterinary College sick or injured each year. THANK YOU!
We are here to help
We are here to help with advice, ideas and support as well as posters, collection tins, balloons and sponsorship forms. We can share tips on getting things for free to how to drum up support for your event.