RVC Student Selected by US Charity as Veterinary Student Scholar
Lawrence Crossfield, a Royal Veterinary College (RVC) student, has been chosen as a 2016 Veterinary Student Scholar, by an American charity based in Colorado.
The Veterinary Student Scholars Programme is run by the Morris Animal Foundation, a non-profit foundation based in Denver. It is dedicated to funding research studies to protect, treat and cure animals, and was created to provide veterinary students with hands-on experience in veterinary medical research, as well as encouraging them to consider research as a career.
Lawrence, a fifth year Bachelor of Veterinary Medicine (BVetMed) student, is one of 26 students to receive the scholarship. He is undertaking his research at the RVC's campus in central London. As a prestigious scholar he will speak about his research at the American College of Veterinary Pathologists annual congress in New Orleans, USA in December.
Lawrence is working closely with Oliver Garden, Professor of Comparative Medicine and Immunology at the RVC and a clinician in the Queen Mother Hospital for Animals, the largest small animal referral centre in Europe.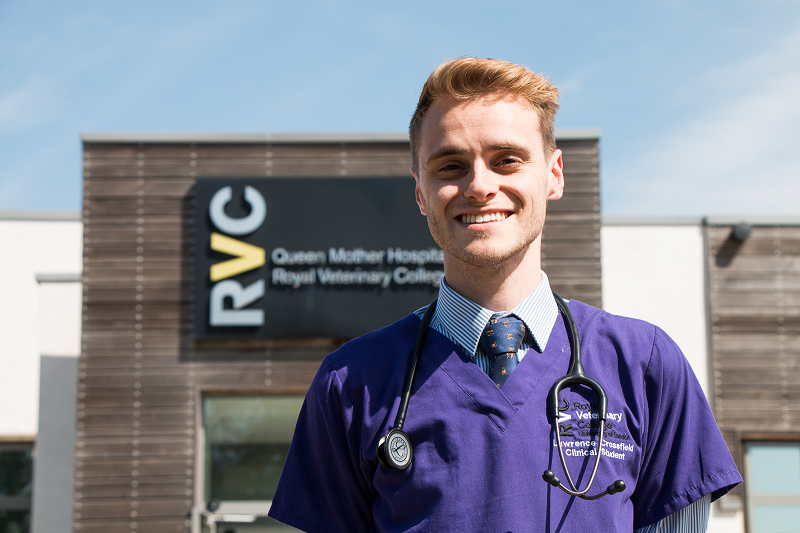 Dr Barbara Wolfe, Chief Scientific Officer of Morris Animal Foundation, said: "By offering research training opportunities for veterinary students, the Foundation is helping to build the next generation of scientists who will be asked to tackle some highly challenging health problems.
"These include emerging infectious diseases, environment-related illnesses, and lifestyle-related health conditions we see impacting more animals every day. As a profession and as individuals concerned about advancing the science of animal health, we want to do all that we can to foster a passion for research in tomorrow's veterinarians."
Lawrence's research has already led to a collaboration with the Institute of Ophthalmology at University College London (UCL). He said: "I first began studying Veterinary Science at the RVC back in 2009, which helped me realise my interest in veterinary research. I returned to the RVC in 2013, following a short stint working for the RSCPA Harmsworth hospital as a veterinary hospital assistant, having had my dissertation published in the Journal of Orthopaedic Research.
Professor Jonathan Elliott, Vice Principal of Research and Innovation at the RVC, said: "We encourage all our undergraduate students to take every opportunity to experience research and to work alongside our academic research groups. It is really pleasing to see students gain internationally competitive funding to pursue these opportunities.
"This particular piece of research, based in Professor Oliver Garden's laboratory at the Camden Campus, has also led to an exciting collaboration with the Institute of Ophthalmology, UCL. Lawrence has submitted an abstract to the American College of Veterinary Pathologists annual congress in New Orleans, USA and a manuscript for publication is currently being prepared.