Re-Inventing Diagnosis and Management of Canine Hyperadrenocorticism
People: Imogen Schofield, Dan O'Neill, Stijn Niessen, David Brodbelt, David Church
Background: Hyperadrenocorticism is one of the commoner endocrine disease in dogs and results from a tumour of pituitary or adrenal origin triggering chronic overproduction of cortisol. The disease leads to decreased welfare with affected dogs commonly showing polyuria and polydipsia (increased urination and thirst), increased appetite, hair loss, lethargy and muscle atrophy. A recent VetCompassTM study reported the prevalence in UK dogs attending primary- care practices to be 0.28% and identified age at diagnosis, sex, weight and certain breeds as risk factors for diagnosis of the disease (O'Neill et al, 2016). This project will continue to expand on this work. Effective diagnosis and subsequent treatment can result in improvement of the quality of life of the pet, however this can currently be hampered by the lack of accurate diagnostic tests and monitoring tools available to the clinician.
Aims of the project:
Evaluate the survival characteristics of dogs with hyperadrenocorticism.
To identify novel technology methods to apply to VetCompass-derived clinical data to aid the diagnosis of hyperadrenocorticism.
To develop and validate novel tools to assist the monitoring of treatment for hyperadrenocorticism.
Dates: January 2018 – January 2022 (4 year PhD project)
Funding body: Dechra Veterinary Products
References:
Macfarlane, L., Parkin, T., & Ramsey, I. (2016). Pre-trilostane and three-hour post-trilostane cortisol to monitor trilostane therapy in dogs. The Veterinary Record, 179(23), 597.
Midence, J.N., Drobatz, K.J. and Hess, R.S. (2015), Cortisol Concentrations in Well-Regulated Dogs with Hyperadrenocorticism Treated with Trilostane. J Vet Intern Med, 29: 1529–1533.
Niessen, S.J.M., Powney, S., Guitian, J., Niessen, A.P.M., Pion, P.D., Shaw, J.A.M. and Church, D.B. (2012), Evaluation of a Quality-of-Life Tool for Dogs with Diabetes Mellitus. J Vet Intern Med, 26: 953–961.
O'Neill, D. G., Scudder, C., Faire, J. M., Church, D. B., McGreevy, P. D., Thomson, P. C. and Brodbelt, D. C. (2016), Epidemiology of hyperadrenocorticism among 210,824 dogs attending primary-care veterinary practices in the UK from 2009 to 2014. J Small Anim Pract, 57: 365–373.
The Big Canine Cushing's Project is being run by the VetCompass team at the Royal Veterinary College. This project aims to discover more about how hyperadrenocorticism impacts the day-to-day life of dogs and their owners. This greater understanding can help us develop ways to better manage and monitor dogs living with the disease. Hyperadrenocorticism (Cushing's disease) is the consequence of high levels of circulating glucocorticoids (steroids) which cause a number of possible symptoms and secondary diseases, highlighting the importance of its control.
What is the Big Canine Cushing's Project?
The project consists of an owner survey, a vet survey and a study of hair cortisol.
1) An owner survey:
Any dog owner can help us by completing this survey. We need information on dogs with and without Cushing's disease. The survey takes about 5 - 10 minutes to complete and is available online via this link: https://www.surveymonkey.co.uk/r/canine_cushings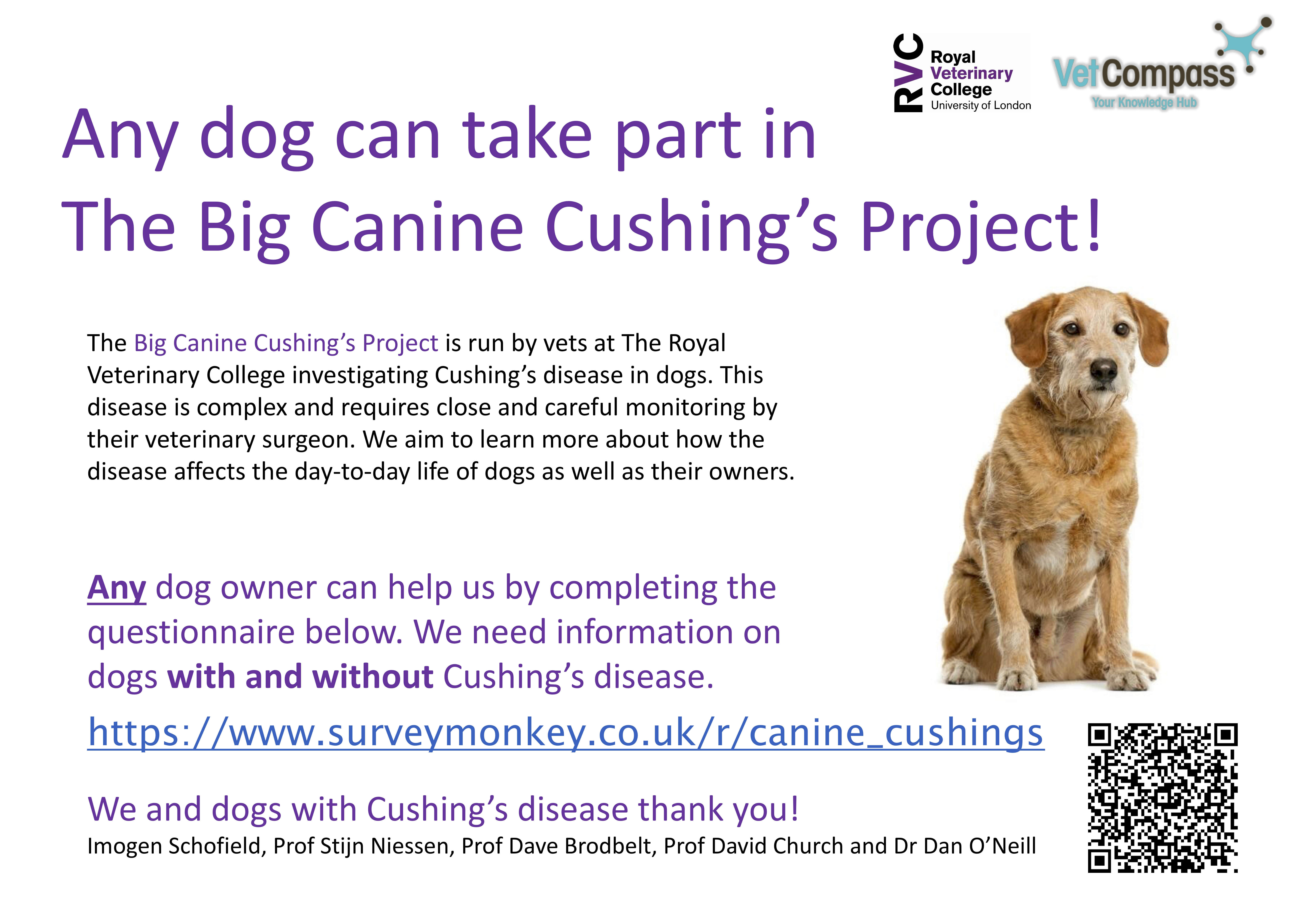 2) A vet survey:
All veterinary surgeon's are encouraged to complete this survey and provide us with their views of the disease. This survey only takes 5 minutes and is available here: https://www.surveymonkey.co.uk/r/vet_caninecushings
3) Hair cortisol study:
We aim to develop a hair cortisol monitoring test for Cushing's disease. This part of the project will analyse the levels of cortisol in the hair of dogs with Cushing's disease. If you are an owner or a vet, please send in a sample of hair taken from the ventral neck (underside of the neck) of a dog with hyperadrenocorticism. Place the hair in a sealed plastic bag and return in an envelope with a completed submission form found here to: Imogen Schofield, The Royal Veterinary College, Hawkshead Lane, Hatfield, Hertfordshire, AL9 7TA.
To recognise the importance of the clinical signs and to document these signs quickly and easily our research group at the Royal Veterinary College has created the Cushing's Clinical Score (CCS). The simple CCS can be completed as part of history-taking within the consultation to aid monitoring of dogs treated with trilostane for hyperadrenocorticism. The use of the CCS by all team members as well as owners ensures the assessment of the clinical signs of hyperadrenocorticism are standardised and therefore comparable between consultations.
Download your copy of the Cushing's Clinical Score here: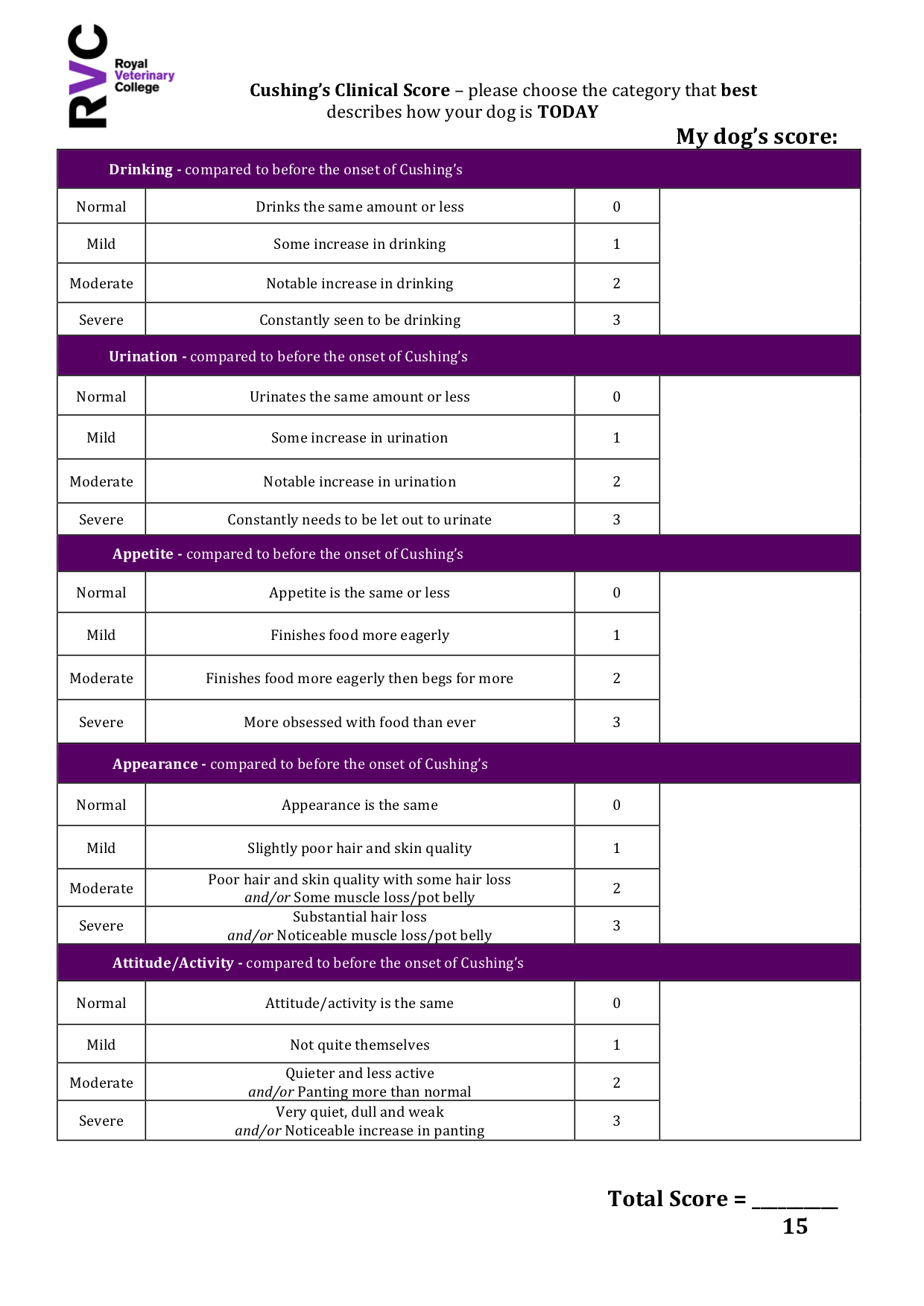 Vet Compass Project Type: Dog