New research reveals brachycephalic dogs are most susceptible to corneal ulcerative disease
New research has revealed that brachycephalic (so-called 'short-nosed' or 'flat-faced') dogs are most susceptible to corneal ulcerative disease.
The findings will help to raise awareness amongst breeders, owners and vets, as well as encourage responsible breeding and help inform and improve diagnosis and treatment.
VetCompass™ explores anonymised clinical records from veterinary clinics to investigate health and welfare issues in companion animals. For this study into corneal ulcerative disease, the VetCompass™ team explored the records of more than 100,000 dogs across England. The cornea is the outermost layer of the eye and must remain transparent to support vision. Ulcerated corneas can lose transparency and become particularly painful.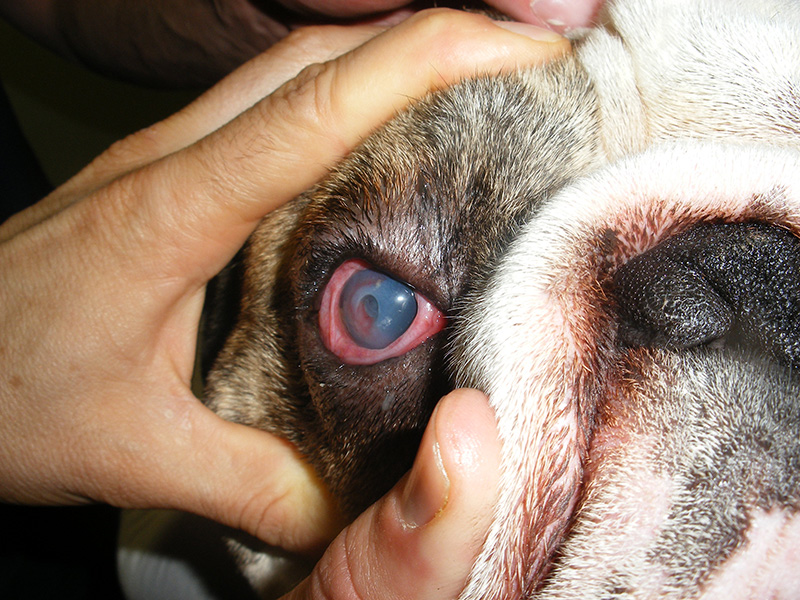 The results highlight just how common the condition is: almost 1 in every 100 dogs from the overall dog population will be affected with a corneal ulcer each year. The study also reported on the severity of the condition for affected dogs, with almost 60% requiring pain relief, almost 1 in 5 needing surgery and that their corneal ulceration condition contributed to the deaths of over 1 in 10 of the dogs that died during the study.
One of the biggest findings relates to the types of breeds that are most affected by corneal ulceration. Brachycephalic (flat-faced) breeds had over 11 times the risk compared with non-brachycephalics. It was hypothesised that the peculiar skull anatomy of the brachycephalic dogs with their large eyelid openings and protruding eyes might predispose their corneas to injury. Purebred dogs had over twice the risk compared with crossbred dogs. Spaniel breeds overall had over 3 times the risk compared with non-spaniels.
The findings for individual breeds were even more startling, with pugs having over 19 times the risk of corneal ulceration compared with crossbred dogs. The results also showed that the risk of corneal ulceration increased substantially as dogs aged. This has implications given the current huge wave of popularity that the pug is riding which means that the current population of pugs in the UK are quite young. These results predict that corneal ulceration will become a bigger problem for pugs as this wave ages.
The results have been detailed in a paper entitled 'Corneal ulcerative disease in dogs under primary veterinary care in England: epidemiology and clinical management' which is freely available in Canine Genetics and Epidemiology, 4, 5.
Dr Dan O'Neill, an RVC epidemiologist and one of the authors of the study, commented that 'some predisposition for corneal disease in brachycephalic breeds was expected but the level of the effect that we found was quite eye-opening and highlighted the importance of prioritising ocular health for vets, breeders and owners of predisposed breeds'.
Dr Rick Sanchez, a veterinary ophthalmologist and co-author of the study, stated that 'predisposition to ulcerative disease in brachycephalics was suspected but it was far from proven given the relatively small number of animals included in previous studies and the bias of the referral populations most previous studies were based on. One of the problems with ulcers in brachycephalic dogs is that these lesions can degenerate quickly, so a prompt diagnosis is paramount in the success of the treatment. Raising awareness of the diseases so many brachycephalic breeds develop is very important, as is the fact that everyone, from vets to owners to breeders, can play a part in the responsible development of dog breeds and individual dogs with healthier eyes.'
Caroline Kisko, Kennel Club Secretary, said: "With some breeds having a markedly higher risk than others of developing corneal ulcerative disease, this research will enable breeders to make responsible breeding choices to protect the eye health of their dogs. It will also help to highlight what puppy buyers and existing owners need to be looking out for if they own or wish to own one of the most affected breeds.
"Corneal ulcers can be caused by a number of factors, including external ones, and the risk can be increased in dogs with exaggerated features, such as protruding eyes or eyes that are showing white when the dogs are looking straight ahead, which highlights the importance of people breeding and choosing to own moderate, non-exaggerated dogs. We would be interested to see further research carried out to understand the specific factors which can predispose some brachycephalic and spaniel-type breeds to the condition so that we can provide further breeding advice to help eliminate this condition, which can be serious.
"We would encourage owners and breeders of higher risk breeds, and the vets treating them, to be vigilant for corneal ulcerative disease. The Kennel Club and British Veterinary Association runs an eye testing scheme to test for inherited eye conditions so it would be sensible for dog owners to ask their vets about this and use it to protect the eye health of their dogs."
A BioMed Central podcast about the study is available on the BMC website at: Flat faced dogs are at greater risk of developing corneal ulcers
Research Reference
O'Neill DG, Lee MM, Brodbelt DC, Church DB, Sanchez RF. Corneal ulcerative disease in dogs under primary veterinary care in England: epidemiology and clinical management. Canine Genetics and Epidemiology, 2017 4:5. doi: 10.1186/s40575-017-0045-5
---
Press Office Contact
Uche Graves / Zoe Chadwick
T: 0800 368 9520
E: uche.graves@plmr.co.uk / zoe.chadwick@plmr.co.uk
Notes to Editors
The Royal Veterinary College (RVC) is the UK's largest and longest established independent veterinary school and is a constituent College of the University of London. The RVC offers undergraduate, postgraduate and CPD programmes in veterinary medicine, veterinary nursing and biological sciences, being ranked in the top 10 universities nationally for biosciences degrees. It is currently the only veterinary school in the world to hold full accreditation from AVMA, EAEVE, RCVS and AVBC.
A research-led institution, in the most recent Research Excellence Framework (REF2014) the RVC maintained its position as the top HEFCE funded veterinary focused research institution.
The RVC also provides animal owners and the veterinary profession with access to expert veterinary care and advice through its teaching hospitals; the Beaumont Sainsbury Animal Hospital in central London, the Queen Mother Hospital for Animals (Europe's largest small animal referral centre), the Equine Referral Hospital, and the Farm Animal Clinical Centre located at the Hertfordshire campus.
VetCompass™ shares and analyses veterinary clinical information to understand the disorders and improve the welfare of companion animals. www.rvc.ac.uk/vetcompass.
RVC Press Release 23 June 2017
See other Press Releases.
---
You may also be interested in:
A new study by the VetCompass team at the Royal Veterinary College (RVC) has found that dogs with …