Intercalated BSc Comparative Pathology
An intercalated year allows veterinary students to gain an additional degree, focusing in a specific area relevant to their veterinary studies. Most students intercalate after their second or third year, and study a BSc course either at the RVC or at another university.
The additional year of study means that you will gain a more rounded education, additional scientific context, and gain valuable experience in carrying out in-depth, original, research. After the intercalated year you will rejoin your original course, and continue from the point you left it.
The Intercalated BSc Comparative Pathology is a one-year programme taught at our Hawkshead Campus with research projects undertaken at either the Hawkshead or Camden Campus depending on the project.
Pathology, the science of disease, is central to understanding and conduct of veterinary and biomedical research, clinical medicine and surgery. There is a need for veterinary scientists who are trained in pathology and pathology techniques to fulfil the ever-growing demand for such expertise arising from clinical practice, academia and industry.
The programme aims to:
develop an understanding of the disease process in animals and how it is assessed at the molecular level, in the cell, the organ, and the whole animal
show how contemporary technology is applied to dissecting and interpreting tissue responses in the pathological process
establish understanding of how pathology can be used for research and diagnosis
design experimental programmes appropriate for evaluating disease; to prepare and evaluate data; and to develop written and oral skills of communication
Below are some testimonials from previous students:
---
"My BSc Comparative Pathology intercalated year was a huge milestone in my professional development. The course allowed me to explore the research options available to vet students upon graduation and opened my eyes to the many different career paths out there."
I completed the intercalated BSc Comparative Pathology course in 2016-2017. This course was the fundamental first step towards the rest of my professional veterinary career. The pathology training and the development of research skills ensured I was better equipped to excel in the final years of the veterinary course. Also, as there are currently few opportunities to gain professional experience in veterinary pathology, this training program continues to be one of a kind in preparing veterinary professionals for a pathology career. The training I received allowed me to become a better clinician in practice and has even now allowed me to pursue a residency in veterinary anatomic pathology. Many of my colleagues from the intercalated pathology course are now in practice, training to become veterinary specialists in a variety of fields or undertaking further research training in post-doctoral positions. The intercalated pathology degree has immeasurably benefited many of us, as the additional skills it provides compared to the undergraduate veterinary course allows you to be more competitive for positions in the future. The intercalated pathology degree, in my opinion, continues to be a unique and incredible opportunity which is internationally recognised in preparing veterinarians to excel in their professional careers. Whether you are interested in small animal, equine, farm animal or exotics, or are wanting to explore the varied career options for veterinarians post-graduation, this course will have an immeasurable impact on your professional development. I strongly recommend this course to all veterinary undergraduates as I wouldn't be training to become a specialist today without it."
Rachel Garty, BSc Comparative Pathology 2016-17
---
"To anyone considering intercalating in Pathology, I can't encourage you enough to go for it - the hardest decisions in life often have the best outcomes!"


"I hesitated before applying as my first and second year results weren't fantastic, but I was reassured that it's more about your interest and passion in the subject than your grades. Having now graduated from the course with a 1st class degree, I think taking the leap and deciding to intercalate was one of the best decision I've ever made. From an overwhelmed student of a class of over 200 to being a student of 20, there was a sense of community I hadn't felt at University before, and the course gave me so much confidence in myself and knowledge which I have carried forwards going into vet med, as well as opening my eyes to a whole new range of veterinary careers."
Emma Foster, BSc Comparative Pathology 2018-19
---
"Intercalating in Comparative Pathology not only improved my knowledge of diseases and their mechanisms, but also provided exposure into the world of veterinary research."


"I really enjoyed working in the lab and developing my practical skills further than the Veterinary Medicine degree allows. This course has laid the foundations for my interest in research, having progressed to undertaking a summer research internship and presenting at multiple veterinary research conferences since finishing my intercalated year. CompPath has also given me amazing friendships and invaluable professional connections - I am so grateful to have had this opportunity to shape my future career."
Beth Kraines, BSc Comparative Pathology 2017-18
"The Comparative Pathology course provided me with the opportunity to focus primarily on my interest in Pathology, and work on my microscopy skills."
"The course usually consisted of lectures in the morning, followed by a practical, and then a feedback session. So I could apply the knowledge I had learnt in the morning straight away."
Gorprit Singh, BSc Comparative Pathology 2016-17
---
"I have wanted to be a veterinary pathologist for a long while and wished to extend my veterinary degree knowledge base.
"The course is a great shake up from the pre-clinical years before coming up to Hawkshead. I particular enjoyed the hands on aspects of the course which, with a small course, allow for direct small group contact with those delivering material. The research project segment was hugely enjoyable and gave a realistic view of how the research works actually works. I am still in daily contact with members of my lab group that I worked with and am looking to continue the work that I did during my Comp Path year."
Harry Peters, BSc Comparative Pathology 2018-19
---
"I absolutely loved my intercalated year in Comp Path and would recommend it to anyone considering it."


"The small group learning style is really enjoyable and you get to know staff and students really well. I found the time spent dedicated to research incredibly valuable and being able to concentrate on certain topics in more depth was really interesting. The Comp Path course also highlighted to me the many different career paths possible with a veterinary degree and I know the skills gained throughout the year will help me throughout my career."

Becky Justice, BSc Comparative Pathology 2018-19
---
"Intercalating has given me more confidence in myself going forwards with the rest of my vet degree and I hope that skills I have gained will help set me apart from other veterinary graduates when applying for jobs or further post-graduate training"


I absolutely loved my intercalated year and would recommend Comparative Pathology to anyone considering intercalating. I really enjoyed the practical nature of the course and the small group teaching format, and the knowledge and skills and I gained in my intercalated year are very relevant to the rest of the BVetMed course. I also really enjoyed the opportunity to carry out a research project - I loved my time in the lab and am planning to continue the work that I did in my intercalated year, as well as now strongly considering further post-graduate research which I wouldn't have even realised I wanted to do it I hadn't had this opportunity.
Alex Bartlett, BSc Comparative Pathology 2019-20
______________________________________________________
"Intercalating in the Comparative Pathology BSc allowed me to gain valuable lab experience early on in my medical career as well as gain an insight into One Health and the interface between human and animal disease."
As a medical student my intercalation was rather left-field, departing from contemporary medical intercalations. However, my Comparative Pathology BSc allowed me to gain early clinical experience in both gross pathology and histopathology, something that my peers are unable to obtain through traditional intercalations. Working alongside veterinary students and clinicians was thoroughly enjoyable and opened my eyes to the world of One Health, a topic seldom taught at medical school (!). Furthermore, the ability to work on a cross-disciplinary wet lab project in the second semester was a highlight, starting from zero research experience to writing a dissertation and presenting my own research to fellow students and clinicians. My Comparative Pathology BSc has subsequently helped me pursue my interest in human infectious disease and has undoubtedly been one of the best decisions of my undergraduate career!
Joe Thompson, BSc Comparative Pathology 2021-22
---
Sign up to hear more from RVC
If you're interested in studying this course, and would like to stay informed, sign up to our RVC For Me mailing list to receive relevant information about upcoming events, students stories and life at the Royal Veterinary College.
---
Research
In addition to your classroom modules you will undertake a novel research project during which you will work full time within a research laboratory from January through to May. You will have a choice of different projects from a broad range of specialisations, including pathology, microbiology, parasitology, virology, reproduction, genetics, physiology, cell & molecular biology, and locomotion.
You will be guided to produce a research report which will contribute half of your overall mark for the intercalated degree. In previous years several of these research projects have formed the basis of publications either as conference abstracts or as full articles in peer-reviewed journals. For more information, please see the Research Projects tab and the Publications from Research Projects Tab.
Please note that these are indicative modules and may be subject to change.
Year 1
Principles of Pathology (30 credits)
Appreciating the principles of pathology is pivotal to enhancing our comprehension of the complexity of animal diseases enabling development of targeted medical and surgical therapies and progression of veterinary and biomedical research.
There is a need for specialists in veterinary pathology and pathological techniques to fulfil the ever growing demand for such expertise arising from clinical practice, academia and industry. Although veterinary undergraduate courses provide adequate education in veterinary pathology to support subsequent clinical studies, this module presents an innovative approach to illustrating and understanding the fundamental principles of veterinary pathology.
The module is designed to provide you with a foundation in the core principles of veterinary pathology to support subsequent pathology oriented careers and future contributions to animal and human health and welfare. This is achieved through a series of dedicated lectures, small group seminars and practical sessions.

The Principles of Pathology module normally runs on Mondays & Tuesdays in the Autumn Term.
Applications of Pathology (30 credits)
The aim of this module is to enable you to put theory into practice. By engaging with veterinary pathologists and other experts in the field, you will gain theoretical and practical knowledge that will help to cement your understanding of the basic principles of pathology. Specifically, you will be introduced to the topics of clinical pathology, toxicological pathology and veterinary forensic pathology, and re-visit neoplasia and tumour biology both in a diagnostic and research setting.
Additionally, you will be involved in sessions dedicated to learning how to critically assess scientific publications and explain the principles and applications of useful research techniques. This will help prepare you for your research project in the spring term.

The Applications of Pathology module normally runs on Thursdays and Fridays in the Autumn Term
Teaching
Teaching methods usually consist of a mix of seminar presentations, small group learning (including directed learning), practical sessions and tutorials.
In a typical week, you will have up to 28 contact hours of teaching. All classes will have a maximum of 20 students. These contact hours will include lectures, post mortem examinations, pathology rounds, practical classes, seminars and tutorials. In addition there will be at least 7 hours per week of timetabled private study time, to read around topics covered in the course.
Self-directed learning
Outside of your timetabled lectures and practical sessions, you are expected to undertake self-directed learning. Typically, this involves working on your own research project, reading journal articles and books, working on individual and group projects, preparing coursework assignments and presentations, and preparing for examinations.
Assessment and feedback
You will be continuously assessed throughout your course, followed by final examinations. You will also be assessed on in-course work, such as completing tests, analysing data and samples, delivering presentations, and writing essays. A major part of your comparative pathology course is the completion of a research project.
The estimated breakdown of assessment for your intercalated year grade is:
In course assessment (coursework, essays) - 17%
Examination (written) – 33%
Projects (project report) – 40%
Presentation (project presentation) – 5%
Teaching staff
If you would like any further information please use the contact details below:
Dr Rob Noad (Course Director)
Email: rnoad@rvc.ac.uk
Tel: 01707 667062
Dr Henny Martineau (Deputy Course Director & Module Leader for Applications of Pathology)
Email: hmartineau@rvc.ac.uk
Dr Alejandro Suarez-Bonnet (Module Leader for Principles of Pathology)
Email: asuarez-bonnet@rvc.ac.uk
Prof Ken Smith (Course Tutor)
Email:

ksmith@rvc.ac.uk


Tel: 01707 666353
Lisa Harber (Programme Support Co-ordinator)
Email:

lharber@rvc.ac.uk


Tel: 01707 666323
Entry Requirements
Veterinary Medicine and Medicine undergraduates from any UK or EU Veterinary/Medical school are eligible to apply. Applicants will need to pass the year they are currently undertaking, and historical performance will be considered as part of the assessment.
Internal applicants: Intercalation is normally considered for those completing Year 2, but applications from Year 3 will be considered with permission from the Student Progress Administrator.
External applicants: Applicants will need to obtain permission to intercalate from their parent institution. This can be uploaded with one's application, or sent later in the cycle.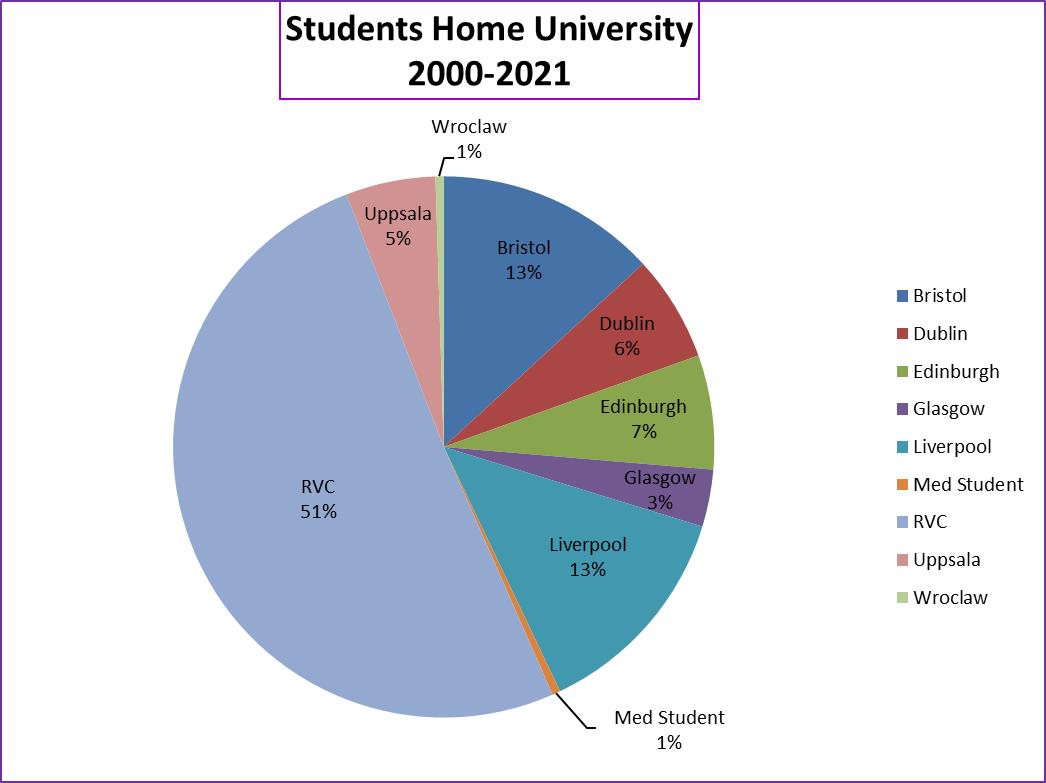 Application Form
Application is via the How to Apply icon on the left.
From data previously collected, it would appear that the majority of the students who took the previous Intercalated Veterinary Pathology programme went on to further postgraduate studies, either before or after time in practice.
Further studies include both PhD and Master's degrees and Senior Clinical Training Scholarships in either Pathology (Anatomic or Clinical) or Clinical disciplines. Indeed Intercalation in Pathology has been cited as one of the most important factors in selection of students for highly competitive post-graduate studies.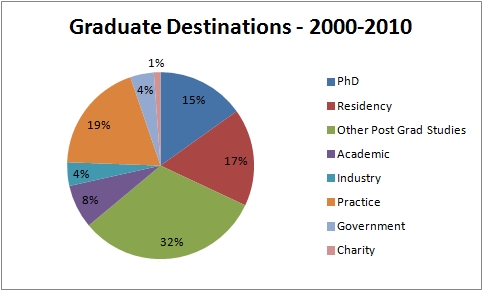 PhD's being undertaken by previous students:
Our previous students who are now undertaking, or have completed, a PhD.
Kathryn Allan - "Investigating animal reservoirs of leptospirosis in Tanzania" supervised by Prof Janet Patterson-Kane & Dr Sarah Cleavland at the University of Glasow.
Helen Booler - 'Pathogenetic mechanisms in the dystroglycanopathies' supervised at the RVC.
Richard Booth - "Bovine Virus Diarrhoea (BVD) virus - a longitudinal farm study on biosecurity, health profile and costs benefit for control" - supervised by Prof J Brownlie at the RVC.
Stephen Burr - "The Metabolic Regulation of Hypoxia Inducible Factor 1" supervised at the University of Cambridge.
Emily Chapman (nee Barker) - "Haemotropic mycoplasmas of mammals" supervised by Dr Chris Helps & Dr Séverine Tasker at Bristol University.
Jen Claridge - "Does infection of British dairy cattle with the parasite Fasciola hepatica affect the susceptibility of these animals to infections normally controlled by a Th1 or proinflammatory immune response" - supervised by Tropical Medicine and Vet Faculties, Liverpool.
Kathryn Cosgrove - "Adaptation of viruses when they cross the species-barrier" - supervised at the University of Bristol, School of Cellular & Molecular Medicine.
Melanie Dobromylskyj (nee Scaife) - "Identification & characterisation of natural killer receptor ligands in cattle" - supervised by Shirley Ellis at the Institute for Animal Health, Compton.
Sarah Hewitt (nee Hughes) - "Evaluating the relationships between beef herd performance indicators and overall enterprise success" - supervised at the University of Nottingham.
Jenny Larsson - "Neonatal diarrhoea - an old problem with new and serious implications in modern pig production" - supervised by Magdalena Jacobsson at the University of Uppsala
Alex Mastin - "Investigating Echinococcus spp (granulosa, multilocularis, shiquicus) amongst Tibetan communities in Sichuan province in China" - supervised at Salford University.
James Mount - "The origin and regulation of progenitor cells in the regenerating antler" supervised by Prof J Price at the RVC.
Alan Mueller - "Post genomic science and Systems Biology" supervised at the University of Liverpool.
Oskar Nilsson - "Vancomycin resistant enterococci (VRE)" - supervised at the National Veterinary Institute, Upsala, Sweden.
Laura Peachey -"Failure of cervical dilation in mares" - supervised at the RVC
Chris Pennelegion - "The use of CRD-Fc Proteins to enhance bacterial killing" - supervised by Prof Dirk Werling at the RVC.
Rob Pope - "A study of pathogenesis of Peste-des-petits ruminants virus - emphasising changes in tissue tropism with time and varying virulence" - supervised by Prof J Brownlie at the RVC and Prof Tom Barrett at the Institute for Animal Health, Pirbright.
Simon Priestnall - "The role of a novel coronavirus in canine infectious respiratory disease" - supervised by Prof J Brownlie & Dr Kerstin Erles at the RVC.
Steph Reed - "Molecular and cellular mechanisms of virulence in BVDV" - supervised by Prof J Brownlie, Dr C Thomas & Dr M Collins, RVC.
Natalie Robinson - "Use of sentinel practices to obtain data regarding common clinical conditions and presentations in small animal consultations" supervised at the University of Nottingham.
Eoin Ryan - "The pathogenesis of foot-and-mouth disease in foetal and neonatal lambs" supervised by Prof J Brownlie at the RVC and Dr Zhidong Zhang at the Institute for Animal Health, Pirbright.
Sam Sharpe - supervised by Prof Janet Patterson-Kane at the University of Glasgow.
Elizabeth Slack - "The role of phosphoinositide 3-kinases in regulatory T-cell function" at the RVC.
Laura Spoor - "Comparative veterinary medicine and pathogen discovery, investigating the population genetices of S.aureus (including MRSA) in animals and humans" - supervised by Dr Ross Fitzgerald, at the University of Edinburgh
Ryan Waters - "Transmission and persistence of foot-and-mouth virus in the ovine foetus" - supervised by Prof Joe Brownlie at the RVC and Dr Zhidong Zhang at the Institute for Animal Health, Pirbright.
Elspeth Waugh (nee Simpson) - supervised at Glasgow Vet School.
Louise Welch - "Characterisation of novel Th cell subsets in the chicken - Th17 and Th9" - supervised by Prof Pete Kaiser at The Roslin Institute.
James Wiseman - "Bovine tuberculosis" - supervised at University College Dublin.
The Research Project is considered to be a major part of the academic study during the intercalated year and accounts for 50% of your final mark.
The projects are undertaken in centres of established excellence for veterinary research with project supervisors of international repute. They will offer you a rare opportunity to experience not only the research environment with multi-disciplinary teams working at the 'cutting edge' of science, but also one that is highly relevant to veterinary research.
Research projects will focus on pathology in its widest context; the selection of supervisors will ensure a wide range of veterinary research that can be tailored to individual interests of the students. Another exciting part of the research project is the chance for your work to be included in a publication. Details of those papers published so far can be found on the Publications from Research Project tab.
A selection of the research projects undertaken by previous students are as follows:-
"Death by Drowning: Can we prove it?"


"Exogenous mitochondria as a novel therapy for hypoxic-ischaemic brain injury: Determining the optimal mitochondrial tissue source and isolation method for cellular uptake in vitro"


"Does presence of non-primate hepacivirus correlate with liver disease in horses?"


"Cox-2 expression in feline and canine cholangiocarcinomas"


"Developing an in vitro model of the invasion and replication of Eimeria acervulina in MDBK cells for future evaluation of novel compounds against chicken coccidiosis"


"Digital image analysis to objectively characterise the histological features in the choirioallantois of equine pregnancies that have failed due to torsion of the umbilical cord"


"Effects of diets supplemented with different concentrate proportions on circulating leukocyte global gene expression profiles in early lactation dairy cows"


"How do equine cells respond to infection with African Horse Sickness Virus?"


"Feline diabetes mellitus as a model for human type 2 diabetes mellitus: does it all get too much for the pancreas?"


"Analysis of myofibrillar calcium sensitivity in the myocardium of cats with Hypertrophic Cardiomyopathy"


Hypoxia, regulatory cells and the DNA damage response in cancer: the dog model"


"Genotyping of BVD viruses to improve biosecurity on the Isle of Man"


"Eimeria tenella parasite as novel vaccine delivery vectors"


"A Tale of Two Breeds: Effects of Vitamin D on M. Bovis infection"


"Defining the role of FOXL2 in establishing female reproductive lifespan"


"Does caloric restriction affect reproductive lifespan?"


"Investigating the mechanisms for enhanced apoptopic death in pancreatic cancer cells treated with replication-selective adenoviral mutants in combination with DNA-damaging drugs"


Acromegaly-induced cancer: fact or fiction and how a furry friend might help settle the issue"


"An investigation of the molecular mechanisms of feline hypertrophic cardiomyopathy caused by mutations in proteins of the heart muscle sarcomere"


Are pinnipeds really just water carnivores?"


"Can ADAM17 act as the cellular protease that cleaves S during PEDV entry?"


"Genotypic variation of Angiostrongylus vasorum in local red fox (Vulpes vulpes) populations"


"Phenotypic and functional characterisation of canine monocytes: towards a novel therapeutic target for inflammatory and autoimmune disease?"


"Pathological behaviour in the companion animal dog: does assessing hair cortisol provide a clue towards its pathophysiology?"


"Population dynamics of Angiostrongylus vasorum in the red fox (Vulpes vulpes)"


"Establishing a histopathological diagnostic grading system and aetiology for 'disinegrating' sesamoid bones in the limbs of giraffes (Giraffa camelopardalis)"


"Targeting αvβ6-integrin expressing pancreatic cancers with a mutant adenovirus for imaging and therapy".


"Investigating the scavenging patterns of the red fox"


"Temporal and species distributions, starvation and NAI, and cause of death in dogs, cats and rabbits submitted to RVC forensic necropsy service between 2003 and 2021"


"Canine Mast Cell Tumour Epidemiology in Veterinary Practice - Risk Factors for Diagnosis"


"A histological survey of geriatric diseases in captive Sainthouse's killfish (Nothobranchiussainthouei)"



"Investigating the role of brain-derived neurotrophic factor (BDNF) in canine epilepsy"
The following papers/publications have been published from previous students' research projects:-
Publications 2021
Kita Hull (2018-2019 Student)
Hull, K D, Jeckel, S, Williams, J M, Ciavaglia, S A, Webster, L M I, Fitzgerald, E, Chang, Y, Martineau, H. (2021). Fox (Vulpes vulpes) involvement identified in a series of cat carcass mutilations. Vet Path 1-11. https://doi.org/10.1177/03009858211052661
Publications 2020
Lavinia Economu (2018-19 Student)
Economu, L,

Stell, A, O'Neill, D G, Schofield I, Stevens, K, Brodbelt D. (2020). Incidence and risk factors for feline lymphoma in the UK primary-care practice.

Journal of Small Animal Practice

2021

62:97-106 https://doi.org/10.1111/jsap.13266
Georgia Jeremiah nee Nicholson-Thomas (2016-2017 student)
Marugan-Hernandez, V,

Jeremiah, G, Aguiar-Martins, K, Burrell, A, Vaughan, S, Xia, D, Randle, N, Tomley, T. (2020). The growth of

Eimeria tenella: Characterisation and application of quantitative methods assess Sporozoite invasion and engodenous development in cell culture. Front. Cell. Infect. Microbiol. 10:579833.

doi: 10.3389/fcimb.2020.579833
Harry Peters (2018-19 Student)
Milne, G, Fujimoto, C, Bean, T,

Peters, H J, Hemmington, M, Taylor, C, Fowkes, R C, Martineau, H M, Hamilton, C M, Walker, M, Mitchell, J A, Leger, E, Priestnall, S L, Webster, J P. (2020). Infectious causation of abnormal host behaviour:

Toxoplasma gondii

and its potential association with Dopey Fox Syndrome. Front. Psychiatry 11:513536. doi: https://doi.org/10.3389/fpsyt.2020.513536
Publications 2018

Joanna Hindle & Catherine Tudor (2015-16 students)
Blanch-Lázaro B

,

Mitton Z

,

Tudor C

,

Hindle J

,

Martineau H

,

Fox M

,

Blake DP

.

Genetic diversity and population structure of Angiostrongylus vasorum parasites within and between local urban foxes (Vulpes Vulpes). Vet Parasitol. 2018 Oct 15; 262:42-46. https://doi.org/10.1016/j.vetpar.2018.09.008 Epub 2018 Sep 18.
Gareth Jones (2013-14 student)
Holder, A,

Jones, G, Soutter, F, Palmer, D B, Aspinall, R & Catchpole, B. (2018). Polymorphisms in the canine IL7R 3'UTR are associated with thymic output in Labrador retriever dogs and influence post-transcriptomal regulation by microRNA 185.

Dev & Comp Imm

81(2018):244-251 https://doi.org/10.1016/j.dci.2017.12.008
Hattie Smart (2016-17 student)
Smart, H, Rose, B V, Baldwin, G, Hampshire, D, Verheyen, K L P, Wathes, D C, Ghosh, S, Raudsepp, T & de Mestre, A M. (2018) Profiling of Aneuploidies and Structural Genomic Variants in Placentae from Mares that suffer Early Pregnancy Loss.

J Eq Vet Sci

66:234


Publications 2017
Jasmine Chan (2015-16 student) & Alex Daley (2014-15 student)

Messer, A E, Chan, J, Daley, A, Copeland O, Marston, S B, Connolly D J. (2017). Investigations into the Sarcomeric Protein and Ca 2+- Regulation Abnormalities Underlying Hypertrophic Cardiomyopathy in Cats (Felix catus). Front Physiol 2017 Jun 8;8:348. https://doi.org/10.3389/fphys.2017.00348 eCollection 2017.
Natalie Gibbons (2015-16 student)
Gibbons, N, Goulart, M R, Chang, Y M, Efstathiou, K, Purcell, R, Wu, Y, Peters, L M, Turmaine, M, Szladovits, B and Garden, O. (2017). Phenotypic heterogeneity of peripheral monocytes in healthy dogs.

Vet Imm Immunopath

2017 Aug;190:26-30 https://doi.org/10.1016/j.vetimm.2017.07.007
Emily Long (2014-15 student)
Marugan-Hernandez, V,

Long, E, Blake D, Crouch C & Tomley, F. (2017). Eimeria tenella protein trafficking: differential regulation of secretion versus surface tethering during the life cycle.

Scientific Reports

7:4557 https://doi.org/10.1038/s41598-017-04049-1

Publications 2016
Fortuna Luca (2014-15 student)
Fortuna, L, Relf, J, Chang, Y M, Hibbert, A, Martineau, H M & Garden, O A. (2016). Prevalence of FoxP3(+) Cells in Canine Tumours and Lymph Nodes Correlates Positively with Glucose Transporter 1 Expression.

J Comp Path

2016 Aug-Oct;155(2-3):71-180. https://doi.org/10.1016/j.jcpa.2016.06.006
Emma Stuart (2010-11 student) & Sherri-Ann Pegg (2014-15 student)
Gibson AJ, Woodman S, Pennelegion C, Patterson R, Stuart E, Hosker N, Siviter P, Douglas C, Whitehouse J, Wilkinson W, Pegg S A, Villarreal-Ramos B, & Werling D. Differential macrophage function in Brown Swiss and Holstein Friesian cattle. Vet Immunol Immunopathol. 2016 Nov 15;181:15-23. https://doi.org/10.1016/j.vetimm.2016.02.018 PubMed PMID: 26961672.
Publications 2015
Alison Lee (2010-11 student)
Lee, A, Katirani, A, Priestnall, S L, Smith, K, Werling, D & Allenspach, K. (2015) Lack of Correlation between Mucosal Immunoglobin A-positive Plasma Cell Numbers and TLR5 Genotypes in German Shepherd Dogs with Idiopathic Chronic Enteropathy.

J Comp Path

152(2-3):201-2015

Publications 2013
Naomi Bull (2010-11 student)
Aranday-Cortes, Bull, N C, Villarreal-Ramos, B, Gough, J, Hicks, D, Ortiz-Pelaez, A, Vordermeier, H M & Salguero, F J. (2013). Upregulation of IL-17A, CXCL9 and CXCL10 in early-stage granulomas induced by Mycobacterium bovis in cattle. Transboundary & Emerging Diseases https://doi.org/10.1111/j.1865-1682.2012.01370.x

Publications 2012
Stephen Burr (2006-07 student)
Kristina Hammeren Busch (2009-10 student) & Camilla Tornquist Johnsen (2010-11 student)
Adam, V, Ekblad M, Sweeney, K, Muller, H, Busch KH, Johnsen, C T, Kang N R, Lemoine, N R & Hallden, G. (2012). Synergistic and selective cancer cell killing mediated by the oncolytic adenoviral mutant AdΔΔ and dietary phytochemicals in prostate cancer models. Hum Gene Ther 2012 Sept;23(9):1003-15 https://doi.org/10.1089/hum.2012.046
Ellie Ross (2008-2009 student)
Solanky, B S, Sanchez-Canon, G J, Cobbold, J F, Taylor-Robinson, S D, Bell, J D, Scudamore, C L, Ross, E, Holder J C, So P W, and Cox I J. Metabolic profiling of the rat liver after chronic ingestion of alpha-naphthylisothiocyanate using in vivo and ex vivo magnetic resonance spectroscopy. Toxicol Sci 2012 Apr;126(2):306-16 https://doi.org/10.1093/toxsci/kfs019
Sally Scott (2009-2010 student)
Publications 2011
Sam Beck (2004-05 student)
Beck, S, Blunden, T, Dyson, S & Murray, R. (2011). Are matrix and vascular changes involved in the pathogenesis of deep digital flexor tendon injury in the horse. Vet J 2011 Sep;189(3):289-95
Cecilia Kallin (2008-09 student) & Kristina Hammaren Busch (2009-10 student)
Cherubini G, Kallin, C, Mozetic A, Hammaren Busch, K, Lemoine N R & Hallden G. (2011). The oncolytic adenovirus AdΔΔ enhances selective cancer cell killing in combination with DNA damaging drugs in pancreatic cancer models. Gene Therapy Dec;18(12):1157-65
Jenny Larsson (2007-08 student)
Gibson, A, Larsson, J, Bateman, M, Brownlie, J & Werling D. (2011). BVDV Strain and Cell Type Specific Inhibition of Type I Interferon Pathways. J Virol 2011 Apr;85(7):3695-7
Publications 2010
Emma Anderson (2009-10 student)
Paillot, R, Darby, A C, Robinson, C, Wright, N L, Steward, K F, Anderson, E, Webb, K, Holden, M T, Efstratiou, A, Broughton, K, Jolley, K A, Priestnall, S L, Marotti Campi, M C, Hughes, M A, Radford, A, Erles, K & Waller, A S. (2010). Identification of three novel superantigen-encoding genes in Streptococcus equi subsp zooepidemicus, szeF, szeN, and szeP. Infect Immun Nov;78(11):4817-4827.
Richard Appleton (2007-08 student)
Pinherio, D, Singh, Y, Grant, C R, Appleton, R C, Sacchini, F, Walker K R L, Chadbourne, A H, Palmer, C A, Armitage-Chan, E, Thompson, I, Williamson, L, Cunningham, F & Garden, O A. (2010). Phenotypic and functional characterisation of a CD4+ CD25high FOXP3high regulatory T-cell population in the dog. Immunology 132(1):111-122 DOI: 10.1111/j.1365-2567.2010.03346.x
Alan Holford (2007-08 student)
Radhakrishnan, S, Miranda, E, Ekblad, M, Holford, A, Tome Pizarro, M, Lemoine, N R & Hallden, G. (2010) Efficacy of oncolytic mutants targeting pRb and p53 pathways is synergistically enhanced when combined with cytotoxic drugs in prostate cancer cells and tumour xenografts. Human Gene Therapy 2010 Oct 21 (10):1311-25
Freya Lawrence (2006-07 student)
Widdison, S, Siddiqui, N, Easton, V, Lawrence, F, Ashley, G, Werling, D, Watson, M & Coffey, T J. (2010) The bovine chemokine receptors and their mRNA abundance in mononuclear phagocytes. BMC Genomics 2010 11:439
Ciaragh O'Neill (2008-09 student)
O'Neill, C, Jones, S C P, Bosse, JT, Watson, C M, Williamson S M, Rycroft, A N, Kroll, J S, Hartley, H M & Langford, P R. (2010) Population-based analysis of Actionbacillus pleuropneumoniae ApxIVA for use as a DIVA antigen. Vaccine 28:4871-4874
O'Neill, C, Jones, S C P, Bosse, J T, Watson, C M, Williamson, S M, Rycroft, A N, Kroll, J S, Hartley, H M & Langford, P R (2010). Prevalence of Actinobacillus pleuropneumoniae serovars in England and Wales. Vet Record 167:661-662
Sam Sharpe (2004-05 student)
Scase, T, Brandt, S, Kainzbauer, C, Sykora, S, Bijmhold, S, Hughes, K, Sharpe, S, & Foote, A. (2010) Equus caballus papillomavirus-2 (EcPV-2): an infectious cause for equine genital cancer? Equine Vet J 2010 Nov;42(8):738-45
Louise Welch (2005-06 student)
Watkins, C, Schock, A, May L, Denham S, Sales, J, Welch, L, Sharp J M, & Stevenson, K. Assessing virulence of vaccine strains of Mycobacterium avium subspecies paratuberculosis in a calf model. 2010. Vet Micro 146:63-69.
Publications 2009
Kai-Biu Shiu (2003-04 student)
Mitchell, J A, Brooks, H, Shiu, K-B, Brownlie, J & Erles, K. (2009). Development of a quantitative real-time PCR for the detection of canine respiratory coronavirus. Journal of Virological Methods 155:136-142


Publications 2008
Ben Dustan (2004-05)
Dustan, B H, Spencer, Y I, Casalone, C, Brownlie, J & Simmons, M M. (2008). A histopathologic and immunohistochemical review of archived UK caprine scrapie cases. Vet Pathol 45:443-454
Lindsay Edwards (2002-03 student)
Stanley, R L, Goodship, A E, Edwards, L, Firth, E C & Patterson-Kane, J C. (2008). Effects of exercise on tenocyte cellularity and tenocyte nuclear morphology in immature and mature equine digital tendons. Equine Vet J Mar;40(2):141-146.
James Mount (2003-04)
PhD – "The origin and regulation of progenitor cells in the regenerating antler"
Chris Pennelegion (2005-06 student)
Yamakawa, Y, Pennelegion, C, Willcocks, S, Stalker, A, MacHugh, N, Burt, D, Coffey, T J & Werling, D. (2008). Identification and functional characterisation of bovine orthologue to DC-SIGN. Journal of Leukocyte Biology March 3, 2008 83:1396-1403


Publications 2007
Maria Erlandsson (2002-2003 student
)
Erlandsson, M & Munro, R. (2007) Estimation of the post-mortem interval in beagle dogs. Science and Justice 47:150-154
Kai-Biu Shiu (2003-04 student)
Erles, K, Shiu, K-B, & Brownlie, J. (2006). Isolation and sequence analysis of canine respiratory coronavirus. Virus Research 124:78-87.
Chris Tems (2001-02 student)
Cunningham, A A, Tems, C A & Russell, P R . (2007). Investigating ranavirus diseases of the common frog (Rana temporaria) using immunohistochemistry. Accepted by JComp Path 138(1):3-11


Publications 2006
Kathryn Allan (2004-05 student)
Allan, K J, Waters, M, Ashton, D G, & Patterson-Kane, J C. (2006) Meningeal cholesterol granulomas in two meerkats (Suricata suricata). Vet Record 6th May 2006 158:636-637
Melanie Dobromylskyj (2001-02 student)
Araibi, E H, Marchetti, B, Dornan, E S, Ashrafi, G H, Dobromylskyj, M, Ellis, S A & Campo, M S. (2006). The E5 oncoprotein of BPV-4 does not interfere with the biosynthetic pathway of non-classical MHC class I. Virology 2006 Sep 15;252(1):174-83
Marissa Evans (2003-04 student)
Otto, W, R, Patel, K, McKinnell, I, Evans, M D, Lee, C-Y, Frith, D, Hanrahan, S, Blight, K, Blin, N, Kayademir, T, Poulsom, R, Jeffery, R, Hunt, T, Wright, N A, McGregor, F, & Oien, K A. (2006) Identification of blottin: A novel gastric trefoil factor family-2 binding protein. Proteomics Vol 6, Issue 15:4235-4245
James Mount (2003-04 student)
Mount J G, Muzylak, M, Allen, S, Althnaian, T, McGonnell, I M & Price, J S. (2006). Evidence that the canonical Wnt signalling pathway regulates deer antler regeneration. Developmental Dynamics 235:1390-1399
Steph Reed (2004-05 student)
Villarreal-Ramos, B, Reed, S, McAulay, M, Prentice, H, Coffey, T, Charleston, B C & Howard, C J. (2006) Influence of the nature of the antigen on the boosting of responses to mycobacteria in M. bovis-BCG vaccinated cattle. Vaccine 24:6850-6858


Publications 2005
Lindsay Edwards (2002-03 student)
Edwards L J, Goodship A E, Birch H L, & Patterson-Kane, J C. (2005). Effect of exercise on age-related changes in the collagen fibril diameter distributions in the common digital extensor tendons of young horses. Am J Vet Res 66(4):564-8
James Mount (2003-04 student)
Price, J S, Allen, S, Faucheux, C, Althnaian, T & Mount J G. (2005). Deer antlers: a zoological curiosity or the key to understanding organ regeneration in mammals? J Anat 207:603-618


Publications 2004
Emily Barker (2000-01 student)
Chalker, V J, Owen, W M, Paterson, C, Barker, E, Brooks, H, Rycroft, A N & Brownlie, J. (2004). Mycoplasmas associated with canine infectious respiratory disease. Microbiology Oct;150(Pt 10):3491-3497

Publications 2003
Lindsay Kellett-Gregory (2000-01 student)
Catchpole, B, Gould, S M, Kellett-Gregory, L M, Dobson, J M. (2003). Development of a multiple-marker polymerase chain reaction assay for detection of metastatic melanoma in lymph node aspirates of dogs. American Journal of Veterinary Research 64(5):544-549
Eoin Ryan
(2000-01 student)
Poulsom, R, Alison, M R, Cook, T, Jeffery, R, Ryan, E, Forbes, S J, Hunt, T, Wyles, S & Wright, N A. (2003). Bone marrow contributes to healing of the kidney. Journal of the American Society of Nephrology 2003 Jun:14 Suppl 1:S48-54
Chris Tems (2001-02 student)
Tems, C A, Cunningham A A & Russell, P H. (2003). Mass mortality of UK frogs: investigating ranavirus infection by immunohistochemistry. Research in Vet Sci 74(Sup A) p14
Tems, C A, Cunningham A A & Russell, P H. (2003). An investigation into iridovirus infection in frogs using immunohistochemistry. Proceedings of the BVZS, November 2003 p96.
Publications 2002
Lindsay Kellett-Gregory (2000-01 student)
Catchpole, B, Gould S M,

Kellett-Gregory, L M, Dobson, J M. (2002). Immunosuppressive cytokines in the regional lymph node of a dog suffering from oral malignant melanoma.

Journal of Small Animal Practice

43(10):464-467
Publications 2001
Lindsay Kellett-Gregory (2000-01 student)
Catchpole, B, Kellett-Gregory, L M, Dobson, J M. (2001). Immunosuppression in canine oral malignant melanoma. Immunology 104:78
Eoin Ryan (2000-01 student)
Poulsom, R, Forbes, S J, Hodivala-Dilke, K, Ryan, E, Wyles S, Navaratnarasah, S, Jeffery, R, Hunt, T, Alison, M, Cook, T, Pusey, C & Wright, N A. (2001). Bone marrow contributes to renal parenchymal turnover and regeneration. Journal of Pathology 2001 Sep:195(2):229-235
Tuition Fees
The tuition fees for students commencing the course in 2024/25 are as follows:
| Home Tuition Fees including Island Fees (Channel Islands & Isle of Man) | International Fees |
| --- | --- |
| £9,250 | £24,370 |
The UK Government has confirmed that EU/EEA and Swiss national students who have started an eligible course in the 2020/21 academic year or earlier academic years remain eligible to pay the "home" rate of tuition fees and claim any financial support for which they are currently eligible for the duration of that course.
EU/EEA and Swiss national students starting studies in the 2021/22 academic year or later academic years may no longer be eligible to pay the "home" rate of tuition fees and claim any financial support for their studies - but this depends on your personal circumstances (including immigration status and residence history in the UK) and UK government rules which are currently being developed. For further information on this emerging situation, please visit UK Council for International Affairs Brexit pages.
Tuition fee amounts are subject to increase each academic year, please be aware of this when making your calculations and planning how much money you will require.
For Sandwich/ Placement year fees for UK, EU and international students see

link

Students from

countries outside the European Union (EU) who wish to undertake full-time study at the RVC are required to pay the international fee for their programme of study (please see

Fee status

section).
Information on Fees & Funding can be found here
The following course-related costs are included in the fees:
Access to books and journals essential to your course (print and digital)
Open access and bookable IT equipment such as PCs and laptops
Largely paperless curriculum plus £10 p.a. printing allowance
Annual membership of College gym (both campuses)
Entrance to ZSL London Zoo for study purposes (BSc/MSci Biological Sciences (Wildlife Health Sciences) only)
Any costs relating to compulsory field trips outside of London
The following course-related costs are not included in the fees:
£16 Howie laboratory coat
Travel to placement/s (placement year pathways)
Travel to non-home campus for optional modules or project work will not be covered
Accommodation and living costs are not included in the fees. Our Housing Advice pages provide further information on College and private housing.
RVC Bursary for Home Undergraduate Students
RVC Bursaries are customary to assist students from lower income households with the cost of undergraduate study.
UK Government Financial Support for Undergraduate Students
Financial support in the form of tuition loan and maintenance loan is available for students from England, Scotland, Wales, Northern Ireland, and EU countries who normally live in UK.
NB: UK students considering studying on the BVetMed Graduate Accelerated or the BVetMed as a second degree are entitled to maintenance loan (a variable means tested living cost loan) and RVC bursary. However, they are not eligible for tuition fee loans so please consider how you will pay the tuition fees for each year before enrolling. For more info see money-matters.
For full details of the government financial support visit the links below.
Additional important point to note
Maintenance Grant - this is only available to full-time UK undergraduate students who commenced their studies on or before 2015/16 academic year.
The RVC participates in the Direct Loan Program in which federal financial assistance is made available from the US Department of Education to US students studying at the RVC. The purpose of this page is to inform you about the process of applying for financial assistance.
The RVC College will originate Direct Stafford loans and Direct Graduate and Parent PLUS loans and full-time students from the USA who are attending at the RVC are normally eligible for funding. The RVC also participates in the VA Educational Benefits programme.