Intercalated BSc Comparative Pathology
What is the Intercalated BSc Comparative Pathology programme?
The Intercalated BSc in Comparative Pathology degree course is a one year programme taught at our Hawkshead campus with research projects being undertaken at both Hawkshead & Camden campuses.
This programme is modified from our highly successful Intercalated BSc in Veterinary Pathology programme which ran from 2000-2012 supported by the Wellcome Trust. 124 students completed the original Intercalated Veterinary Pathology Programme, with a 100% pass rate; over 50% of these completing with a first class degree. We've now had 40 students complete the Intercalated BSc in Comparative Pathology since its inception in 2013 and again we have had a 100% pass rate with just under 50% of these obtaining a first class degree.
After graduating from their respective veterinary degrees, the majority of our students have gone on to undertake fascinating post-graduate training that has given them greatly enhanced career prospects.
Pathology, the science of disease, is central to understanding and conduct of veterinary and biomedical research, clinical medicine and surgery. There is a need for veterinary scientists who are trained in pathology and pathology techniques to fulfill the ever growing demand for such expertise arising from clinical practice, academia and industry.
The intercalated programme is designed to stimulate individual curiosity at the boundaries of research in pathology. It is less structured and more student centred. While veterinary undergraduate courses provides adequate pathologic information to support subsequent clinical studies, this degree focuses and expands on the subject in a way which will support subsequent pathology oriented careers through first-class small group teaching and innovative research projects.
What will I learn?
The Intercalated BSc Comparative Pathology programme provides a wonderful opportunity for a few exceptional second and third-year veterinary students to add a year on to their studies and experience first-hand the excitement of contemporary pathology and its far-reaching scientific relevance. The programme aims:
To develop an understanding of the disease process in animals and how it is assessed at the molecular level, in the cell, the organ, and the whole animal.
To show how contemporary technology is applied to dissecting and interpreting tissue responses in the pathological process.
To understand how pathology can be used for research and diagnosis.
To design experimental programmes appropriate for evaluating disease; to prepare and evaluate data; and to develop written and oral skills of communication.
During the programme you will learn, among other things, to develop an understanding of the disease process in animals and how it is assessed at the molecular level, in the cell, the organ, and the whole animal and to develop an ability to interpret abnormal events seen in pathology. All of which is designed to produce graduates who have the knowledge and skills to make a significant contribution to animal and human health and welfare.

Programme Delivery
The Intercalated Comparative Pathology programme is delivered through a series of dedicated lectures, small group seminars and practical sessions, and the development of a personal research project.
The programme is composed of both a Research Project and two taught modules: Principles of Pathology and Applications of Pathology. The Principles of Pathology module is taught on Monday's and Tuesdays, and Applications of Pathology is taught on Thursday's and Friday's. A major part of the programme will be dedicated to the design, development and execution of the student's personal research project.
Our students come from many different schools, backgrounds and countries all sharing common goals - a strong ambition to succeed in the veterinary field and a desire to improve animal health and welfare.
We welcome applications from individuals with great potential and those with the dedication to commit to the course and succeed in the veterinary profession. We demand high levels of motivation and, in return, promise a rich and rewarding experience during your time with us.

Testimonials from Previous Students:
Rachel Garty (2016-17 student): "My BSc Comparative Pathology intercalated year was a huge milestone in my professional development. The course allowed me to explore the research options available to vet students upon graduation and opened my eyes to the many different career paths out there. Personally, the greatest benefit of my intercalated degree is the advantage it will give me when applying for residency training in the future. Furthermore, the research skills I have learnt will make my BVetMed 4th year research project more manageable and the pathology training makes the clinical BVetMed topics seem more familiar. Intercalation gave me the time to really think about which aspect of the veterinary field I would like to pursue and professors were available to give you advice about how to reach your career aspirations. During intercalation you really do become a tight knit community where professors and students all know each other. These colleagues and friends are all so helpful in letting you explore all the options available. I did not truly realise the extensive career possibilities available for vets after graduation until my intercalation last year, and the value of this knowledge will allow me to progress into a career path that suits me. My intercalated year was the best I have experienced at the RVC so far with lecturers being brought in from around the world and I am so grateful to the professors and staff that made it possible."
Gorprit Singh Gorlati (2016-17 student): "The Comp Path course provided me with the opportunity to focus primarily on my interest in Pathology, and work on my microscopy skills.The course usually consisted of lectures in the morning, followed by a practical, and then a feedback session. So I could apply the knowledge I had learnt in the morning straight away."
Further information
If you would like any further information please use the contact details below:
Entry Requirements
Veterinary undergraduates from all UK and EU veterinary schools are eligible, as well as Medicine undergraduates from UK/EU medical schools.
Intercalation is normally considered between second- and third-year, or third- or fourth-year.
Academically-speaking, applicants will need to pass the year they are currently undertaking, and historical performance will be considered as part of the assessment.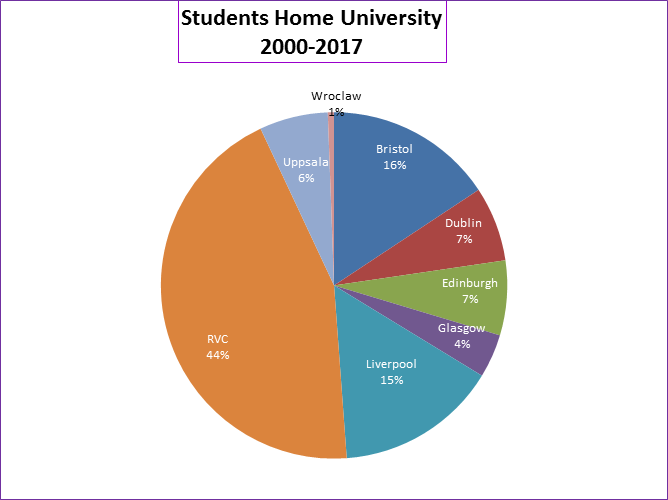 Application Forms
Applications for the 2018/19 course are now being accepted. Please download and complete the form from the How to Apply section on the left.
From the data collected thus far, it would appear that the majority of the students who took the previous Intercalated Veterinary Pathology programme went on to further postgraduate studies, either before or after time in practice.
Further studies include both PhD and Master's degrees and Senior Clinical Training Scholarships in either Pathology (Anatomic or Clinical) or Clinical disciplines. Indeed Intercalation in Pathology has been cited as one of the most important factors in selection of students for highly competitive post-graduate studies.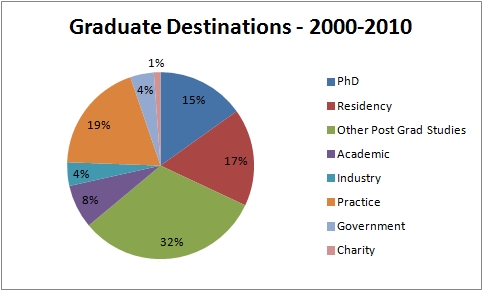 PhD's being undertaken by previous students:
Our previous students who are now undertaking, or have completed, a PhD.
Kathryn Allan - "Investigating animal reservoirs of letospirois in Tanzania" supervised by Prof Janet Patterson-Kane & Dr Sarah Cleavland at the University of Glasow.
Helen Booler - 'Pathogenetic mechanisms in the dystroglycanopathies' supervised at the RVC.
Richard Booth - "Bovine Virus Diarrhoea (BVD) virus - a longitudinal farm study on biosecurity, health profile and costs benefit for control" - supervised by Prof J Brownlie at the RVC. COMPLETED 2010.
Stephen Burr - "The Metabolic Regulation of Hypoxia Inducible Factor 1" supervised at the University of Cambridge. COMPLETED 2016.
Emily Chapman (nee Barker) - "Haemotropic mycoplasmas of mammals" supervised by Dr Chris Helps & Dr Séverine Tasker at Bristol University. COMPLETED 2011.
Jen Claridge - "Does infection of British dairy cattle with the parasite Fasciola hepatica affect the susceptibility of these animals to infections normally controlled by a Th1 or proinflammatory immune response" - supervised by Tropical Medicine and Vet Faculties, Liverpool. COMPLETED 2013.
Kathryn Cosgrove - "Adaptation of viruses when they cross the species-barrier" - supervised at the University of Bristol, School of Cellular & Molecular Medicine.
Melanie Dobromylskyj (nee Scaife) - "Identification & characterisation of natural killer receptor ligands in cattle" - supervised by Shirley Ellis at the Institute for Animal Health, Compton. COMPLETED 2010.
Jenny Larsson - "Neonatal diarrhoea - an old problem with new and serious implications in modern pig production" - supervised by Magdalena Jacobsson at the University of Uppsala
Alex Mastin - "Investigating Echinococcus spp (granulosa, multilocularis, shiquicus) amongst Tibetan communities in Sichuan province in China" - supervised at Salford University.
James Mount - "The origin and regulation of progenitor cells in the regenerating antler" supervised by Prof J Price at the RVC. COMPLETED 2008.
Alan Mueller - "Post genomic science and Systems Biology" supervised at the University of Liverpool.
Oskar Nilsson - "Vancomycin resistant enterococci (VRE)" - supervised at the National Veterinary Institute, Upsala, Sweden. COMPLETED 2013.
Laura Peachey -"Failure of cervical dilation in mares" - supervised at the RVC
Chris Pennelegion - "The use of CRD-Fc Proteins to enhance bacterial killing" - supervised by Prof Dirk Werling at the RVC.
Rob Pope - "A study of pathogenesis of Peste-des-petits ruminants virus - emphasising changes in tissue tropism with time and varying virulence" - supervised by Prof J Brownlie at the RVC and Prof Tom Barrett at the Institute for Animal Health, Pirbright. COMPLETED 2009.
Simon Priestnall - "The role of a novel coronavirus in canine infectious respiratory disease" - supervised by Prof J Brownlie & Dr Kerstin Erles at the RVC. COMPLETED 2007.
Steph Reed - "Molecular and cellular mechanisms of virulence in BVDV" - supervised by Prof J Brownlie, Dr C Thomas & Dr M Collins, RVC. COMPLETED 2012.
Natalie Robinson - "Use of sentinel practices to obtain data regarding common clinical conditions and presentations in small animal consultations" supervised at the University of Nottingham. COMPLETED 2014
Eoin Ryan - "The pathogenesis of foot-and-mouth disease in foetal and neonatal lambs" supervised by Prof J Brownlie at the RVC and Dr Zhidong Zhang at the Institute for Animal Health, Pirbright. COMPLETED 2007.
Sam Sharpe - supervised by Prof Janet Patterson-Kane at the University of Glasgow.
Elizabeth Slack - "The role of phosphoinositide 3-kinases in regulatory T-cell function" at the RVC. COMPLETED 2013.
Laura Spoor - "Comparative veterinary medicine and pathogen discovery, investigating the population genetices of S.aureus (including MRSA) in animals and humans" - supervised by Dr Ross Fitzgerald, at the University of Edinburgh
Ryan Waters - "Transmission and persistence of foot-and-mouth virus in the ovine foetus" - supervised by Prof Joe Brownlie at the RVC and Dr Zhidong Zhang at the Institute for Animal Health, Pirbright. COMPLETED 2011.
Elspeth Waugh (nee Simpson) - supervised at Glasgow Vet School.
Louise Welch - "Characterisation of novel Th cell subsets in the chicken - Th17 and Th9" - supervised by Prof Pete Kaiser at The Roslin Institute. COMPLETED 2015.
Research Project
The Research Project is considered to be a major part of the academic study during the intercalated year and accounts for 50% of your final mark.
The projects are undertaken in centres of established excellence for veterinary research with project supervisors of international repute. They will offer you a rare opportunity to experience not only the research environment with multi-disciplinary teams working at the 'cutting edge' of science, but also one that is highly relevant to veterinary research.
Research projects will focus on pathology in its widest context; the selection of supervisors will ensure a wide range of veterinary research that can be tailored to individual interests of the students.
A selection of the research projects undertaken by previous students are as follows:-
"How do equine cells respond to infection with African Horse Sickness Virus?"


"Feline diabetes mellitus as a model for human type 2 diabetes mellitus: does it all get too much for the pancreas?"


"Analysis of myofibrillar calcium sensitivity in the myocardium of cats with Hypertrophic Cardiomyopathy"


Hypoxia, regulatory cells and the DNA damage response in cancer: the dog model"


"Genotyping of BVD viruses to improve biosecurity on the Isle of Man"


"Eimeria tenella parasite as novel vaccine delivery vectors"


"A Tale of Two Breeds: Effects of Vitamin D on M. Bovis infection"


"Defining the role of FOXL2 in establishing female reproductive lifespan"


"Does caloric restriction affect reproductive lifespan?"


"Investigating the mechanisms for enhanced apoptopic death in pancreatic cancer cells treated with replication-selective adenoviral mutants in combination with DNA-damaging drugs"


Acromegaly-induced cancer: fact or fiction and how a furry friend might help settle the issue"


"An investigation of the molecular mechanisms of feline hypertrophic cardiomyopathy caused by mutations in proteins of the heart muscle sarcomere"


Are pinnipeds really just water carnivores?"


"Can ADAM17 act as the cellular protease that cleaves S during PEDV entry?"


"Genotypic variation of Angiostrongylus vasorum in local red fox (Vulpes vulpes) populations"


"Phenotypic and functional characterisation of canine monocytes: towards a novel therapeutic target for inflammatory and autoimmune disease?"


"Pathological behaviour in the companion animal dog: does assessing hair cortisol provide a clue towards its pathophysiology?"


"Population dynamics of Angiostrongylus vasorum in the red fox (Vulpes vulpes)"


"Establishing a histopathological diagnostic grading system and aetiology for 'disinegrating' sesamoid bones in the limbs of giraffes (Giraffa camelopardalis)"


"Targeting αvβ6-integrin expressing pancreatic cancers with a mutant adenovirus for imaging and therapy".
The tuition fees for students commencing the course in 2018/19 are as follows:
| UK/EU Tuition Fees | International Fees | Island Fees (Channel Islands & Isle of Man) |
| --- | --- | --- |
| £9,250 | £18,570 | £10,500 |

Tuition fee amounts are subject to increase each academic year, please be aware of this when making your calculations and planning how much money you will require.
For Sandwich/ Placement year fees for UK, EU and international students see link

Students from

countries outside the European Union (EU) who wish to undertake full-time study at the RVC are required to pay the international fee for their programme of study (please see

Fee status

section).

Information on Fees & Funding for existing students can be found

here
The RVC participates in the Direct Loan Program in which federal financial assistance is made available from the US Department of Education to US students studying at the RVC. The purpose of this page is to inform you about the process of applying for financial assistance.
The RVC College will originate Direct Stafford loans and Direct Graduate and Parent PLUS loans and full-time students from the USA who are attending at the RVC are normally eligible for funding. The RVC also participates in the VA Educational Benefits programme.