You will spend a significant amount of time on the BVetMed Veterinary Medicine programme undertaking practical placements to enhance your animal handling and clinical skills.
Below is a description of the Animal Husbandry Extra Mural Studies (AHEMS) and Clinical Extra-Mural Studies (ClinEMS) components of the course.
Animal Husbandry Extra Mural Studies (AHEMS)
What is AHEMS?
AHEMS is undertaken during the first two years (pre-clinical years) of the BVetMed programme. It is compulsory to complete 12 weeks of AHEMS to progress to the third year. It is also a Royal College of Veterinary Surgeons requirement and therefore essential if you wish to graduate. It is designed to develop your knowledge, critical thinking, understanding and practical skills. The ability to apply these skills plays an important part in the care and management of animals. It is also an important component of your professional competency.
When do I do this?
This is done during vacation time off-campus. Students are required to find their own placement and to finance their own AHEMS. You are to complete a mandatory:
2 weeks of sheep experience (this is normally lambing done during Easter vacation of the first year)
2 weeks of dairy
2 weeks of pigs
2 weeks of horses
4 weeks of your choice
This must be completed before entering your third year (clinical years).
Where do I do this?
Placements can be with someone you know or they may be recommended to you; provided they meet the minimum requirements for the species you are working with. If you are looking for a placement you may wish to look on the RVC AHEMS placement database for a suitable placement. Placements must comply with the requirements set out in the AHEMS handbook. Placements within the UK provide a wonderful opportunity and we encourage you to spend the majority of your AHEMS here. You may, subject to approval, do a maximum of 6 weeks overseas.
Clinical Extra-Mural Studies (ClinEMS)
What is ClinEMS?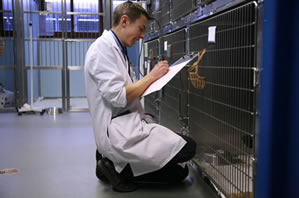 ClinEMS is the time that veterinary students spend off-campus gaining practical experience in the later years of the BVetMed course. It is a compulsory part of the course for all veterinary students in the UK, as the Royal College of Veterinary Surgeons views it as an essential part of the veterinary degree.
When is it undertaken?
ClinEMS takes places in years 3, 4 and 5 (the clinical years). You undertake 26 weeks during these three years.
Where does it take place?
Students spend much of their ClinEMS time at first opinion small animal, equine, farm animal and mixed practices. Although most students' placements take place within the UK, ClinEMS provides a wonderful opportunity to experience veterinary life throughout the world.
Why is this required?
The goals of ClinEMS are to:
gain experience in history taking & physical examination.
develop an awareness of diagnoses and their prognosis.
observe decision-making pathways leading to practical treatments & options.
develop interpersonal skills.
EMS consolidates the taught component of veterinary education and enables students to see that there is more to a vet's working life than operating on animals.