Widening participation at the RVC aims to provide opportunities for disadvantaged and under-represented pupils to experience higher education. We prioritise secondary schools, however we recognise the benefit of careers advice at younger ages and we are able to allocate a limited number of primary sessions per term.
As a Higher Education Institute our Widening Participation aims are to:
ensure that our commitment to equality of opportunity is reflected fully in the recruitment, admission, and subsequent support, both academic and non-academic, of students from all backgrounds
make information about the veterinary and related professions, and about the requirements of entry to these professions, more widely available
continue to facilitate the development of the profile of the veterinary and related professions so that they more closely reflect the communities that they serve
make a positive contribution to the quality of education and student aspirations in the our campus locations
provide a national lead and focus in widening participation in the veterinary and related disciplines
The Royal Veterinary College's Access Agreement, outlining widening participation activity, Bursaries and other financial and pastoral support can be found on the Office for Fair Access (OFFA)'s access agreements page.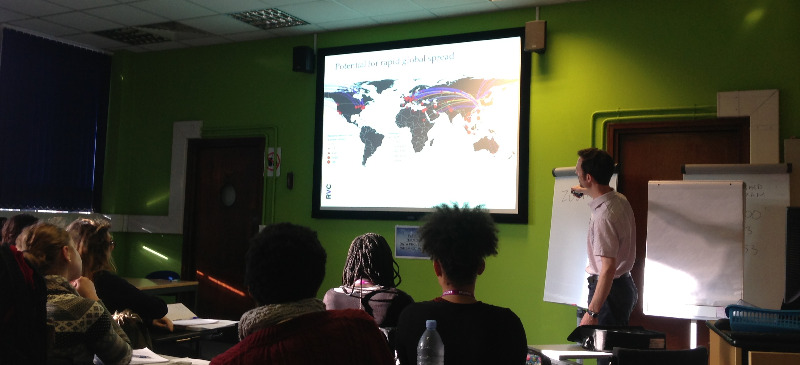 Afternoon anatomy (Years 6 - 12)
Find out about how animal physiology works first hand. You can visit our anatomy museum and discover different species and their bones, and have the opportunity to listen to a real horse's heart.
When our animals are on holiday, you can take part in a veterinary skills session.
The visit includes a careers talk appropriate to the age group, and we tailor the visit to suit your background knowledge.
Biology masterclass (Year 12)
As a leading university in research, you can take advantage of this session to learn about careers in biology, where you can meet a scientist and hear about their route into science.
The masterclass includes a gel electrophoresis practical session that can be used as an activity to meet the practical endorsed A-Level requirements.
Assemblies and Careers Fairs at schools
The RVC team can visit your school to talk about education and careers in veterinary medicine, veterinary nursing and biosciences.
We prioritise secondary schools, however we recognise the benefit of careers advice at younger ages and we are able to allocate a limited number of primary sessions per term.
Please contact us to find out if your school is eligible for these free activities.
Do you want to find out what studying at university is really like? Are you thinking about going to university, and would like to talk with current students about their course and experiences at the RVC? If so, shadowing could be for you.
We offer students in Year 12 and 13 the opportunity to come into the College for one day during the academic year to shadow a current undergraduate. You will attend the student's classes and lectures, take part in their practical work and get the opportunity to ask them questions about their course and university experiences. We offer this experience for all our undergraduate courses in biosciences, veterinary medicine and veterinary nursing.
Shadowing lasts for a full day, on any weekday other than on Wednesdays. It is only available during the autumn and spring terms due to examinations in the summer. We ask that students make their own way to and from the College.
Current undergraduates undertaking the shadowing are all Student Ambassadors, trained in working with young people, and students on shadowing days will be covered under the RVC's Health and Safety and Child Protection policies.
Shadowing is run by the Widening Participation team and is aimed at pupils who attend non-selective, state maintained schools and have no family background of Higher Education. If you think that you meet these criteria, and are interested in shadowing, please contact us.
Widening Participation
Email: outreach@rvc.ac.uk
Jon Parry
Head of WP & Community Engagement
Tel: 020 7468 5219
Fax: 020 7388 2342
Email: jparry@rvc.ac.uk
Overall responsibility for RVC Widening Participation and Community Engagement activity.
Grace Sim
Outreach Development Manager
Tel: 020 7468 1201
Fax: 020 7388 2342
Email: gsim@rvc.ac.uk
Responsible for:
Summer schools
Student shadowing
Student ambassadors
Child protection and safeguarding
Outreach events and activities