MRes - Does the NRAP H100Q variant affect heart development and activity?
Supervisors: Dr Claire Russell, Dr Caroline Pellet-Many and Dr Denis Larkin
Department: Comparative Biomedical Sciences
---
Project Details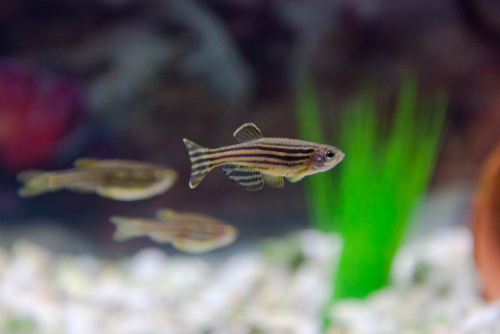 This project aims to investigate the developmental changes of the heart in zebrafish when the Nebulin Related Anchoring Protein (NRAP) gene undergoes a specific single nucleotide polymorphism (SNP).
The NRAP protein is evolutionarily conserved and present in all vertebrates. However, in our previous research a mutation was found the NRAP protein in Yakut cattle: Histidine to Glutamine: H100Q. Yakut cattle are adapted to withstand extreme temperatures (-50°C), by slowing down their metabolism and optimising the heart's ability to pump blood. NRAP protein is known to connect actin filaments in skeletal muscle and in heart muscle. The mutation could benefit force transmissions and thereby modulate the heart rate in cold adapted/hibernating/deep diving species.
The NRAP H100Q variant behind this adaptation was subsequently also found to form convergently in many other cold adapted/hibernating species, such as grey mouse lemur, little brown bat, deep diving seals and sea lions, a cold adapted skate, birds, and crocodiles. Other fish, such as zebrafish do not contain this SNP in their NRAP gene so are said to have the 'normal' NRAP gene. Expressing the H100Q variant in zebrafish and the observation of subsequent changes allows use to determine the effect of the H100Q variant. We hypothesise that injecting H100Q, but not 'normal', NRAP mRNA into zebrafish embryos as fertilization will influence zebrafish heart development, heart rate, activity levels and skeletal muscle development and function.
In parallel we will utilize genomes from the Vertebrate Genome Project to investigate H100Q variant expression in other vertebrates and will investigate their adaptions and phylogenetic relationships.
This research can aid the understanding of cold adaptation and hibernation mechanisms, which could potentially be important in the wider context of conserving ecosystems under threat of climate change. Research suggests that theH100Q variant is disadvantageous in non-cold conditions. Hence, a conservation approach could consist in increasing the 'normal' NRAP expression amongst those species potentially affected by a warming climate.
---
References
Buggiotti et al (2021). Molecular Biology and Evolution 38: 3093-3110

Abdelrahman et al (2021). MethodsX 8: 101418
---
Requirements
Essential:
Must meet our standard MRes entry requirements.

No need to be a vet, willingness to work with zebrafish animal model including their euthanasia (embryos up to 5 days post-fertilisation), strong motivation and commitment to learning.
Desirable:
Previous lab experience and the ability to follow protocols.
This can be taken as a full-time or part-time (12months FTE) project commencing in October 2023, based at RVC's Camden campus.
The animal model used is the zebrafish embryo (up to 5 days post-fertilisation), therefore no Home Office personal licence is required for this project. Any regulated procedure will be performed by the supervisors.
---
Funding
Self-funded: The MRes student will be expected to meet some of the project costs (£2,500 to cover the purchase of specific reagents such as antibodies and some equipment use such as the cryostat and microscopes ), course fees and their living expenses.
International applicants are welcome to apply but must be able to fund the difference between "Home" and "Overseas" tuition fees.
You can find information on fees and funding online. A postgraduate master's loan may be available to help cover costs.
---
How to Apply
For more information on the application process and English Language requirements see How to Apply.
Deadline: 30th July 2023
We welcome informal enquiries - these should be directed to Caroline Pellett Many (cpelletmany@rvc.ac.uk)
Interview date and location: TBC (August 2023)