Veterinary Primary and Accessible Care and Education Internship (V-PACE)
The RVC is launching this brand new course to enable those interested in primary care and shelter medicine to develop their skills in teaching and research in a practical setting.
Applications are now closed for 2023.
If you are the one that all the EMS students follow around, or the one that suggests improvements in your practice, this course could help you further develop your skills in these areas.
This is a 1-year full time post graduate diploma based in London.
Interns will receive advanced training and support in education (gaining an AFHEA) and apply this theory teaching RVC students the joys of primary care and shelter medicine. You will have a variety of placements in hospital and charity partner sites (mainly based in Camden, London). You will also undertake a module in Practice-based research allowing you to design a study and analyse data for a primary care related project.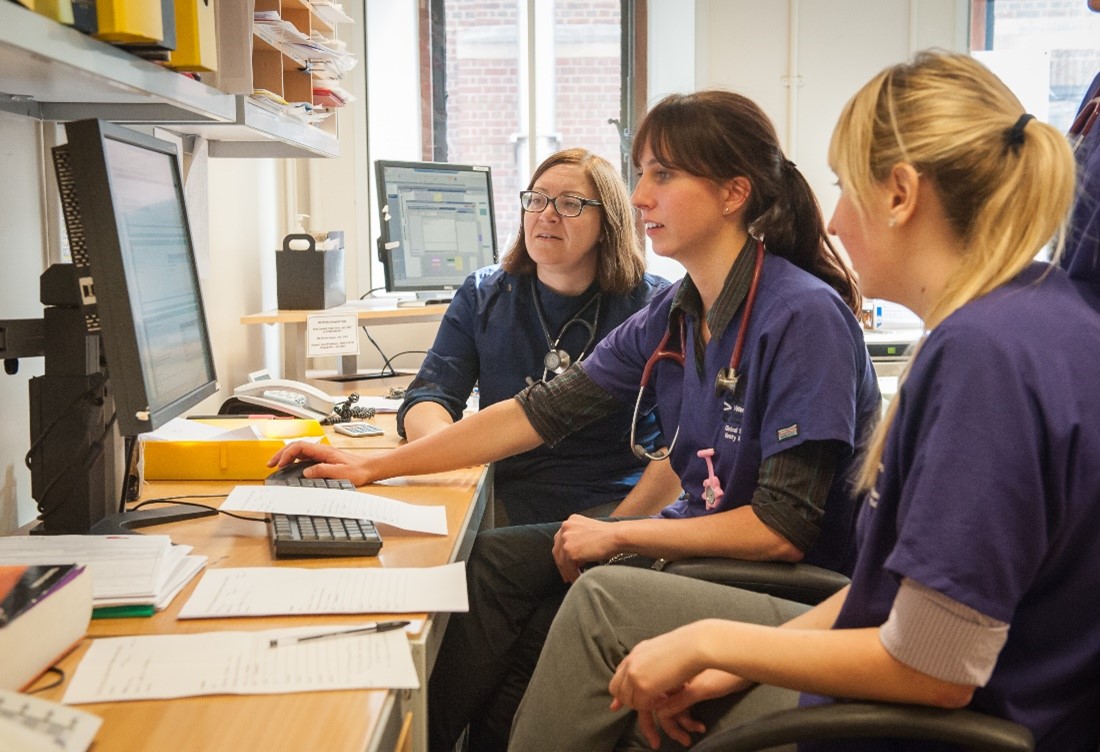 Sign up to be informed when applications go live
To apply for PG Dip in Primary and Accessible Care and Education programme you must meet the following requirements, you must:
Be a member of the Royal College of Veterinary Surgeons (or eligible).
You must be eligible for full Membership of the Royal College of Veterinary Surgeons (RCVS). All applicants must be an MRCVS by the date the internship starts, and ideally by the date of application and interview. It is the applicant's responsibility to organise and pay for the annual membership fee.
Meet the English language requirement.
You must be able to communicate clearly in English, both verbally and in writing. If you are not exempt from proving your English language proficiency, you must take an IELTS (Academic) test (or equivalent). We require an overall IELTS (Academic) score of 7.0, with no element below 6.5. A certified copy of your IELTS test result should be submitted with your application. The test result must have been obtained within 2 years of the start date of the course. Applications that do not satisfy these criteria will not be considered for shortlisting. Please see a list of English qualifications we will accept as alternatives to IELTS. Foreign language applicants are encouraged to practise as a veterinary surgeon in the UK for at least one year prior to application.
Have a minimum of two years' experience in UK primary care practice as a qualified veterinarian (desirable).
A minimum of two years' experience in UK primary care practice with completion of the RCVS Professional Development Phase or Veterinary Graduate Development Programme where applicable (recent UK graduates only).
Overseas Students
Students classified as "Overseas" with regards to tuition fees are very welcome to apply for the internship, however please be aware we are unable to sponsor visa nationals for the September 2022 intake. We are keen to find the best candidates regardless of their nationality and have had occasional Overseas interns. Candidates should note that funding models for this programme are weighted towards "Home" fee candidates, so when candidates are equal, internships will be offered to applicants eligible for "Home" fees. To help determine whether you would be eligible for "Home" fees please see the UKCISA's 'Who pays 'home' fees for higher education in England?' guide found here. If you require a visa to study in the UK then please check back in November 2022 when we hope to open applications for our 2023 intake.
What essential personal attributes do you need to join the programme?
An ideal candidate for this internship would -
Be a highly motivated veterinary surgeon
Be passionate about Primary care and Shelter Medicine
Have an interest in teaching/coaching/mentoring
Be keen to develop your veterinary skills, experience, and knowledge
Have a positive mindset and be able to problem solve under pressure
Have great teamwork skills
Work effectively and efficiently with a range of people from support staff, veterinary students to experienced veterinarians
Have an interest in quality improvement and be keen to improve self and welfare of animals in your care
Provide a supporting statement detailing the reason for applying for the internship, what specifically is of interest about the course and their aspirations after the internship and how they hope to utilise their learning.
Admissions Policy & Procedures
Further information on the recruitment procedure can be found here
The program is based around 4 modules
Shelter Medicine
Primary Care practice
Veterinary Education
Practice based research
Interns will rotate throughout the teaching sites for primary care and shelter medicine where our final year rotations run and have the opportunity to learn how to teach the next generation of veterinary students the joys of primary care in a hands-on way. To back up your practical experience you will be studying veterinary education theory and obtain an AFHEA. The Practice based research module will give interns a basis on how to carry out research in primary care from study design to analysing and interpreting data.
Sites include the Beaumont Sainsbury Animal Hospital on our Camden Campus.
Start date is planned for July 2023.
General
If you would like to know more, the following links may be useful:
If you have any specific queries, please contact: Louise Allum (lallum@rvc.ac.uk).
Beaumont Sainsbury Animal Hospital
Postgraduate study options at the RVC
For general Internship application enquiries, please contact the Graduate School (ctsrecruitment@rvc.ac.uk).
Annual Leave
The total annual leave entitlement is 20 days inclusive of bank holidays. Holiday is allocated in set blocks. Further details can be found in the Code of Practice (see below).
Assessment
The Post Graduate Diploma in Primary and Accessible Care and Education (PG Dip PACE) has been aligned to the internship programme. There are four modules to complete in the year; shelter medicine, primary care practice, veterinary education and practice based research. The first 2 modules will be assessed by a case report and work placed based assessments (WPBA). The WPBA are designed to support your clinical development and provide direction to your clinical training. The WPBA will be both formative and summative and occur in the clinical environment at your discretion. In addition, feedback will be given at the end of each of your clinical rotations and will contribute to your academic portfolio which will be the basis of your academic progress review (appraisal) around 6 months into the programme. The Veterinary education module is assessed with reflective essays and the primary care research module a research project will be completed and assessed.
Accommodation
Information on accommodation can be found under Funding Options.
Code of Practice
All interns must adhere and abide by the Royal Veterinary College's Code of Practice for Interns & Residents and can be found under Essential Information in the Graduate School.
Stipend
Information on the current stipend can be found under Funding Options.
FAQS
You may find these FAQs helpful.
Where can you go after this course?
On completion of the internship you will achieve the Post-Graduate Diploma in Veterinary Primary and Accessible Care and Education.
Holders of this qualification -
can pursue veterinary education by undertaking further study as part of the Veterinary Education pathway at the RVC (or elsewhere) while working in a clinical educator role in a primary care setting at a practice associated with the RVC (or other veterinary school).
can pursue further primary care focussed research by undertaking a Master's or Doctoral level research qualification supervised by researchers already active in this field at the RVC (or elsewhere).
can return to work in primary care with a deeper understanding of the different expertise and evidence base required for such work

.

can go on to work as veterinary clinical teacher for one of the many UK universities delivering clinical teaching within their distributed model of clinical education
Tuition Fees
The tuition fees are as follows:
| Year commencing course | Home Tuition Fees including Island Fees (Channel Islands & Isle of Man) | International Fees |
| --- | --- | --- |
| 2022/23 | £9,000 | £28,750 |
| 2023/24 | £9,000 | £30,910 |
Tuition fee amounts are subject to increase each academic year.
EU/EEA and Swiss national students starting studies in the 2021/22 academic year or later academic years may no longer be eligible to pay the "home" rate of tuition fees nor claim any financial support for their studies - but this depends on your personal circumstances (including immigration status and residence history in the UK). To help determine whether you would be eligible for home fees please see the UKCISA's 'Who pays 'home' fees for higher education in England?' guide found here.
Clinical Training Internships
All Clinical Training Internships are fully funded.
As an intern your tuition fees will be paid by the department that you are working in.
A stipend will be paid monthly in arrears. Currently the stipend is £17,200 per annum (subject to review)

A single occupancy room in a shared (with others interns) house on-site is available for the duration of the internship for RVC based interns. No pets are allowed in the accommodation.