Pioneering treatment for 'Alabama rot'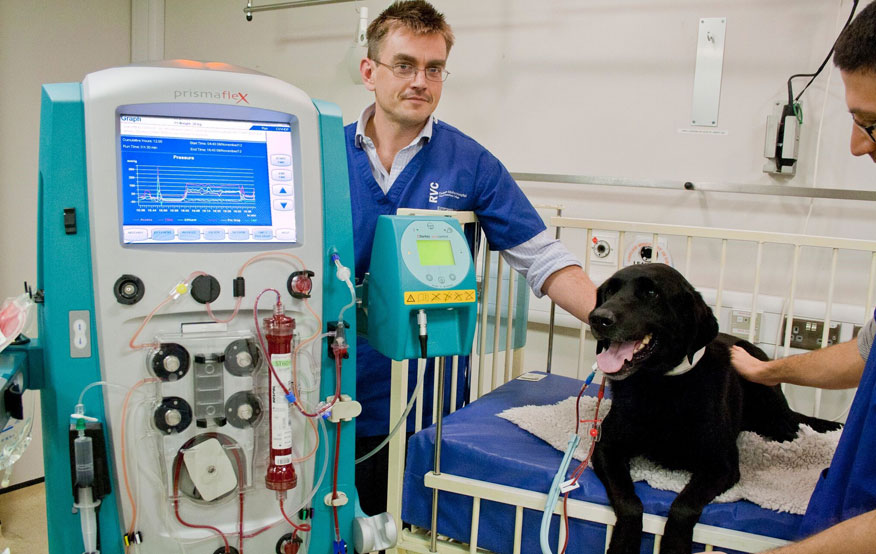 Alba, a Labrador puppy, became withdrawn after a walk and developed wounds over her body. After taking the referral, the Royal Veterinary College team was concerned that Alba might be suffering from the condition dubbed 'Alabama rot', which has also been called 'New Forest syndrome'. The clinical name for the condition is cutaneous and renal glomerular vasculopathy (CRGV).
Symptoms and dangers
The disease causes skin lesions to form on the legs, head, chest and abdomen; in some cases renal failure can follow within days. At the point when Alba came to the RVC, in 2014, there were no documented cases of dog with the condition and severe renal failure in the UK surviving. By then there had been dozens of deaths in the UK.
Specialists from different RVC teams agreed that plasmapheresis would be the best course of action. This involves removing blood so that plasma can be separated off to remove antibodies and toxins from the patient. It had never been attempted as a treatment for a dog with CRGV.
Extracorporeal Therapy
RVC Small Animal Referrals is the only veterinary centre in the UK to have extracorporeal therapy, which is a pioneering blood purification treatment that can save the lives of poisoned animals and those with renal failure and autoimmune disorders. Alba's plasmapheresis was performed by emergency and critical care specialists using a Continuous Renal Replacement Therapy (CRRT) machine.
According to the filter used, different size molecules can be removed via this therapy; it can eliminate undesired substances that accumulate in acute kidney failure (CRRT) or remove certain toxins or aberrant immunoglobulins which cause various auto-immune diseases (Plasmapheresis). Conventional therapy for treating these conditions is often ineffective and most animals either die or are euthanised. The RVC-based resource makes it possible to treat pets that would not recover in general practice and who would ultimately otherwise die.
Plasma replacement and continuous care
The aim of treatment in Alba's case was to remove antibodies (proteins) or other substances that may be responsible for her disease. Unfortunately, an underlying cause for this disease has yet to be found. Plasma removed in the process needed to be replaced and therefore Alba received donated plasma from the RVC's in-house blood donor service.
Plasmapheresis is a complicated treatment that requires training, expertise and close supervision and Alba needed constant care by the dedicated team of emergency and critical care vets and registered veterinary nurses.
Thankfully the treatment worked and gradually Alba started to improve and behave more like the puppy she was. She is now an active fully grown dog. She returned to the RVC in 2016 for an event marking the 30th birthday of the RVC's Queen Mother Hospital for Animals, where she was a patient.