3D printing helps salvage limb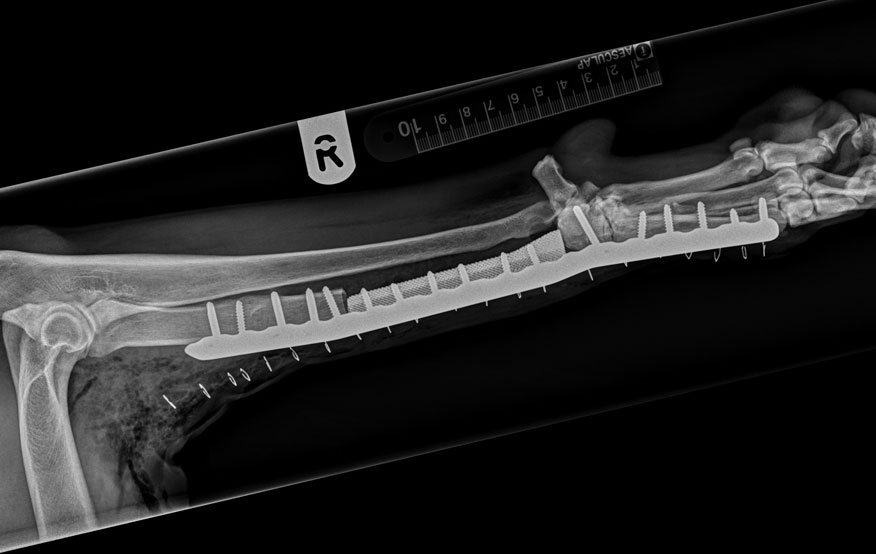 A dog referred to RVC Small Animal Referrals had its limb salvaged by specialist orthopaedic surgeons employing 3D printing technology.
Charlie, an eight-year-old mastiff, presented to the Orthopaedic Service in April 2016 for further investigation into her progressive left limb lameness, which was identified two months before. Despite pain control, her lameness has been persistent. Further investigations and advanced imaging revealed that Charlie most likely had an aggressive bone tumour that was destroying one of the bones in her forearm.
From CT reconstruction to a 3D model
A computed tomography (CT) scan allowed the RVC team to see whether there was any evidence of spread elsewhere in her body. From the CT scans that were acquired the specialists generated a 3D model that could be use to aid surgical planning and create a custom-made plate. Digital CT images taken at the RVC were sent electronically to an external company who sent the information to a 3D printer to produce a 3D model. The model was produced within 48 hours of the CT scans being taken. The metal plate enabled by the 3D model was combined with a titanium metal spacer that would allow the RVC orthopaedics specialists to save Charlie's leg. The 3D model helped in the design of plate length and positioning of screw holes along the plate. It also allowed the specialists to contour or bend the plate prior to surgery so that when the plate was applied there was good apposition between the plate and the bone, which saved surgical time. The 3D models that are produced can be sterilised so they can be used intraoperatively and held and manipulated by the surgeon intraoperatively.
Surgery and follow-up
The bone tumour was removed and an intraoperative CT was performed on the excised tissue to confirm that we had adequate tissue margins (no cancer cells). Charlie's implants were placed and secured with titanium bone screws. The metal titanium spacer is porous, which allows for bone growth into the structure. Postoperative x-rays revealed that limb alignment had been maintained and that the implants were in the correct position. The excised bone was submitted to the RVC's onsite laboratory and pathology specialists were able to confirm the diagnosis of an osteosarcoma (primary bone tumour). Charlie made a quick recovery and was discharged home after three days. RVC Small Animal Referrals' Oncology Service saw Charlie after two weeks for skin suture removal and to start her on chemotherapy. She has regularly been back to see the Oncology Service for staging and chemotherapy. The staging involves full body CT scans to assess whether there is any evidence of tumour recurrence. Several months after surgery Charlie had no signs of lameness.
Pushing the boundaries with collaboration
RVC Senior Lecturers in Small Animal Orthopaedics, Elvin Kulendra and Ignacio Calvo, have developed limb salvage options for dogs. Custom made implants for dogs with bone tumours or injuries that may have necessitated amputation previously now provide alternative options for owners. The RVC team works closely with advanced manufacturing company CBM to create custom implants as well as cutting guides that allow the surgeons to increase surgical accuracy. By the Orthopaedic Service working closely with the oncology team, RVC Small Animal Referrals can offer surgical options and appropriate postoperative care to not only extend patients' life expectancy but also improve their quality of life. The multidisciplinary approach enables the RVC to provide the best care for referred patients.