Prospective evaluation of palliative and adjuvant toceranib phosphate therapy in dogs diagnosed with metastatic or recurrent insulinomas
Insulinomas are the most common tumours of the pancreas in dogs. This multi-institutional prospective study evaluates the effectiveness of the drug toceranib phosphate in the treatment of insulinomas in dogs.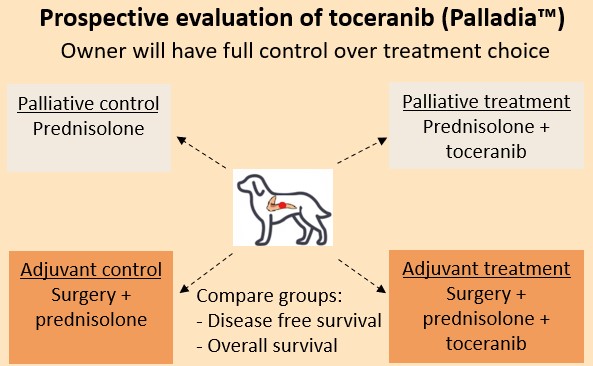 Challenge
To prospectively compare the disease-free survival and survival times of 2 palliative treatment groups of metastatic or recurrent canine insulinomas — (1) treatment with corticosteroids alone versus (2) treatment with corticosteroids and toceranib phosphate
To prospectively compare the disease-free survival and survival times of 2 adjuvant treatment groups of metastatic or recurrent insulinomas (1) surgery followed by corticosteroids versus (2) surgery followed by corticosteroids and toceranib phosphate.
Solution
Canine insulinoma is the most common pancreatic neuroendocrine tumour in dogs. Current treatment options are limited to surgery and palliative medical therapy and overall survival is poor (median of 4 [range 0-18] months and 14 [range 0-51] months for medically and surgically treated dogs, respectively). Most commonly used medical management options for dogs with insulinoma include lifestyle and dietary modifications, and/or pharmaceutical management with glucocorticoid or diazoxide. However, glucocorticoids can suppress the immune system and diazoxide is expensive and has limited availability. As an alternative, the use of toceranib phosphate - a drug commonly used to treat a variety of cancers in pets - was recently published in three retrospective canine insulinoma studies.
At the RVC we have successfully used toceranib phosphate in dogs with insulinomas as well. Although, the results from the retrospective studies are promising, major limitations of these studies, including small sample size, retrospective study nature and heterogenous inclusion criteria, have prevented a definitive conclusion as to whether toceranib phosphate provides an effective treatment option for canine insulinoma. Therefore, the main goal of the proposed study is to prospectively evaluate the effectiveness of toceranib phosphate therapy in the treatment of canine insulinoma. The use of toceranib phosphate will be evaluated both in a palliative as well as an adjuvant setting.
This is a multi-institutional prospective case-controlled study. Patients that meet the inclusion criteria will either be allocated to one of the control groups (corticosteroids only or surgery + corticosteroids), or to one of the treatment groups (corticosteroids + toceranib phosphate or surgery + corticosteroids + toceranib phosphate) (Figure 1).
Primary eligibility criteria
Diagnosis of metastatic canine insulinoma (TNM stage II or III)
Diagnosis of recurrent canine insulinoma
Exclusion criteria
Dogs with TNM stage I insulinoma
Dogs with systemic co-morbidities or other life-limiting diseases
Study numbers
A minimum of 30 dogs will be enrolled
Study protocol
This is an observational multi-institutional prospective trial. Client preferences regarding control/treatment group allocation will be followed and enrolment will not be blinded or randomised (Figure 2).
Contact
If you have a dog you think may be eligible, or if you would like to learn more about this study please contact Floryne Buishand fbuishand@rvc.ac.uk / +44 1707 669389.
All who are contributing cases will be acknowledged in resulting publication(s). Authorship will be granted for contributing ≥10% of cases and reviewing / editing the manuscript.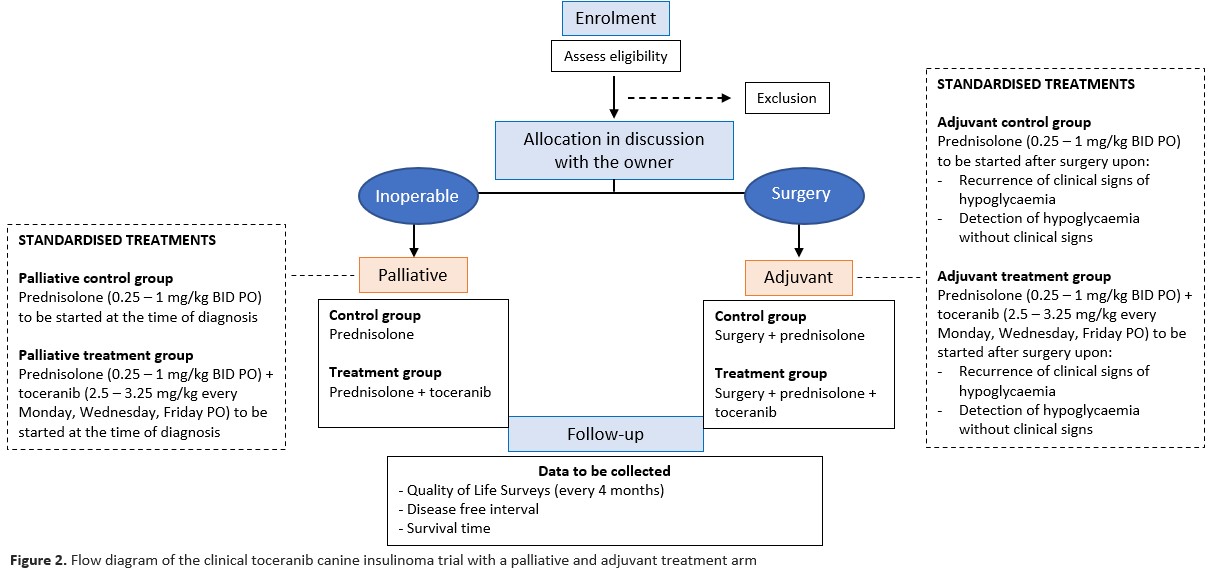 Dogs with insulinomas participating in this toceranib study will benefit from state-of-the art veterinary care at expert referral hospitals with high insulinoma caseloads.