Feline Diabetic Diet Research Trial : Reglucat study
Research investigation into the effects of supervised caloric restrictions on overweight diabetic cats.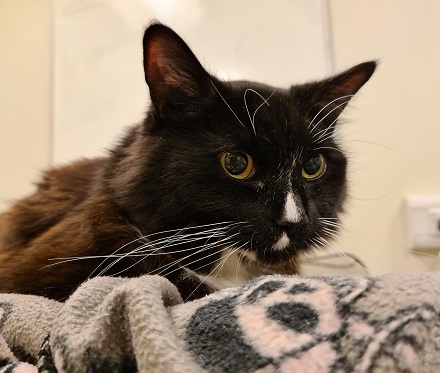 Challenge
This research trial (REGLUCAT) will assess the ability of a new feline prescription diabetic food to promote weight loss - and hopefully diabetic remission - in diabetic cats who are overweight to some degree. This research aims to provide a new and effective form of treatment for overweight diabetic cats, using dietary change to promote diabetic remission. Identifying treatments that can achieve diabetic remission will encourage many owners to pursue treatment and will greatly improve the quality of life for diabetic cats.
Diabetes mellitus is one of the most common feline endocrinopathies - with an estimated 54,500 cats suffering from this condition in the UK alone. Obesity is a strong contributory factor. As feline obesity increases, (already estimated to be 45% of the UK cat population), it is likely that greater numbers of cats will be diagnosed with diabetes. Diabetes mellitus increases mortality in cats, with many cats sadly being euthanased at the time of diagnosis, and requires daily injections and frequent veterinary examinations for affected cats. This also results in huge financial and social costs for owners, as well as the emotional pressures of having a sick pet. Although some cats remain diabetic lifelong, a considerable proportion of cats can achieve diabetic remission and stop insulin treatment. Achieving diabetic remission significantly increases life expectancy, and owner and pet well-being.
Burmese, Tonkinese, Norwegian Forest, Russian Blue, and Abyssinian breeds have a higher propensity for diabetes.
Solution
What type of cats are required for this feline diabetes diet trial ?
Cats who have been diagnosed with diabetes mellitus two years ago AND which are overweight/obese (body condition score 6 out of 9, or greater) AND being treated with insulin twice daily
What does participation in the feline diabetes diet research trial involve?
The whole trial period will last 12 months
Owners joining the trial will attend between five and seven outpatient appointments at the RVC Queen Mother Hospital for Animals, near Potters Bar in Hertfordshire.

(Appointments will take approximately 30 - 60 minutes)
Cats will only be fed the test diet for the first 12 weeks (the remaining time period being a follow-up time to monitor cats' longer-term outcomes).
What do participants in the feline diabetes trial receive ?
Cats and owners joining the trial will receive :
Free underlying disease screening (to ensure the cat is suitable before being recruited)
Free cat food for the 12 month period
Free home blood glucose monitoring supplies
Newly-developed glucose monitoring cat litter for use at home
Dedicated diabetic care from our RVC clinic team
Who can apply for the RVC Feline Diabetes Diet Trial?
For general practice vets and/or pet owners* who have diabetic cats who meet the criteria above; and for enquiries about possible research cases, please contact us
Email: fdrc@rvc.ac.uk
Phone: 01707 666605
For *cat owners who are applying to participate - please note that we will communicate with your vet to ensure trial suitability and to facilitate veterinary care throughout the trial.

What is the acceptance process for the trial?
Owners or veterinarians of potential candidates will contact the trial team using the above contact detail. Once owner permission is obtained, cats' clinical records will be acquired from referring vets for review. If initial details appear suitable, a pre-screen phone call will be arranged with the cat's owner to take relevant details and clarify the format of the trial. Cats might receive bloodwork run by their referring vet before their first appointment (decided based on convenience and individual case details). Owners that are happy to proceed to trial inclusion, will then have their first trial appointment arranged.

Where is the RVC feline diabetes diet trial being conducted?
Appointments will be held at RVC Queen Mother Hospital for Animals, near Potters Bar in Hertfordshire; with additional monitoring being conducted by owners at home
How is the research study being conducted?
During the research clinic outpatient visits, clinical samples will be collected to monitor the cats' health and diabetic control, including to monitor for remission.
The study also aims to assess changes to cats' gut microbiome and blood metabolites as they lose weight and enter remission.
To do this, faecal samples will be collected from participating cats for future analysis and these, and residual blood samples, will be analysed using current metagenomic and metabalomic techniques.
Data will also be collected through owner surveys
When is the research trial happening?
Recruitment for the Reglucat trial started in March 2021 and the recruitment phase of the trial was completed in December 2022. No further cats will be accepted to the Reglucat trial at this time.
When will the results of this feline diabetes research be published ?
We anticipate being able to publish findings in the first quarter of 2025.
Who is running the RVC Feline Diabetes Diet trial ?
The research team are staff at the RVC Diabetic Remission Clinic. It investigates the optimum methods to achieve good control, and ultimately diabetic remission, in diabetic pets. The Clinic provides dedicated care for diabetic cats while giving owners and vets the satisfaction of contributing to veterinary research and benefit of specialist advice on diabetic management.
Please contact the research team at fdrc@rvc.ac.uk or call 01707 666605 for more information