Efficacy testing of novel immersion and oral vaccines for Aeromonas hydrophila in Tilapia and Vietnamese catfish
Scientists are testing the efficacy of novel vaccines that can be easily administered to farmed fish without the need for highly trained personnel and specialist equipment.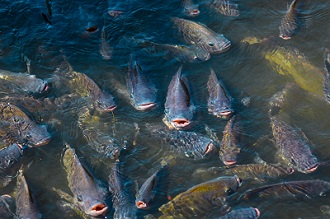 Challenge
Over 30 species are currently farmed, including tilapia and Pangasius (Vietnamese catfish also known as Tra catfish). These fish species are farmed in low and middle-income countries (LMICs) and provide an important source of revenue for many low-income families, supplying both the domestic and export market. Tilapia production is rapidly increasing with Egypt the third largest global producer.
Tilapia and Vietnamese catfish are both produced in Vietnam. Although Vietnamese catfish production increased dramatically between 2004 and 2008, the export market has since levelled off due to public concern over disease and overuse of antibiotics.
Currently, disease outbreaks caused by Aeromonas hydrophila are having a major economic impact on aquaculture in both countries. No vaccine is currently available in Egypt and despite a vaccine being available for use in Vietnamese catfish, antibiotics remain the treatment of choice due to doubts over vaccine effectiveness (A. hydrophila strains are highly diverse) and the high cost of the vaccine (administered by injecting individual sedated fish). The widespread use of antibiotics within farms can encourage antimicrobial resistance, reducing the treatment options for both fish and human infection.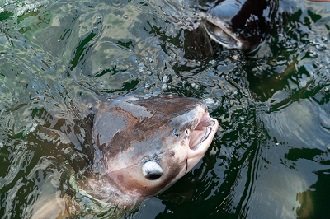 Solution
A group of scientists from Vietnam, Egypt and the UK have been collaborating to test the efficacy of novel vaccines that can be easily administered. The research is supported by the International Veterinary Vaccinology Network (IVVN). The research seeks to lead to oral and immersion vaccines for diseases caused by Aeromonad pathogens that impact tilapia and catfish farms, including in the major producing countries of Egypt and Vietnam.
Vaccines are an excellent way to reduce disease outbreaks and the need for antibiotic therapy, which therefore can help in the fight against bacterial antimicrobial resistance. Moreover, vaccines delivered in feed or by bathing the fish negate the need for highly trained personnel and specialist equipment, which are required for injectable versions.
Vaccination trials performed in pangasius, where the novel immersion and oral vaccine conferred protection of up to 100% relative percent survival compared to controls.

Impact
In 2014 the contribution of aquaculture to supply food for human consumption overtook that of wild-caught fish for the first time. As of 2018 when the study began, aquaculture contributed approximately 73.8 million tonnes of aquatic animals with a value of US$130 billion. This had increased by 10-12% from 59 million tonnes in 2011, representing the fastest growing animal production sector.
Supporting the health of these fish and enabling production to meet demand is beneficial to the health themselves and to the human communities that depend upon them. Novel approaches to administration of vaccines consequently can have considerable impact on fish and human wellbeing.
Partners and Funding