Three RVC Nurses Honoured with Prestigious Awards
Three Royal Veterinary College (RVC) nurses have won prestigious awards at the British Small Animal Veterinary Association's (BSAVA) Annual Congress and the Ceva Awards for Animal Welfare.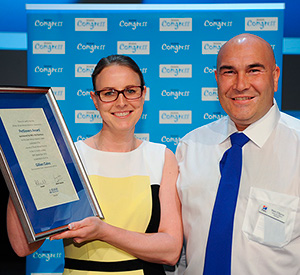 Gillian Calvo BSc (Hons) Dip AVN DipHE CVN (Small Animal) CCRP RVN, Patient Flow Manager at the RVC, has been presented with the BSAVA's Petsavers Award during the opening ceremony of its Annual Congress in Birmingham (7th-10th April). Gillian is the first Registered Veterinary Nurse (RVN) to received this award which is presented to the author of the best clinical research paper published in the Journal of Small Animal Practice (JSAP) during the 12 months ending 30th September 2015.
Ms Calvo's research focused on the development of a behaviour-based measurement tool with defined intervention level for assessing acute pain in cats. She graduated as a veterinary nurse in 2001 and has since been awarded a first class honours degree in Clinical Vet Nursing with a corresponding 'Top Dissertation Award', the RCVS Advanced Vet Nursing Diploma, Advanced Clinical Vet Nurse Diploma and a Certificate as a Certified Canine Rehabilitation Practitioner through the University of Tennessee.
At the same ceremony, Gina Parkes DipAVN RVN, Senior Medicine Nurse at the RVC's Queen Mother Hospital for Animals (QMHA), was awarded the BSAVA's Clinical Abstracts Nurse Award, which is awarded for the best Clinical Abstract presented by a veterinary nurse at BSAVA Congress. Her presentation was a clinical analysis of complications associated with peripheral intravenous catheter placement in cats and dogs.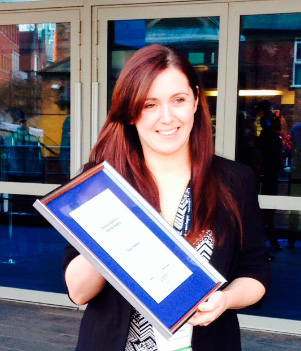 Ms Parkes qualified in Northern Ireland in 2008 before developing a passion for medicine and referral nursing at Melbourne University. After gaining her DipAVN, she joined the RVC as the Senior Medicine Nurse at the QMHA in 2011, and is currently working towards her Veterinary Technician Specialist qualification in Internal Medicine.
Shakira Free-Miles RVN, a veterinary nurse at the Beaumont Sainsbury Animal Hospital (BSAH) at the RVC, has been named Veterinary Nurse of the Year at the Ceva Awards for Animal Welfare. Ms Free-Miles is the first ever finalist to have been selected by the judging panel for two consecutive years. The Ceva Awards judges were impressed by her commitment to veterinary and animal welfare education and her campaigning work to improve legislation governing animal welfare. A key example of this is Shakira's interview on Vanessa Feltz's radio show for BBC Radio London, the day before the awards ceremony, about the importance of micro-chipping in dogs.
She is an active member of the All Parliamentary Group for Animal Welfare and gives talks on exotic pet legislation and welfare for the British Veterinary Zoological Society.
After receiving her award, Shakira said: "I'm really shocked, really privileged and very very honoured, considering it's my second year. I was desperate to win, not just for myself but for veterinary nurses as a whole."
Sue Gregory Professor of Veterinary Nursing at the RVC said "The RVC is a leading provider of higher education programmes in veterinary nursing. These range from a Foundation degree which is accredited by the RCVS, to a Bachelor's degree and a Graduate Diploma for qualified professionals. We are delighted that the work of our nurses is being recognised in this way. All three awards are testament to the outstanding work of RVC nurses as they continue to uphold the best standards in the profession."
For more about Shakira's award see RVC Veterinary Nurse Scoops Prestigious Animal Welfare Award and for information about the RVC veterinary nursing programmes see:
Press Office Contact
Uche Graves / Zoe White
T: 0800 368 9520
E: uche.graves@plmr.co.uk / zoe.white@plmr.co.uk
Notes to Editors
The Royal Veterinary College (RVC) is the UK's largest and longest established independent veterinary school and is a constituent College of the University of London. The RVC offers undergraduate, postgraduate and CPD programmes in veterinary medicine, veterinary nursing and biological sciences, being ranked in the top 10 universities nationally for biosciences degrees. It is currently the only veterinary school in the world to hold full accreditation from AVMA, EAEVE, RCVS and AVBC.
A research-led institution, in the most recent Research Excellence Framework (REF2014) the RVC maintained its position as the top HEFCE funded veterinary focused research institution.
The RVC also provides animal owners and the veterinary profession with access to expert veterinary care and advice through its teaching hospitals; the Beaumont Sainsbury Animal Hospital in central London, the Queen Mother Hospital for Animals (Europe's largest small animal referral centre), the Equine Referral Hospital, and the Farm Animal Clinical Centre located at the Hertfordshire campus.
RVC Press Release 12 April 2016
See other Press Releases.
---
You may also be interested in:
The Royal Veterinary College (RVC) has signed a memorandum of understanding (MoU) with the Advanced …