RVC research sheds light on predator/prey movement
Superior athletic capability gives predators the edge at high speeds, but low speed maneuverability favours prey survival – says new Royal Veterinary College (RVC) research
In the battle between predator and prey, the victor can be decided by the smallest of margins. For some animals this has led to an evolutionary arms-race where speed is the main objective.
However, new research carried out by Professor Alan Wilson of the Royal Veterinary College (RVC) has changed our understanding of athleticism in animals. His new discoveries suggest that slower speeds and last-second turns actually give prey animals better chances of survival, whereas predators must evolve to be more athletic to follow the unpredictable prey.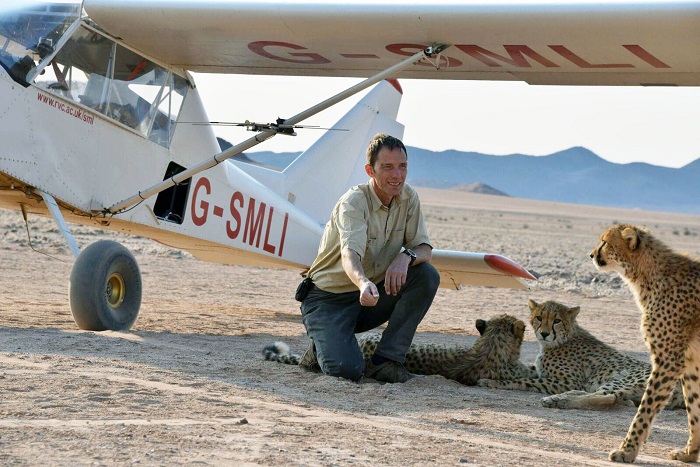 Professor Wilson's research involved analysing the movements of wild, free-ranging cheetahs and lions and their most common prey, impalas and zebras, in the savannah of Northern Botswana. Wilson and his research team collected movement data from five cheetahs, nine lions, seven zebras and seven impalas. They also took tiny muscle samples back to their UK laboratory to test how powerful the animals' muscle fibres were.
The research used state of the art technology, including high-tech location-tracking and movement-sensing collars, as well as Professor Wilson's self-built research aircraft equipped with sophisticated tracking, filming and terrain-mapping technology.
Professor Wilson and his team found that although cheetahs and impalas were the more athletic predator-prey pair, compared to lions and zebras, both predators were similarly more athletic than their prey. Their muscles were found to be 20% more powerful, they were 38% faster, 37% better at accelerating and 72% better at decelerating.
Predators have exceptional athletic capabilities that enable them to brake, change direction and accelerate at speed. This allows them to out-manoeuvre and capture their prey during a high-speed chase. However, when the chases are slower, the prey have more options to dodge and change direction quickly, allowing them to be more unpredictable. This increases their chances of escape.
Professor Wilson's research will feature in the third episode of the new BBC documentary series – Big Cats. This will be aired at 8.00pm on Thursday 25th January on BBC One.
Professor Alan Wilson said: "This episode has some incredible footage of cheetah locomotion that shows what extraordinary athletes they are. It was also a great opportunity to show the lengths we go to for our research into these top-performing predators."
This research constituted a key part of projects funded by BBSRC, EPSRC and the ERC. Further details at www.rvc.ac.uk/LOCATE.
---

Notes to Editors
For more information please contact:
• Uche Graves (uche.graves@plmr.co.uk) Zoe Chadwick (zoe.chadwick@plmr.co.uk) or awilson@rvc.ac.uk
• Press Line: 0800 368 9520

About the Royal Veterinary College
• The Royal Veterinary College (RVC) is the UK's largest and longest established independent veterinary school and is a constituent College of the University of London.
The RVC offers undergraduate, postgraduate and CPD programmes in veterinary medicine, veterinary nursing and biological sciences, being ranked in the top 10 universities nationally for biosciences degrees. It is currently the only veterinary school in the world to hold full accreditation from AVMA, EAEVE, RCVS and AVBC.
• A research-led institution, in the most recent Research Excellence Framework (REF2014) the RVC maintained its position as the top HEFCE funded veterinary focused research institution.
• The Structure & Motion Lab is a world leading lab researching into mechanics of locomotion in a wide range of animal species from insects to dinosaurs. www.rvc.ac.uk/sml
• The RVC also provides animal owners and the veterinary profession with access to expert veterinary care and advice through its teaching hospitals; the Beaumont Sainsbury Animal Hospital in central London, the Queen Mother Hospital for Animals (Europe's largest small animal referral centre), the Equine Referral Hospital, and the Farm Animal Clinical Centre located at the Hertfordshire campus.
http://www.rvc.ac.uk
---
You may also be interested in:
The Royal Veterinary College (RVC) has signed a memorandum of understanding (MoU) with the Advanced …