Royal Veterinary College Professor stars alongside Sir David Attenborough in BBC Documentary 'Attenborough and the Giant Elephant'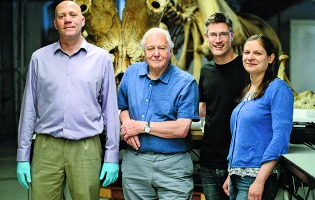 John Hutchinson, Professor of Evolutionary Biomechanics at the Royal Veterinary College, will feature alongside Sir David Attenborough in a new BBC documentary. Attenborough and the Giant Elephant will air on BBC One at 9.00pm on Sunday 10th December.
Jumbo the Elephant is often referred to as the world's first animal superstar and has inspired many Hollywood movies, including Disney's Dumbo. During his 24-year life Jumbo, an African bush elephant born in Sudan, travelled the world and was exhibited in cities including Paris, London and New York.
In the BBC documentary, Professor Hutchinson joins Sir David Attenborough to delve deeper into the story of Jumbo, studying skeletal evidence and unearthing information about his life, his size and his tragic death.
Professor Hutchinson said: "Jumbo is THE celebrity elephant. His name has come to mean 'big' and 'bombastic'. He has had a jumbo effect on Western culture, but also symbolises the complex human-elephant relationship. We love elephants but our fascination with them can also be their undoing, such as poaching for the ivory trade or mistreatment in captivity. I was lucky enough to spend several days studying Jumbo's skeleton for this programme, and our team of experts learned much about Jumbo's extraordinary life – and death — from those old bones. His story is also the story of elephants, and our story to learn from."
Notes to Editors
For more information please contact:
Uche Graves uche.graves@plmr.co.uk or Zoe Chadwick zoe.chadwick@plmr.co.uk Press Line: 0800 368 9520
Photographer Vik Manchanda © Humble Bee Films
About the Royal Veterinary College
The Royal Veterinary College (RVC) is the UK's largest and longest established independent veterinary school and is a constituent College of the University of London. The RVC offers undergraduate, postgraduate and CPD programmes in veterinary medicine, veterinary nursing and biological sciences, being ranked in the top 10 universities nationally for biosciences degrees. It is currently the only veterinary school in the world to hold full accreditation from AVMA, EAEVE, RCVS and AVBC.
A research-led institution, in the most recent Research Excellence Framework (REF2014) the RVC maintained its position as the top HEFCE funded veterinary focused research institution.
The

RVC

also provides animal owners and the veterinary profession with access to expert veterinary care and advice through its teaching hospitals; the Beaumont Sainsbury Animal Hospital in central London, the Queen Mother Hospital for Animals (Europe's largest small animal referral centre), the Equine Referral Hospital, and the Farm Animal Clinical Centre located at the Hertfordshire campus.
---
You may also be interested in:
The Royal Veterinary College (RVC) has signed a memorandum of understanding (MoU) with the Advanced …