Royal Veterinary College Professor recognised as National Teaching Fellow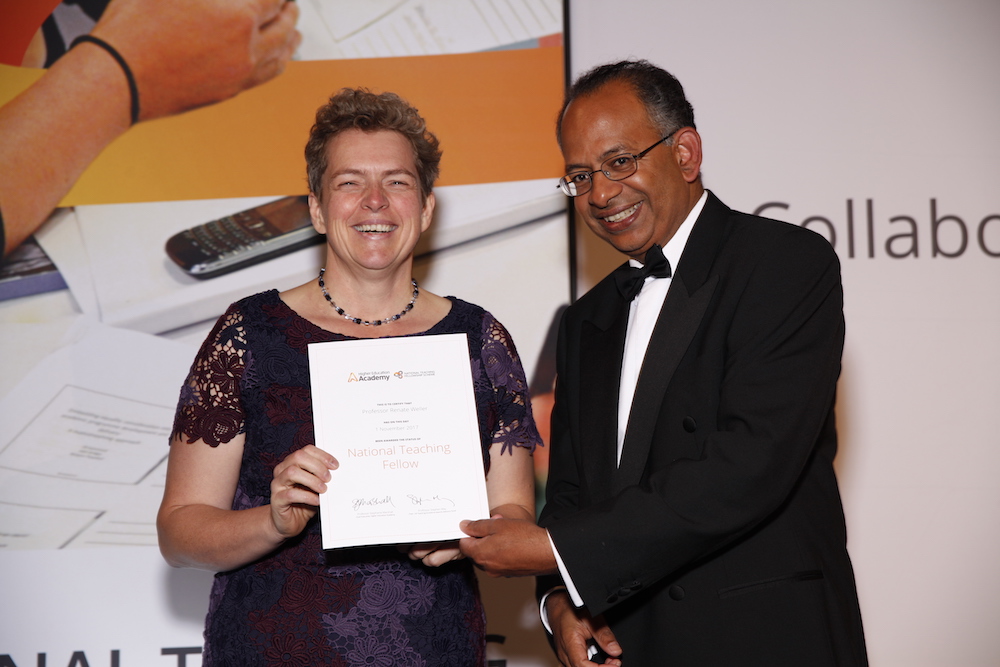 Professor Renate Weller, Professor in Comparative Imaging and Biomechanics at the Royal Veterinary College (RVC), has been recognised as a National Teaching Fellow by the Higher Education Academy (HEA).
The National Teaching Fellow has been awarded to Professor Weller in recognition of her substantial national and international contributions to education and pedagogy. She becomes the seventh veterinarian to be awarded the fellowship, six of the seven veterinarians who are National Teaching Fellows hailed from the RVC.
Professor Weller also studied in the first cohort of MSc in Veterinary Education at the RVC, this is the first and only course of its kind. This course was set up by three RVC National Teaching Fellow's and is directed by the RVC's Dr Ayona Silva-Fletcher. Professor Weller is very enthusiastic about her work and has won the RVC's Educator Award three times. Additionally, she has been inducted into the International Hall of Fame for Farriers in recognition of her leadership in developing and delivering teaching for farriers.
At the RVC, Professor Weller currently divides her time between clinical work in large animal diagnostic imaging, research in imaging, locomotor biomechanics and veterinary education, and teaching. She is also the President Elect of the British Equine Veterinary Association. The HEA works to champion teaching excellence in higher education and Professor Weller's achievements were recognised at an awards dinner held in London on 1st November. The NTF scheme is run by the HEA on behalf of the award funders: The Higher Education Funding Council for England (HEFCE), the Higher Education Funding Council for Wales (HEFCW), and the Department for the Economy in Northern Ireland (DfE).
Speaking about the National Teaching Fellowship Professor Weller said: "I wanted to be a veterinarian from a very early age. Having grown up on a pig farm all I ever wanted to do was care for animals. A few decades later I am doing exactly that: as a clinician, researcher and teacher. As a child, little did I know that my role as a teacher would have far greater effect on my ability to alleviate the suffering of animals than as a veterinary practitioner. I am delighted to receive this accolade and very much look forward to continuing to influence future generations of veterinarians. No other achievement makes me prouder than the acknowledgement from my students that I influenced their life for the better."
Professor Stephanie Marshall, Chief Executive of the Higher Education Academy, said, "The sector is very proud to celebrate the work of its new NTFs. National Teaching Fellows are recognised for their outstanding impact on student learning and the teaching profession. All those being recognised are an inspiration to everybody in higher education. Well done to all of them. We look forward to working together to disseminate and share their great practice."
Professor Rama Thirunamachandran, Chair of HEA Board and Vice-Chancellor of Canterbury Christ Church University added his congratulations, and said, "These awards highlight outstanding work and commitment to teaching and learning from all the individuals and teams involved. The learning from these examples of great teaching practice gives us the opportunity to enrich the student academic experience even more."
ENDS Notes to Editors For more information please contact: ·
Uche Graves (uche.graves@plmr.co.uk) or Zoe Chadwick (zoe.chadwick@plmr.co.uk) ·
Press Line: 0800 368 9520
About the Royal Veterinary College
The Royal Veterinary College (RVC) is the UK's largest and longest established independent veterinary school and is a constituent College of the University of London. The RVC offers undergraduate, postgraduate and CPD programmes in veterinary medicine, veterinary nursing and biological sciences, being ranked in the top 10 universities nationally for biosciences degrees.
It is currently the only veterinary school in the world to hold full accreditation from AVMA, EAEVE, RCVS and AVBC.
A research-led institution, in the most recent Research Excellence Framework (REF2014) the RVC maintained its position as the top HEFCE funded veterinary focused research institution.
The College also provides animal owners and the veterinary profession with access to expert veterinary care and advice through its teaching hospitals; the Beaumont Sainsbury Animal Hospital in central London, the Queen Mother Hospital for Animals (Europe's largest small animal referral centre), the Equine Referral Hospital, and the Farm Animal Clinical Centre located at the Hertfordshire campus.
---
You may also be interested in:
Ahead of Vet Nursing Awareness Month (VNAM) beginning the 1st May, the Royal Veterinary College ( …