Jordan University for Science and Technology collaborates with RVC and international partners to tackle the spread of disease in the Middle East
Dignitaries from the Jordan University of Science and Technology (JUST), His Excellency the British Ambassador, Edward Oakden, and the Royal Veterinary College (RVC) gathered on 22nd April in Amman to celebrate the success of a project to reduce the threat from infectious diseases in the Middle East.
For the past two years, JUST and the RVC in London have participated in a UK and US backed project to improve public health in the Middle East and tackle potential biothreats. Through the project, these two leading academic institutions have been twinned to enhance the delivery of veterinary education and foster collaboration between European and Middle Eastern scientific communities.
Regional conflicts and the Syrian refugee crisis have put a lot of strain on public health systems throughout the region. This has increased the risk of disease spread and the potential implications of a disease outbreak whether naturally occurring, or caused by an accidental or deliberate pathogen release. The project therefore provides multi-sectoral benefit by strengthening Jordan's national disease response capabilities across the public and animal health sectors, and the capability of those in the security sector responsible for investigating the illegal or hostile use of biological material.
The JUST and RVC collaboration is part of an international partnership programme of more than 30 countries including UK, USA and Jordan, which aims to improve national capacity to detect and control infectious diseases and to strengthen biosecurity systems. The twinning of these leading veterinary institutions has provided opportunities for the regular exchange of skills and experience for academics and students from both universities. It is also enabling Jordan to develop the capacity to ensure its own biosecurity by developing stronger regional disease surveillance, diagnostics and control systems.
Brucellosis (an infectious disease that can spread from farm animals to humans) and the Middle Eastern Respiratory Syndrome Coronavirus (MERS-CoV), which it is believed can spread from camels to humans, are examples of two significant biological risks that can only be effectively controlled by the application of a One Health approach involving close collaboration between the human and animal health sectors. The diseases also have a negative economic impact by affecting confidence and damaging trade. By helping tackle these threats, this programme is also contributing to Jordan's food security and enhancing Jordan's ability to export animal products, therefore bolstering economic security in the region.
The project is managed by the World Organisation for Animal Health (OIE), using funding from the UK Government International Biosecurity Programme and their US partners. It has successfully developed the teaching expertise at both institutions through mutual visits, research projects and integration with joint specialist workshops in different areas of veterinary medicine and biosecurity.
Through the success of this project, some areas of research have already attracted further funding, such as a Medical Research Council grant to investigate MERS-CoV. At this celebration of the first phase of partnership, the universities also look forward to future developments including JUST acting as regional advocate for the teaching and curriculum development methods introduced by the RVC, and the possibility of JUST achieving European accreditation for its veterinary degree courses.
Ehab Abu-Basha, Jordan University of Science and Technology (JUST), said: "The Veterinary Education Twining Program between the Royal Veterinary College and Jordan University of Science and Technology is making huge impact on JUST veterinary graduates and Jordan's veterinary and public health sectors. The program has established a platform for exchange of knowledge and best educational and research practices in the field of veterinary education and veterinary public health. We hope that this platform will transform veterinary education and improve veterinary public health not just in Jordan, but in the entire Middle East and the Arab world."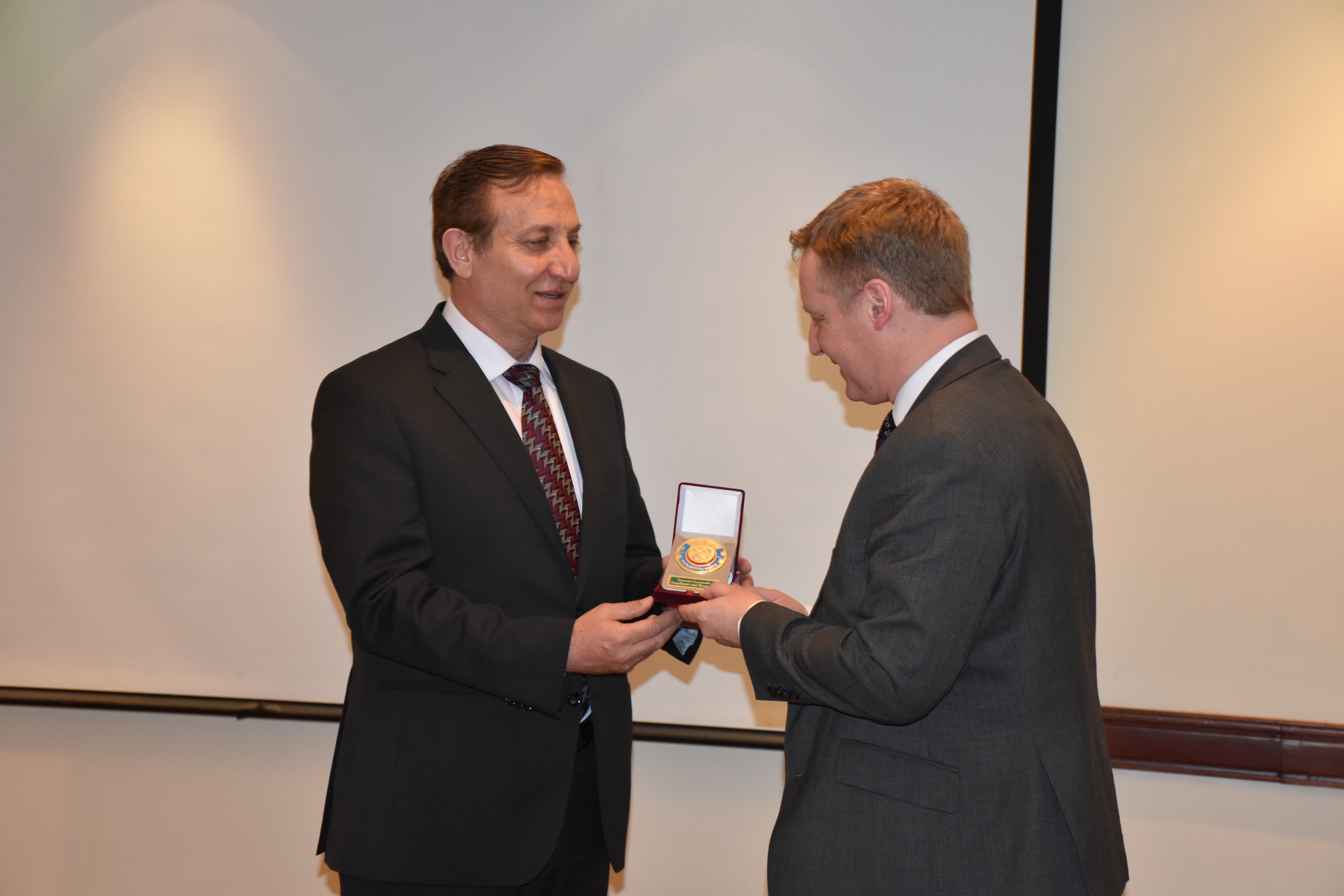 Professor Stuart Reid, Principal of the Royal Veterinary College, said: "In challenging times and an uncertain world, the RVC is committed to its global citizenship and international obligations. Working with our friends in Jordan, and supported by our international partner agencies, it has been a pleasure to translate this commitment to a reality, making impact in a domain that is pivotal to economic and social stability. Initiated by OIE, our programme with a focus on biosecurity, food safety and public health places veterinary science and One Health at the centre of our safer future."
Dr Monique Eloit, Director General of the OIE said: "The OIE Veterinary Education Twinning Project between the Royal Veterinary College (RVC) and Jordan University of Science and Technology (JUST) is demonstrative of how curriculum at JUST is being aligned with the OIE Day 1 Competencies and developed to address priority topics such as public health, animal production and welfare. The partnering of postgraduate students from RVC and JUST on research projects, supervised by faculty staff from each Veterinary Education Establishment, has furthermore enabled synergies to be optimised and significant results to be yielded. As with all OIE Veterinary Education Twinning Projects, as a means of promoting full ownership and sustainability, twinning partners are expected to provide a certain level of in-kind contribution or use the project to leverage further support in areas beyond the scope of the twinning project. In the case of this particular project, the OIE would like to commend RVC and JUST for the complementary funding that they have successfully secured to further research on MERS-CoV."
Ghazi Yehia, Regional Representative for the Middle East, The World Organisation for Animal Health (OIE) said: "The OIE provides global support and assistance to member states by providing expertise and capacity building which improves governance and capability of Veterinary Services. This successful twinning between JUST and RVC has developed a continuous and sustainable link between the parties to allow them to develop better expertise and capacity in preserving animal health and welfare and it will in time provide support and collaboration to other regional countries.
To learn more about 'One Health', the Royal Veterinary College offer a unique postgraduate course aimed at changing environmental, social and agricultural conditions that are a threat to animal and human health and welfare. Find out more...
---
Notes to Editors
For more information please contact: Uche Graves or Alex Cassells / Press Line: 0800 368 9520
About the Royal Veterinary College
The Royal Veterinary College (RVC) is the UK's largest and longest established independent veterinary school, and is a constituent College of the federation of the University of London.
The RVC offers undergraduate, postgraduate and CPD programmes in veterinary medicine, veterinary nursing and biological sciences, being ranked third worldwide for veterinary medicine and in the top 10 universities nationally for biosciences degrees.
It is currently the only veterinary school in the world to hold full accreditation from AVMA, EAEVE, RCVS and AVBC.
In 2017, the RVC received a Gold award from the Teaching Excellence Framework (TEF) – the highest rating a university can receive.
A research-led institution, in the most recent Research Excellence Framework (REF2014) the RVC was ranked as the top vet school in the Agriculture, Veterinary and Food Science unit of assessment, with 79% of submitted academics producing world-class or internationally excellent research.
The

RVC

also provides animal owners and the veterinary profession with access to expert veterinary care and advice through its teaching hospitals; the Beaumont Sainsbury Animal Hospital in central London, the Queen Mother Hospital for Animals (Europe's largest small animal referral centre), the Equine Referral Hospital, and the Farm Animal Clinical Centre located at the Hertfordshire campus.
---
You may also be interested in:
The Royal Veterinary College (RVC) has signed a memorandum of understanding (MoU) with the Advanced …