'Hypertension in the Dog and Cat' – new book by RVC Professors published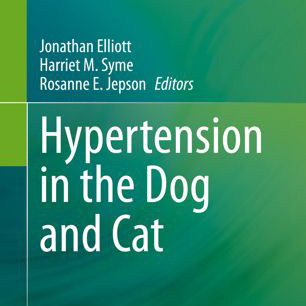 A new book, co-edited by the Royal Veterinary College's (RVC) Professor Jonathan Elliott, Professor Harriet M. Syme and Dr Rosanne Jepson has just been published by Springer.
This book aims to provide an in-depth review on the current state of knowledge of the pathophysiology, epidemiology, pathology and therapeutics of canine and feline hypertension with a reflection on what is known on this condition from the study of humans.
By taking a comparative approach, the underpinning peer reviewed research is critically evaluated, data from recently registered drugs presented and knowledge gaps are identified. In addition, the reader is presented with evidence-based treatment strategies.
The main audience for this new publication are researchers, graduate students and clinical specialists in small animal internal medicine as well as veterinary clinicians with an interest in nephrology, cardiology, neurology and ophthalmology.
Available in both eBook and Hardcover (released 30 January 2020) formats, this essential guide to the principles and pathophysiology of hypertension in dogs and cats is available for purchase and pre-order from the Springer website.
---
You may also be interested in:
The Royal Veterinary College (RVC) has signed a memorandum of understanding (MoU) with the Advanced …