Empowerment Personified: RVC appoints new Director and Deputy of Veterinary Nursing ahead of Vet Nursing Awareness Month
Ahead of Vet Nursing Awareness Month (VNAM) beginning the 1st May, the Royal Veterinary College (RVC) has appointed Perdi Welsh as the new Director of Veterinary Nursing and Hilary Orpet as Deputy Director of Veterinary Nursing.
These appointments mark the first time a veterinary nurse has been appointed Director at the RVC, demonstrating its recognition and commitment to continuing to lead Veterinary Nursing education and clinical excellence whilst enhancing the quality, creation and dissemination of world leading Veterinary Nursing evidence.
In this new role, Perdi, with the assistance and support of Hilary, will provide leadership and direction for the School of Veterinary Nursing, helping to incorporate the RVC's strategic objectives in teaching, clinical practice and research into the continuing development and growth of the school.
As keen advocates of veterinary nursing and highlighting the important role they play in both the clinical and research settings, both Perdi and Hilary intend to adopt a transformative approach to Veterinary Nursing at the RVC. This includes introducing progressive solutions to issues facing the wider veterinary profession including recruitment, retention and career development opportunities.
Perdi and Hilary have a long history of successful collaboration, having first worked together in a clinical setting at the RVC's Queen Mother Hospital for Animals. In 1994, they set up the RVC's first school of Veterinary Nursing with the College of Animal Welfare. Since then, they have worked closely multiple times, including co-authoring The Handbook of Veterinary Nursing, which was the only Veterinary Nursing textbook of its kind when it was originally published.
Perdi originally qualified as a Veterinary Nurse from the RVC's Beaumont Sainsbury Animals Hospital in 1991, after which she went on to work as a general nurse staff at the QMHA whilst studying to gain her Diploma in Advanced Veterinary Nursing in Surgery. She moved into Veterinary Nursing education after earning her Certificate in Education in 1996.
Since then, she has pioneered Veterinary Nursing across the UK and Northern Ireland, including at the RVC where she helped set up the UK's first veterinary Clinical Skills Centre in 2004, the Graduate Diploma in Professional and Clinical Veterinary Nursing in 2007 and the Graduate Certificate and Postgraduate Certificate in Advanced Veterinary Nursing in 2020. Perdi has also recently completed the Aurora leadership development course for women which seeks to address the under-representation of women in leadership positions in the higher education sector.
Hilary trained originally as a Veterinary Nurse in a small mixed practice in Hampshire before qualifying in 1987. In 1988, she joined the QMHA as a general Veterinary Nurse where she gained her Diploma in Advanced Veterinary Nursing in Surgery. As a Senior Surgical Veterinary Nurse, Hilary began teaching in 1994 and has since been instrumental in developing the RVC's Veterinary Nursing pathways alongside gaining her Master's degree in Veterinary Education in 2011.
Perdi Welsh, newly appointed Director of Veterinary Nursing at the RVC, said:
"I am absolutely delighted to have been appointed as Director of Veterinary Nursing and am excited to get started. I'm looking forward to working with Hilary and our fabulous VN colleagues here at the RVC on innovative projects to positively impact the advancement of veterinary nurses and the veterinary nursing profession.
Over the coming months, Hilary and I will be defining and sharing our vision and goals with the RVC community. We will continue exploring ways to provide increased training and professional progression opportunities for veterinary nurses from different qualification routes and diverse clinical backgrounds. We're at a critical time in veterinary nursing, and we're keen to play our part in contributing to the advancement of our profession."
Hilary Orpet, newly appointed Deputy Director of Veterinary Nursing at the RVC, said: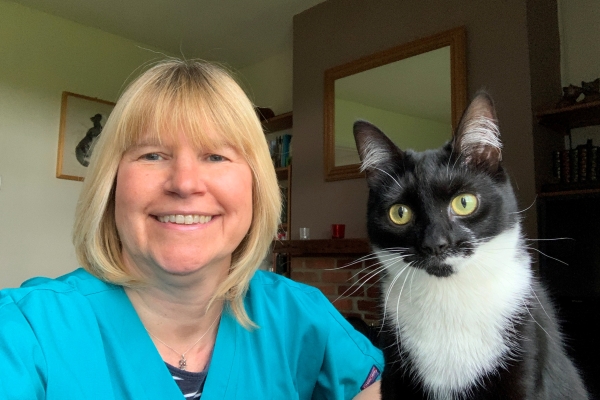 "I think this is giving us an amazing opportunity to expand our horizons and develop a connected community of veterinary nurses at different stages of their career. I have worked with Perdi over many years and on many different projects and working with such a creative and productive team will ensure that veterinary nursing at the RVC is leading the profession."
The RVC offers many pathways suited to any Registered Veterinary Nurse looking to take their career and personal development to the next level.
The Graduate Certificate and Postgraduate Certificates in Advanced Veterinary Nursing are part time, distance learning, advanced veterinary qualifications that help current Veterinary Nurses expand their professional knowledge and skills with a particular focus on clinical patient care and a subject area specialism – Medical Nursing, Emergency & Critical Care or Anaesthesia and Analgesia.
Each May, the British Veterinary Nursing Association (BVNA) celebrates Veterinary Nursing Awareness Month. The annual campaign aims to raise awareness of the importance of the role of the veterinary nurse with this year's theme being Empowerment.
---
Notes to Editors
For media enquiries, please contact:
About the RVC
The Royal Veterinary College (RVC) is the UK's largest and longest established independent veterinary school and is a Member Institution of the University of London.
It is one of the few veterinary schools in the world that hold accreditations from the RCVS in the UK (with reciprocal recognition from the AVBC for Australasia, the VCI for Ireland and the SAVC for South Africa), the EAEVE in the EU, and the AVMA in the USA and Canada.
The RVC is ranked as the top veterinary school in the world in the QS World University Rankings by subject, 2023.
The RVC offers undergraduate and postgraduate programmes in veterinary medicine, veterinary nursing and biological sciences.
The RVC is a research led institution with 88% of its research rated as internationally excellent or world class in the Research Excellence Framework 2021.
The RVC provides animal owners and the veterinary profession with access to expert veterinary care and advice through its teaching hospitals and first opinion practices in London and Hertfordshire.
---
You may also be interested in:
The Royal Veterinary College (RVC) has signed a memorandum of understanding (MoU) with the Advanced …