Wound Clinic Progress
Clinical Connections – Autumn 2017
Vicky Lipscomb, Head of the Soft Tissue Surgery Service
The wound clinic, which was established last year, combines advanced technology and expertise to help referred patients, and is also undertaking research to inform best practice.
The clinic draws on the breadth of specialist expertise within the RVC team to offer an optimum wound plan for each patient, as well as tailored advice to complement wound management at referring practices.
Referred patients receive a wound consultation with a member of the Soft Tissue Surgery Service. Wounds are then photographed with a 3-D silhouette camera, which uses lasers to measure wound area and volume for accurate comparisons of wound progression. Software calculates measurements of the wound's area, depth, volume and perimeter.
Referring vets receive a wound report, including recommendations for a wound plan which can be actioned at the RVC or the referring practice, depending on the patient's needs. Outpatient wound management is available for owners and referring vets who would like the service to provide regular advice on a wound and monitor its progression using the wound camera.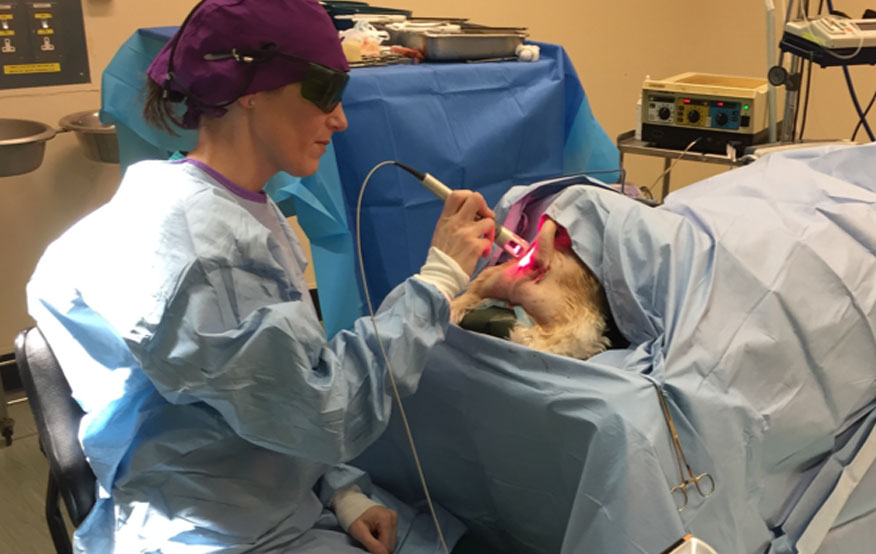 We have used a therapeutic class IV K-Laser for the last two years. Some wounds and selected surgical incisions, flaps and grafts can benefit from K-Laser treatment. It can help to heal infected wounds, even those with multi-resistant infections, as the laser stimulates the immune system and increases tissue oxygenation and local blood supply.
The team has started two clinical research projects using the Class IV K-Laser, aimed at optimising future practice. The veterinary evidence base concerning the use of the K-Laser is sparse and these studies aim to strengthen this and be of benefit to the global veterinary community.
The first study being conducted investigates the effects of the laser on postoperative wound healing in dogs undergoing bilateral surgeries. Cases treated with the laser are compared to a control 'no-laser' application on another normal surgical wound. The second study investigates the effects of a Class IV laser on second intention healing in dogs, where one half of a wound has been treated with the laser compared to a control 'no-laser' application on the other half of the wound.
For more information about the 
wound clinic and the K-Laser studies, or if you would like some friendly advice or to discuss a potential referral, please contact the Soft Tissue Surgery Service team QMHSoftTissueSurgeryTeam@rvc.ac.uk or QMHReception@rvc.ac.uk
Case study: Negative pressure wound therapy to help to maintain viability of a skin flap
Clinical Presentation: 
A retriever-poodle mix was admitted for treatment of a 20cm wound covered by a large, purulent, necrotic flap of skin over the left thorax.
Treatment and Outcome: 
The wound was debrided, and negative pressure wound therapy (NPWT) was initiated for three days until a healthy bed of granulation tissue developed. A reconstructive procedure was performed using a large rotation flap three days after the initial NPWT dressing removal. The NPWT process was reinitiated over the top of the flap two days following reconstruction because the distal tip of the skin flap looked to have compromised viability. After five further days of NPWT, the flap had markedly improved in colour and the NPWT dressing was removed. Successful healing of the flap occurred without the need for additional intervention.
Clinical Relevance: Use of NPWT in this case led to a good overall outcome for the dog, with complete healing achieved. Further evaluation of this technique for salvaging failing skin flaps is warranted, particularly as no reliable method for flap salvage in veterinary practice currently exists.


A full report of Teddy's case can be found in JAVMA 243(6), 863-868.