The Value of a New Digital Pathology Platform
Clinical Connections – Spring 2020
By Dr Jonathan Williams, Senior Lecturer in Anatomic Pathology
The RVC is proud to announce the establishment of its digital pathology platform which will allow digital scanning of glass slides to produce high-resolution digital slide images.
Diagnostic histopathology is very dependent on reviewing and discussing glass slides with colleagues and trainees at a multi-headed microscope. In contrast, virtual slides can be rapidly shared with other specialist pathologists, trainees, clinicians, and students anywhere in the world.
For pathologists, computer-based review of high-resolution image files (or 'virtual slides') is therefore fast becoming the standard means of primary diagnostics, and now plays a major role in pathology teaching and tissue-based research.
Benefits to patients
Transport of slides to pathologists via courier currently takes days to weeks to achieve a second opinion, which can be achieved in minutes with the sharing of virtual slides. Through the more accurate calibrated and standardised measurements of surgical margins and mitotic counts, more precise information can be ascertained from virtual slides than from standard glass slides, and side-by-side analysis is much more easily performed.
This technology also opens the possibility of utilising machine learning to give more objective standardisation of image analysis data in both a diagnostic and research setting. Additionally, features observed in a glass slide can often be difficult to locate when it comes to review by others, whereas digital slides can be easily annotated for future discussion.
We are incorporating the interpretation of virtual slides into our residency programme, as the potential for slide standardisation and simplified exam logistics means this will likely become the method of examination in pathology board examinations. Having digital slide scanning capabilities supports online course development and allows video conferencing of slide sessions. It also supports the sharing of digital slide archives with our partner pathology laboratories.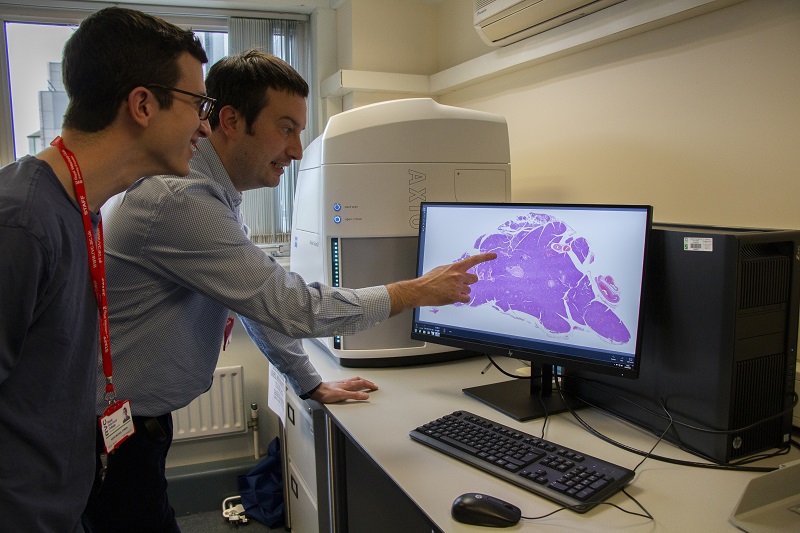 Benefits for future vets and scientists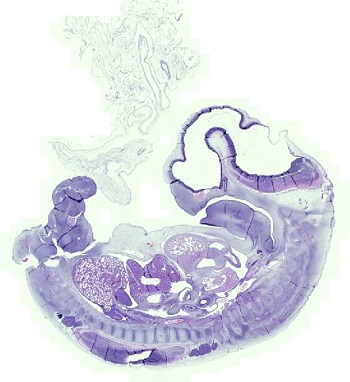 The teaching of histopathology to veterinary undergraduates and scientists has historically been limited by individual microscope numbers and quality and numbers of glass slides in teaching sets. The quality of teaching can be further limited by slide quality and artefacts, slide variation, and the inability for the teacher to appreciate what the student is viewing on an individual microscope.
Since introducing digital pathology into our BVetMed and BSc courses, the feedback from students has been excellent. Digitisation of both histology and pathology slides means every student can view the same slide, free of artefacts, and without deterioration over time. Students can look through an archive of digital slides from any computer or personal device at any time, giving flexible learning opportunities, rather than having to look at slides within a laboratory environment.
Tissue-based research
Tissue-based pathology research is dependent on the generation of accurate quantitative data from morphometry, feature counting and lesion scoring. High resolution scanned slides allow rapid, fully calibrated-for-magnification measurements and feature counts to be made and exported as tabulated quantitative data for individual slides. Additionally, the digital slide is annotated with all measurements, allowing full traceability and retrospective analysis.
A digital pathology platform allows the generation of digitised slides and efficient collaboration between researchers and pathologists, allowing both teams to annotate and discuss quantitative data with simultaneous viewing of the slides. Our platform greatly improves our capabilities as a college to conduct morphometric tissue-based research projects and greatly enhances our capabilities for research collaborations between campuses, specialist institutions, and global collaborators.
The RVC's digital pathology platform was established last year with the support of the Animal Care Trust and is currently scanning slides for teaching and research projects. Please contact slidescanning@rvc.ac.uk for further information.