The power of the coconut - breakthroughs to support dogs
Clinical Connections – Autumn 2017
A new diet to help nutritionally support the management of dogs with idiopathic epilepsy will be available in the UK next year.
RVC expertise helps referred animals and, through ground-breaking research, supports animals globally. For example, research from the RVC's canine epilepsy clinic has led to a breakthrough in neurological therapeutic nutrition. As in other areas of veterinary medicine, the influence of nutrition on health and its role in supporting the management of diseases affecting different body systems is rapidly evolving.
Research from the clinic, in partnership with NestlО Purina, provided the basis for the development of the first and only diet to help nutritionally support the management of dogs with idiopathic epilepsy, as an adjunct to veterinary therapy.
The diet, Purina® Pro Plan® Veterinary Diets NC NeuroCare™, will be available in the UK from January next year.
The most common treatment for canine epilepsy is anti-epileptic drugs (AEDs) but studies have found that in approximately a third of dogs, current drug treatments failed to reduce the number of seizures they experience by at least 50%.
The epilepsy clinic is continuously working on new management options to improve seizure control and quality of life for dogs with epilepsy, and to give more control to owners. In 2015, the team developed the first ever app that allows dog owners to monitor and improve the lives of pets that suffer from epilepsy. The RVC also played a pivotal role in establishing the International Veterinary Epilepsy Task Force (IVETF), which brings together vets and scientists to establish unified and standardised guidelines for the research, diagnosis and treatment of canine and feline epilepsy.
The IVETF was established and chaired in 2014 by Holger Volk, Head of the RVC's Department of Clinical Science and Services and specialist in neurology and neurosurgery.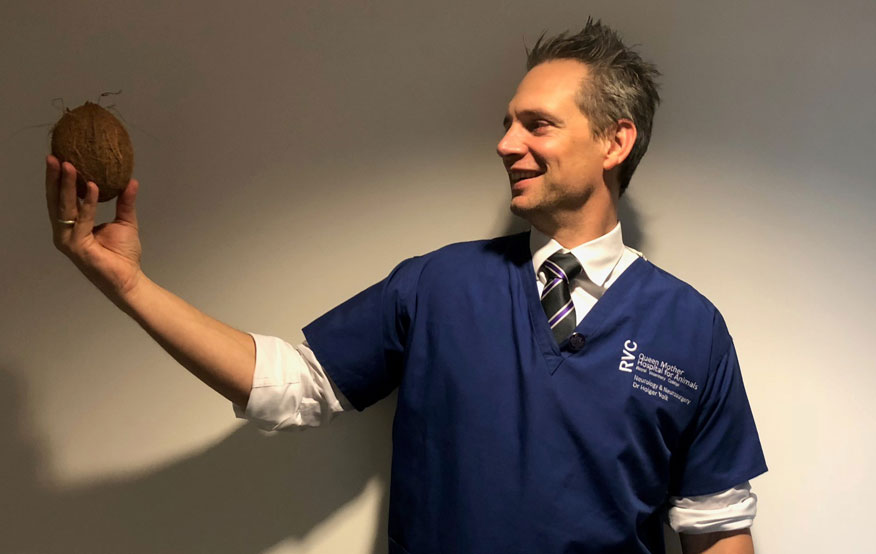 Professor Volk's research has led to the development of the new diet to help dogs with epilepsy. NeuroCare® is enhanced with medium-chain triglycerides (MCT) oil, plus a unique blend of nutrients, antioxidants and B vitamins to support canine brain function.
Holger and the RVC team have demonstrated that a diet rich in MCT can help control seizures and comorbidities of epilepsy such as ADHD clinical signs and anxiety in some dogs. The research was a six-month randomised, placebo-controlled, double-blinded crossover study conducted in dogs with idiopathic epilepsy that were also being administered AEDs. It demonstrated for the first time that a diet with MCT oil can have positive effects on reduction of seizure frequency when fed as an adjunct to veterinary therapy (71% of dogs showed a reduction in seizure frequency, 48% of dogs showed a 50% or greater reduction in seizure frequency and 14% of dogs achieved complete freedom from seizures).
Explaining his motivation to conduct the study into MCTs, Holger said: "Canine epilepsy is a complex condition and can be very distressing for dogs and their owners, which I know from personal experience having had a dog with fits. Complex diseases often require a more complex (multifactorial) management protocol. Drug treatments can be successful in reducing seizures but consistent remission can be difficult to attain and therefore we need to broaden our management toolkit.
In the field of research into canine epilepsy and brain health, the effect of diet is one of the most exciting current areas. Dog owners have often told me that they feel that the food that they give to their dogs influences the control of their seizures. I was sceptical about these owner observations at first. However, these anecdotal observations kindled the idea of looking closer at the effect of diet on dogs with the condition.
We hope this new diet makes a difference and brings new hope to owners of dogs with epilepsy. It will not be the magic wand for all patients with epilepsy. It will need to be given under the guidance of a veterinarian and should be given as an adjunct to veterinary therapy." Referring to new research, he added: "We are currently conducting research to investigate if supplementing MCT as a dietary supplement to the regular food of dogs has similar effects as the aforementioned diet tested. We hope we can provide you with an update in the spring. Furthermore, we are currently starting a new trial looking at the long-term benefits of diet on epilepsy management. In this study, we want to look at dogs which represent more the population you see in first opinion practice.
It goes without saying, but we do want to express our sincere thank you to all of you who help us with our research. Referring cases to the RVC does not only help our educational mission but also helps to shape the veterinary care we can provide in the future. Thank you!" If you have an epileptic dog on record which does not have cluster seizures or suffered from a status epilepticus, please touch base with us about our next diet study (LifeTIME [Long Term remission Mct Epilepsy]) and send an email to our Clinical Investigation Centre cic@rvc.ac.uk. More information can also be found on the website: www.rvc.ac.uk/epilepsy.