Small Mammal Traumas are Not Always Easy to Spot
Clinical Connections – Summer 2018
Jo Hedley, Head of the RVC Exotics Service
Traumatic injuries are unfortunately a fairly common problem in the small mammal. Sometimes the cause can be obvious such as a fall or predator attack, whereas in other cases the initial cause remains a mystery. This was the case with Elmo a little eight-week-old female guinea pig, who was presented to the RVC Exotics Service at the Beaumont Sainsbury Animal Hospital for assessment and treatment of a suspected fracture.
There was no history of an obvious traumatic incident, although she was known to be quite boisterous with the other guinea pigs and had been found non-weight bearing on her right hindlimb that morning.
Unfortunately, fractures are not always that easy to spot in guinea pigs as, being prey animals, they will hide signs of even severe pain. We often see prey animals who appear to be moving around almost normally when assessed from a distance and it is only on thorough orthopaedic examination that a fracture or dislocation can be detected.

In Elmo's case, physical examination revealed an unstable fracture to the distal tibia on the right hindlimb. She was therefore admitted for analgesia and supportive care before further assessment. Radiographs of the limb were initially taken under a short general anaesthetic. These confirmed an oblique fracture to the distal tibia, but no other injuries. In young guinea pigs, some fractures may heal with cage rest alone and application of a bandage or splint for additional stabilisation. However an initial splint was not well tolerated by Elmo, so we opted for surgical fixation to give her the best possible chance of healing.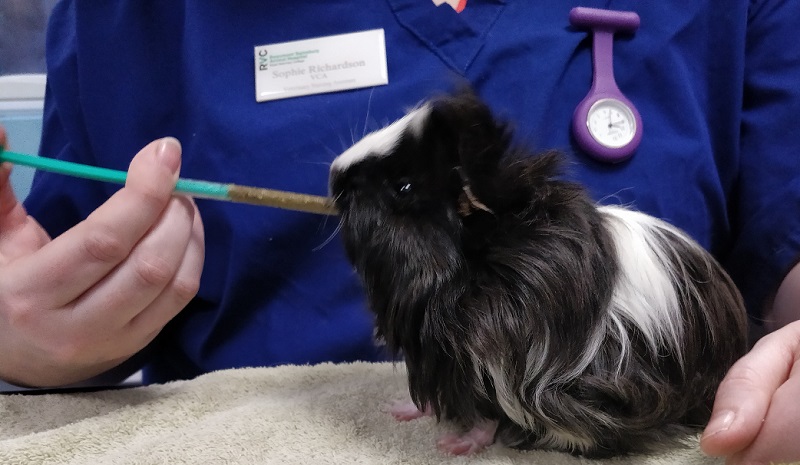 Fracture repair in small mammals requires specialist equipment and some experience with more delicate orthopaedic procedures. Fracture healing in rabbits is known to be similar to that in dogs and cats, although their lower skeletal mass means that bones can fragment more easily and do not hold implants, such as bone plates, as well. Less is known about fracture healing in rodents, with few reports in the literature of successful orthopaedic procedures.
Different surgical techniques may be used, but for Elmo we opted for repair using an external fixator. Although a relatively straightforward technique, her small size made this a technically challenging surgery. However, under the expert care of our exotics vet Nadene Stapleton and small animal surgeon Faye Forsythe, the fixator was placed successfully and she made a good initial recovery.
Such surgery is a major procedure for a guinea pig to undergo and does require intensive post-operative care, both in hospital and later back at home. Our patients normally stay in hospital for a minimum of two days following surgery for continuous rate infusions of fluids and analgesia, in addition to supportive feeding and gut stimulants.

Elmo started to eat and move around quickly following surgery but remained in hospital for ongoing medical treatment until swelling of the limb had reduced. Six weeks later, she was bright, active, mixing with her other guinea pig friends again and moving around normally on all limbs. Repeat radiographs were therefore taken which showed good callus formation and the external fixator could finally be removed.
The RVC Exotics Service is the only specialist exotics service in central London and the only full-time exotics service at an English veterinary school. The team treats a wide variety of species, including rabbits and other small mammals, reptiles, birds, amphibians, ornamental fish and invertebrates. Simple fractures may be repaired by our specialist exotics team in collaboration with our small animal surgeon colleagues at the Beaumont Sainsbury Animal Hospital. For the more complex fractures, we collaborate with RVC Small Animal Referrals' orthopaedic specialist colleagues based at the Queen Mother Hospital for Animals on the Hawkshead Campus.