Recognition for Veterinary Trauma Centre
Clinical Connections – Summer 2016
The Royal Veterinary College's Small Animal Referrals service has been designated as the first Level I Veterinary Trauma Centre (VTC) outside of North America.
The designation was awarded after a lengthy evaluation by the American College of Veterinary Emergency and Critical Care (ACVECC) Veterinary Committee on Trauma (VetCOT).
RVC Small Animal Referrals is based at the Queen Mother Hospital for Animals (QMHA) near Hatfield Hertfordshire. To become a VTC, the team had to demonstrate that it could respond effectively and holistically to any trauma case. As well as having exceptional facilities, the clinical team was able to demonstrate that patients and clients benefit from its transdisciplinary approach to veterinary care because of the wealth of different specialists at the hospital.
The designation is evidence of the strength in depth of the specialist services that the RVC team can provide to referring vets and their clients. In order to be recognised as Level I centre the Small Animal Referral service had to show how its team could meet every need of traumatised patients including provision of expert anaesthesia, neurology, internal medicine, cardiology, ophthalmology, surgery, diagnositics and rehabilitation. Those core services have to be available within standard business hours and emergency services must be provided 24 hours a day, 365 days a year.
Centres are also expected to provide leadership in veterinary education and contribute to research, which, as a teaching hospital within a university setting, have always been key elements of the referral team's role at the RVC.
Welcoming the decision, Dan Chan, head of Emergency and Critical Care and the RVC's VTC lead, said: "This has been a fantastic achievement that recognises our expertise, passion and commitment to total patient care. We have been investing in and developing our capabilities in support of our Veterinary Trauma Centre for over three years and we were commended for having an exceptionally strong application and many of our innovations would serve as a model for other aspiring institutions."
Emphasising the value to referrers, clients and animals of having access to such a centre, Professor Chan added: "The ethos of the Veterinary Trauma Centre initiative is that there should be a constant drive to self-improve and ensure that patients receive the highest quality of care whenever they need it. As these are very much aligned with RVC Small Animal Referrals' service, it was only natural that we sought to become a recognised Level I VTC."
There are currently 26 VTCs, most of which are located in North America. There are currently fewer than 10 Level I VTCs in the world, and the RVC joins an elite group of leading hospitals to be designated as such.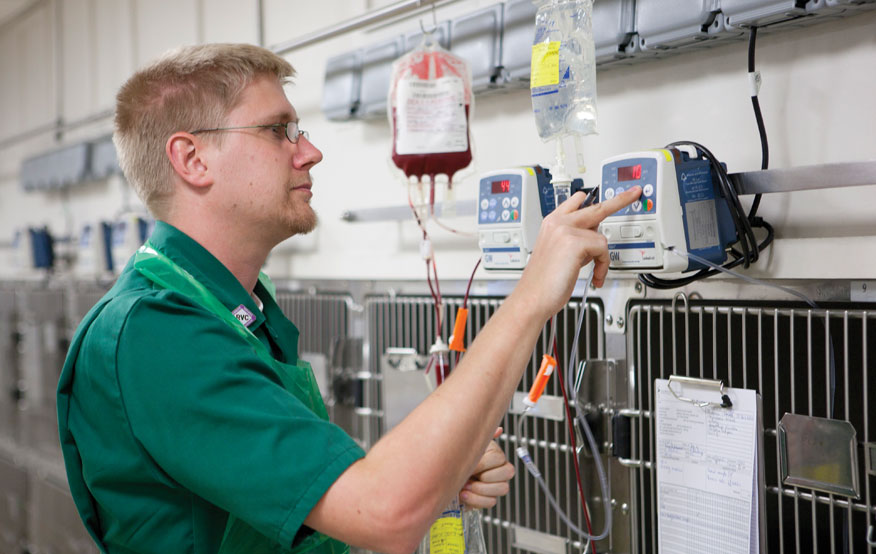 RVNs are a vital element of ECC at RVC Small Animal Referrals where Belinda Andrews-Jones VTS (ECC) DipAVN (Surg) RVN PgDip Vet Ed FHEA is Senior Emergency and Critical Care Veterinary Nurse and Clinical Educator. Belinda specialises in emergency medicine and was the first RVN in England to gain the acclaimed Veterinary Technician Specialist (VTS) qualification.
"Nurses at RVC Small Animal Referrals have a different role to those in most first opinion practices. RVNs here each chose a speciality they want to focus on. We have many nurse speciality departments but we all fit together like a big puzzle to care for all of the patients, and their very varied diseases and conditions. Specialising within nursing ensures that the patients received the best nursing care from specialised nurses, allowing nurses to do the nursing they love and have passion for, this then allows the nurses to develop their knowledge and skills in the area they enjoy."
One of those specialities is the Emergency and Critical Care Department (ECC), where all ECC nurses work in both areas of emergency which includes dealing with trauma cases and critical care, both areas fit together, basically dealing with really sick patients where their condition can change rapidly.
"I have been specialised in ECC for 14 years since the service started. My VTS qualification hugely helped increase my knowledge and skill set within my specialised field. We now have VTS specialised nurses in Anaesthesia, surgery and another in ECC, many more are working towards this qualification or other specialised qualifications. It was a requirement for the hospital to have two VTS qualified nurses in ECC in order to gain the Level 1 Trauma Centre status. Having such a strong clinical nursing team with VTS qualifications across so many areas was an important factor in the hospital gaining the Level1 Trauma Centre recognition.
Emergency Referrals
Emergency Referrals sees over 2000 cases annually and our First Opinion Emergency sees another 2,000 cases. The trauma centre sees trauma cases from all services:
Emergency Referrals
First Opinion Emergencies, 
 Orthopaedics,
Soft Tissue Surgery,
Ophtho and Neurology.
An "Emergency" can come via any service but the bulk are seen by Emergency Referrals.