Rare tumour identified after dog's accident
Clinical Connections – Spring 2016
A Scottish deerhound was admitted to RVC Small Animal Referrals as an emergency referral after sustaining an injury while running at full speed through some low shrubbery. He presented our trauma team with an unusual challenge.
After being treated for his fractures, RVC specialists discovered that the eight-year-old patient had telangiectatic osteosarcoma and, as a result, the orthopaedic surgery team performed an amputation and he is to be fitted with a prosthesis.
After sustaining his fractures the dog was non-weight bearing on his right front limb, with obvious instability at the level of the carpus. His clinical history was unremarkable with no signs of any previous lameness.
Initial radiography showed multi-fragmental intra-articular fractures involving the epiphyses of both the distal radius and ulna. In view of the complexity of the fracture and the very unusual location, additional CT imaging was performed.
The fractures were limited to the distal radius and ulna with intact carpal bones. CT also revealed an area of decreased density within the fracture zone, consistent with loss of cancellous bone. As there was no indication for previous lameness, the preliminary diagnosis was traumatic intra-articular fracture possibly in combination with a bone cyst.
As anatomic repair of the antebrachiocarpal joint was not feasible, initial stabilisation was performed with a circular external skeletal fixation (CESF) system. Traction was applied over the joint to realign fragments and to enable bone healing while eliminating compressive forces. Craniocaudal radiography showed the CESF instrumented on the antebrachium and foot (in figure 2). The dog was weight bearing and comfortable with the frame within days after placement.
Bone healing progressed well initially, with a good alignment of the joint. After six weeks the distraction over the joint was ceased and the CESF frame brought in a neutral loading position. Radiographic imaging four weeks later showed progressive peripheral bone healing but unfortunately also revealed multiple lytic areas in the distal epiphyses with swelling of the surrounding soft tissues. These findings were highly indicative for a malignancy.
Fine needle aspiration and cytology only showed blood cells and was still inconclusive at that stage. With progression of the bone lysis and soft tissue involvement, the decision was made to perform a low amputation in the antebrachium for final diagnosis. The low amputation was chosen to accommodate for an external prosthesis at a later stage.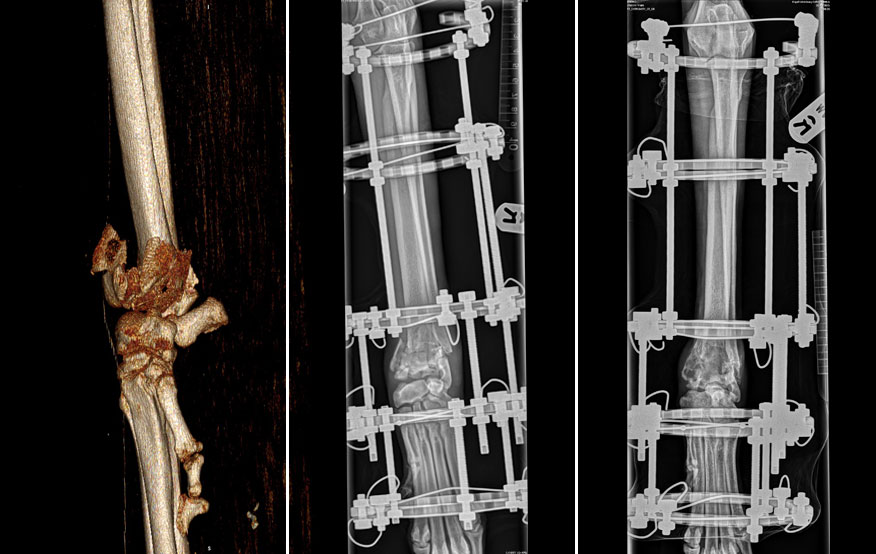 Histopathology revealed a telangiectatic osteosarcoma. This is a very rare tumour in both dogs and humans. The tumour can resemble aneurysmal bone cysts as the tumour mainly comprises of blood vessels and characterisation of malignant cells can be difficult. Primary location in the epiphysis is exceedingly rare. Although the surgical margins were free of tumour cells, a high metastatic rate has been reported.
Although the patient adapted well to being on three legs an external prosthesis was produced and fitted at the Queen Mother Hospital for Animals (QMHA) to give the dog maximal mobility. At present, eight months after presentation, there are no signs of metastatic disease and the dog is doing well.
Commenting on the injuries sustained in this case, Orthopaedic Service head Professor Lars Theyse said: "Intra-articular fractures in adult dogs are quite rare. An exception is the lateral condylar or Y-fractures involving the elbow joint as seen in springer spaniel type dogs with incomplete ossification of the humeral condyle. Most other trauma involving joints include the carpus or tarsus and are characterised mainly by ligamentous injuries with or without additional fractures of carpal and metacarpal or tarsal and metatarsal bones. These injuries typically present as acute instabilities at the level of these joints.
"Fractures typically do not occur in the epiphysis of long bones as this part of the bones is stronger than the shaft area. In the front limb most fractures are located in the antebrachium and are located more specifically in the distal third of the radius and ulna. The typical treatment for these injuries is stabilisation with a plate and screws. In specific cases external skeletal fixation can be the treatment of choice in treating radial and ulnar fractures. An example for this is bite-wound-related infected fractures."
He added: "Circular external skeletal fixation is used typically to treat antebrachial growth deformities in young dogs requiring correction of the malalignment, incongruity of adjacent joint and length deficit using distraction osteogenesis. Such a circular external skeletal fixation system was also deployed in this case."

The team:
The orthopaedic team consists of six staff members supported by four surgery specialists-in-training. The team includes specialists Elvin Kulendra, Ignacio "Nacho" Calvo, Matthew Pead, Pilar Lafuente, Richard Meeson and Lars Theyse. In addition to his clinical work, Richard Meeson is working on his PhD focusing on stimulation of bone healing.
The experience and size of the Orthopaedic Service enables it to maintain and expand the high standards of care delivered by the RVC, working in collaboration with referring vets. The team welcomes contact from veterinary colleagues with any questions and constructive feedback. The team can be contacted at qmareception@rvc.ac.uk

More Info clinicalconnections@rvc.ac.uk