Plasmapheresis: When the Drugs Don't Work
Clinical Connections – Summer 2017
Molly, a three-year-old springer spaniel with a severe form of immune-mediated haemolytic anaemia (IMHA) was successfully treated by the Small Animal Emergency Referrals Service with plasmapheresis, enabled by the use of a Continuous Renal Replacement Therapy (CRRT) machine at RVC Small Animal Referrals.
Success stories like that of Molly have been made possible because the RVC is the only veterinary centre in the UK to offer extracorporeal therapy, a blood purification system that can save the lives of poisoned animals, those with kidney failure and autoimmune disorders. The machine can be used for both dialysis and plasmapheresis by using different filters.
With plasmapheresis, the patient's plasma (containing substances that may be causing disease) is removed and replaced with healthy plasma from the RVC's blood donor transfusion medicine programme.
Other therapies that were instituted to manage Molly's IMHA included immune-suppressive therapy, however the degree of haemolysis was so severe that she required three packed red blood cell transfusions in the first 72 hours, whilst the medications took effect.
Due to the severity of Molly's anaemia and high transfusion requirements, the decision was made to perform plasmapheresis, also known as 'therapeutic plasma exchange.' The goals were to decrease the rate of haemolysis by reducing the auto-antibody burden, reduce the need for ongoing transfusions and provide some relief due to the very high serum bilirubin, while waiting for the immune-suppressive treatment to take effect. Following plasmapheresis, Molly did not require any further packed red blood cell transfusions and she was able to go home after five days.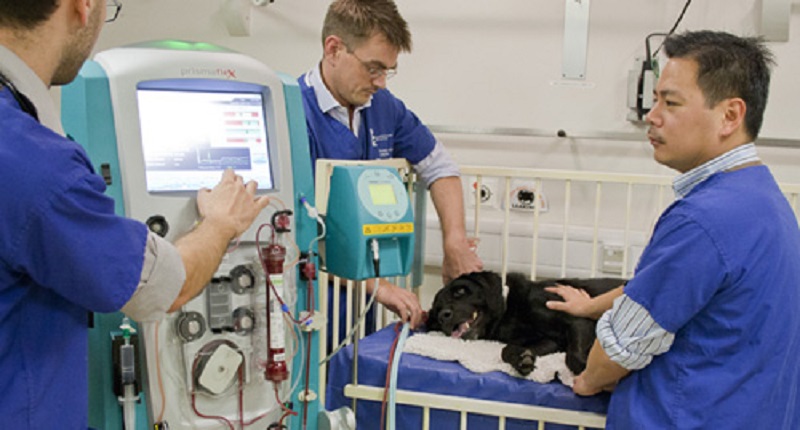 Five days after discharge from the RVC, Molly's primary care practice reported Molly was doing well, maintaining her haematocrit. After seven months, Molly is off steroids and she is doing well and is being weaned off all medications as she continues to be in remission.
Commenting on the case and on the value of extracorporeal therapy to referred patients, Stefano Cortellini, Lecturer in Emergency and Critical Care and co-director of the CRRT Programme, said: "The CRRT Programme can offer different therapeutic options to our patients, from management of acute kidney injury to the treatment of intoxications and auto-immune diseases, and more applications are yet to be discovered. Molly was a challenging yet rewarding case.
"There are always concerns when considering new treatments in diseases that can be managed medically, however new therapies can be ground-breaking, improve the quality of life and speed up the recovery of our patients. We have performed plasmapheresis in several cases, not just with IMHA, but with Molly the response was just extraordinary. From requiring one transfusion a day, she did not require any further transfusion after the treatment. This case is another great example of the RVC's transdisciplinary approach and team work ethos that involves our dedicated clinicians, residents and registered veterinary nurses in the delivery of world-class care."
The CRRT expertise and equipment has been used at the RVC to save dogs with different conditions, such as one dog who developed kidney failure following ingestion of 500 grams of sultanas last year. It has been used as a novel treatment in dogs suffering from cutaneous and renal glomerular vasculopathy, which has been dubbed 'New Forest syndrome' and for which a cure has not yet been found. Even though its role in this disease is still largely unknown, two dogs, who were severely affected and underwent plasmapheresis, recovered from this condition, which normally carries a very poor prognosis.
For more information about plasmapheresis please contact us on 01707 666365 or email us at qmhreception@rvc.ac.uk. For emergency referrals call 01707 666399.
Sign up to get Clinical Connections in your inbox rvc.ac.uk/clinical-connections