Pioneering Approach to Canine Barbiturate Poisoning
Clinical Connections – Autumn 2020
A dog that went into a coma after ingesting a potentially fatal quantity of phenobarbitone recovered at the Queen Mother Hospital for Animals (QMHA) with the help of extracorporeal therapy and intensive care provided by the Critical Care team.
Though extracorporeal renal replacement therapy has been used to save the lives of many animals at the RVC since 2012, it was the first time the team has treated a dog experiencing phenobarbitone overdose using haemodialysis.
The Extracorporeal Therapy team has been treating dogs and cats using our Prismaflex machine for patients with acute kidney injury, immune-mediated diseases (e.g. IMHA, myasthenia or polyradiculoneuritis) and cutaneous renal glomerular vasculopathy (CGRV).
Jonah, an 18-month-old cocker spaniel, appears to have swallowed the whole bottle of his brother's anticonvulsant medication, which had been prescribed for epilepsy. He was suspected to have ingested 200 mg/kg of phenobarbitone, which is a potentially lethal dose.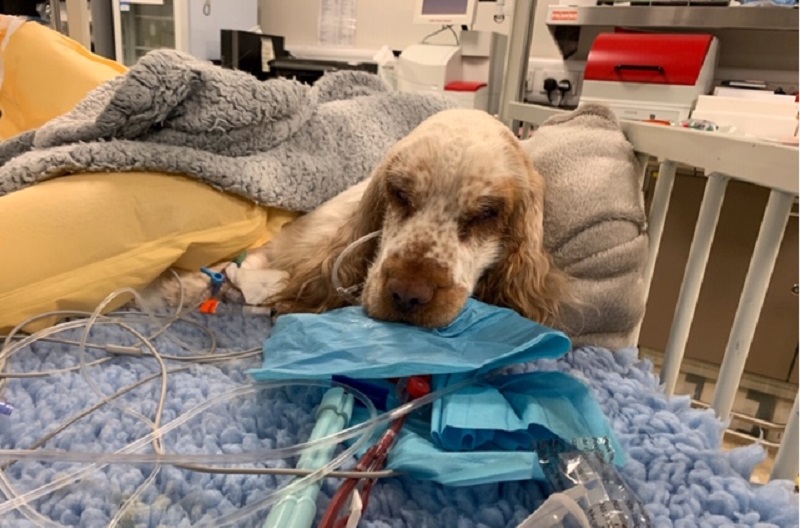 His condition rapidly worsened, and the decision to refer him for extracorporeal therapy to remove the drug from his circulation was made a day after the ingestion. He presented comatose and hypoventilating upon arrival at the QMHA, had no gag reflex and required immediate endotracheal intubation to protect his airway. Mechanical ventilation was commenced to support his breathing.
Haemodialysis was then initiated using the QMHA's CRRT machine. Jonah responded very well to the haemodialysis and during the cycle the team observed him gradually start to respond. Respiratory support was discontinued two hours later and after only four hours from starting the treatment he was responsive.
Unfortunately, in his comatose state prior to arrival at the QMHA, Jonah had aspirated, and intracellular bacteria were found on an endotracheal wash prior to removing his tube. This is a common complication in comatose patients. He was started on antibiotics to treat aspiration pneumonia and there was subsequently no deterioration of his clinical condition. Jonah's neurological improvement continued after the haemodialysis cycle and, over the following day, he became progressively more alert and ambulatory.
Fortunately, the phenobarbitone overdose did not have any overt clinical consequences on other organs – although as a precaution he was administered hepatoprotectant medication (S-adenylmethionine and ursodeoxycholic acid). A check-up at his usual practice the following week confirmed that his liver function appeared completely normal. Jonah's family reported that within a couple of days of discharge he was energetic and back to his normal mischievous self and playing with his brother.
Stefano Cortellini, Senior Lecturer in Emergency and Critical Care and Co-Head of the Extracorporeal Therapy programme, said: "Jonah's case is a perfect example of the advancement of veterinary medicine. Whilst only a few years ago intoxications like this would have been treated just supportively, we now have the tools to actively reduce the severity of clinical signs and have an impact on outcome with minimally invasive procedures."
Tom Greensmith, Lecturer in Small Animal Emergency and Critical Care, added: "Jonah's case highlights that haemodialysis for suitable intoxications can be a highly effective tool and can dramatically hasten the patient's clinical improvement. Having the expertise, technology and resources to provide many different forms of extracorporeal therapy, including haemodialysis, therapeutic plasma exchange and cardiopulmonary bypass, allows us to help treat patients with a very broad range of otherwise potentially life-limiting disorders.
"This is another case representing the support that the QMHA can give to our referring vets and to our pets. A true team effort and enthusiasm in pushing boundaries in veterinary medicine allowed a rapid intervention, instituting rapidly mechanical ventilation and completing a cycle within eight hours from arrival."