Our Most Common Emergency and Critical Care Cases
Clinical Connections – Autumn 2017
In the latest of our articles about the most common cases seen by the clinical teams at RVC Small Animal Referrals, we focus on the Emergency Referrals Service and the Critical Care Service, which are integrated and staffed by the same clinicians.
The services have a wealth of experience that allows team members to deal with all sorts of emergencies and presentations. However, there are certain conditions that are seen and treated more frequently. The ten most common case types seen by the team are,: bleeding disorders, respiratory distress, trauma, gastrointestinal disease, heart failure and arrhythmias, seizures (including toxicities), kidney injury and urinary disorders, metabolic diseases, pancreatitis and sepsis.
Some cases fall into a number of the above categories. Commenting on such a case, which drew on the multidisciplinary experience of the wider RVC team, Karen Humm, co-head of the Emergency Referrals Service and the Critical Care Service, said: "We recently saw a German shepherd dog that presented with acute abdominal pain and cardiovascular instability. He was rapidly diagnosed with septic peritonitis in the emergency room via the use of patient-side emergency ultrasound and in-house cytology.
"During diagnosis, fluid therapy resuscitation was performed which was continued while the Soft Tissue Surgery and Anaesthesia and Analgesia Services were contacted. They rapidly arrived and were able to take a stabilised patient to theatre for a positive outcome. The smooth-working efficiency was due to each team member being able to focus on their speciality and it meant the dog's owner was kept fully informed of progress."
Commenting on how in-house resources support the treatment of frequently seen conditions, such as bleeding disorders and trauma, co-head of the services Dominic Barfield said: "Emergency small animal referrals at the RVC can come in all shapes and sizes. It can be difficult to know in certain cases when is the appropriate time to refer, though that seems to be more clear cut with certain disease processes such as anaemia when whatever the underlying cause, decreased availability of blood products in general practice makes managing these cases difficult. We are very fortunate to have a blood donor programme at the RVC and have the capacity to help these patients."
He added: "The ability to have 24-hour veterinary and registered veterinary nursing care allows the monitoring that is required for critical patients. Important decisions often need to be made overnight, particularly in our respiratory patients, when we may have to decide if mechanical ventilation is required. We also have the capacity to deliver oxygen in other ways, including oxygen kennels that have heat and humidity controls. Another major advantage when managing our critical patients is that we work in a multidisciplinary environment. This is essential when dealing with trauma. Blunt and penetrating trauma always involve a transdisciplinary approach to allow effective management of these complex and potentially critical patients."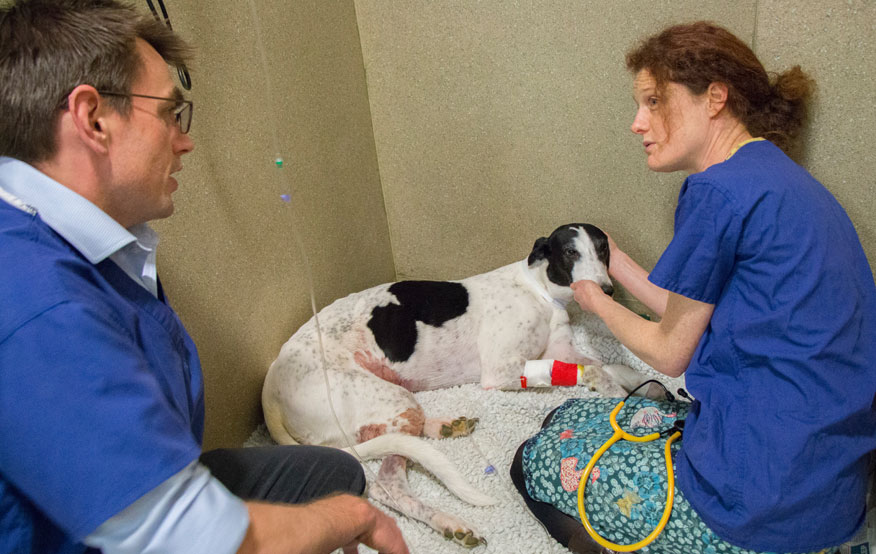 The Emergency Referrals and Critical Care team is the largest in Europe, with six team members having been awarded a Diploma by the American College of Veterinary Emergency and Critical Care and seven team members in training for the qualification. The nursing team is equally accomplished, with many nurses having, or training towards, higher emergency and critical care qualifications. An unrivalled level of critical care for pets with any critical disorder is delivered in one of the best equipped veterinary ICUs in the world.
The RVC service is the only Level 1 Veterinary Trauma Centre in Europe and it is the 5th busiest in the world. As well as offering reassurance to clients, the designation means that the team contributes to the global veterinary initiative on trauma.
The Emergency Referrals Service and Critical Care Service, as well as helping a large number of animals each year, are invaluable resources for veterinary education and postgraduate training of veterinary specialists. There are currently seven veterinary specialists-in-training working within both of the services.
ECC MOST COMMON CASES
1. Bleeding disorders
2. Respiratory distress
3. Trauma
4. Gastrointestinal
5. Heart failure and arrhythmias
6. Seizures (including toxicities)
7. Kidney injury and urinary disorders
8. Metabolic diseases
9. Pancreatitis
10. Sepsis
Sign up to get Clinical Connections in your inbox rvc.ac.uk/clinical-connections