New Wound Clinic at the QMHA
Clinical Connections – Autumn 2016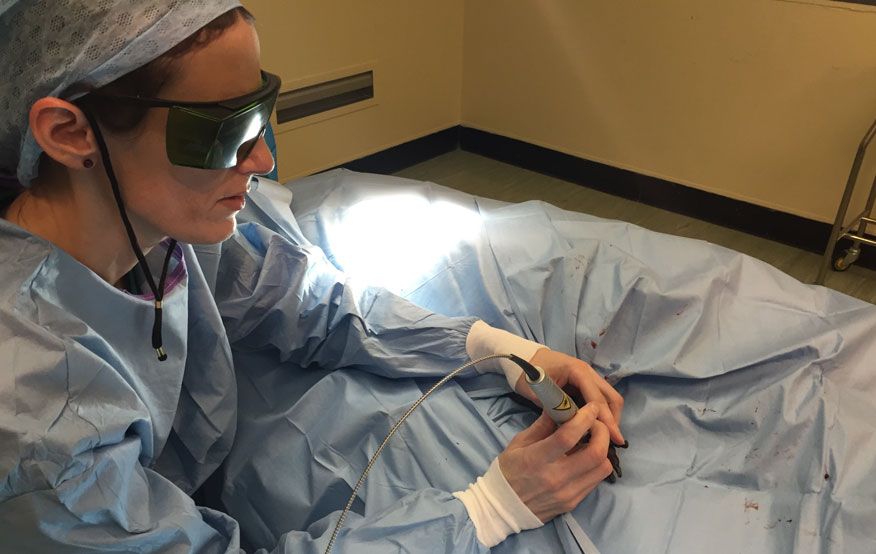 RVC Small Animal Referrals has established a wound clinic to 
support patients and referring veterinary practices.
The clinic offers tailored advice and management to complement ongoing wound care at referring practices. Working together as a transdisciplinary team, the wound clinic draws on the breadth of specialist expertise at the Queen Mother Hospital for Animals.
Referred patients receive a comprehensive wound consult at the RVC with one of the soft tissue surgeons. The clinic is led by Vicky Lipscomb, the head of the Soft Tissue Surgery Service.
Within consultations, each patient has a full history taken and receives a physical examination. Wounds are then photographed with a Silhouette camera, which uses laser beams to measure the area and volume of the wound for accurate comparisons of wound progression.
Software calculates 3D measurements of the wound's area, depth, volume and perimeter. It also captures relevant wound assessment details, such as age and any co-morbidities.
The referring vet receives a comprehensive wound report from the RVC team, which details findings and includes recommendations for wound management. Recommendations may be actioned at the RVC or the referring veterinary practice, depending on the patient's needs.
Recommendations could relate to dressings and bandaging, medication, wound swabs, advanced imaging or surgical debridement and wound lavage. For some patients, the recommendation would be a surgical reconstructive procedure (primary closure, local flap, axial pattern flap or skin graft), which RVC soft tissue surgeons have experience in.
Outpatient wound management at the RVC is available for patients with wounds that owners and referring veterinarians would like the QMHA to monitor. Each wound clinic outpatient receives a tailored wound plan with the Soft Tissue Surgery Service. They receive sedation, wound debridement and lavage as required, as well as dressing and bandage changes. Outpatients also benefit from photographic monitoring of wound progression using the Silhouette camera.
Wounds may be treated with a Class IV K-Laser therapeutic laser. It has been shown that laser therapy may speed healing by up to 30%. It also helps heal infected wounds, even those with multi-resistant infections, as the laser stimulates the immune system and increases tissue oxygenation and local blood supply.
Admission to the 24-hour, seven-day-a-week QMHA is available for patients with wounds requiring inpatient monitoring. This also offers free in-house consultations with board-certified specialists in any of the relevant disciplines required for the problems identified during the initial consultation. These include soft tissue surgery, dermatology, orthopaedic surgery, neurology, neurosurgery, rehabilitation, ophthalmology, internal medicine, cardiology and oncology. As well as the wound management outlined above, a patient-specific plan for additional laboratory work and diagnostic imaging examinations will be performed as required.
Surgical reconstructive procedures utilising a range of routine and advanced specialist techniques will be performed by our team of soft tissue surgery specialists. Particularly complex cases requiring advanced reconstruction are discussed within the soft tissue surgery team to reach an optimal pre-surgical plan.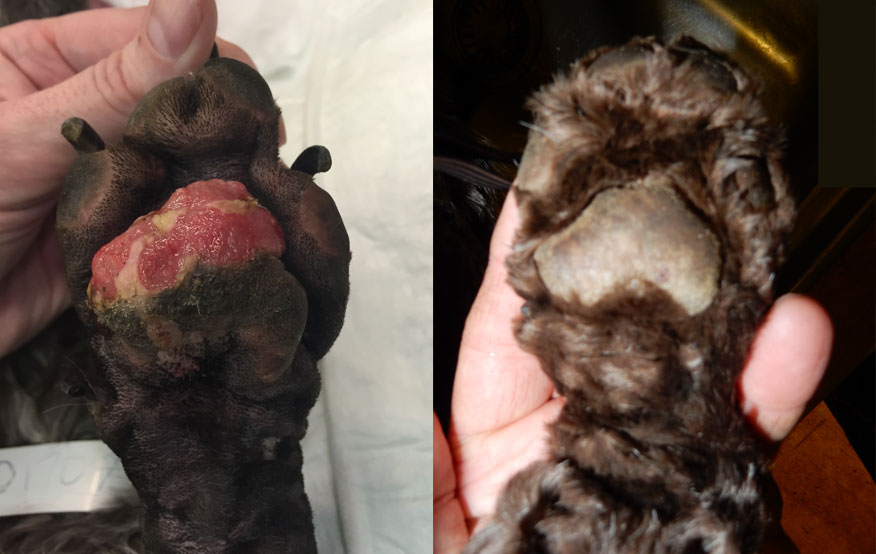 All patients receive the highest standards of post-operative nursing care in the dedicated cat ward, surgery ward and intensive care unit, depending on the level of support required. Some patients may also benefit from post-operative laser treatment of their flap, graft or surgical incisions with the K-Laser to maximise their healing potential, especially in complex cases.
Referring to one of the complex cases seen by the team, Dr Lipscomb said: "Ruari is definitely one of the most challenging wound cases we have seen this year, a wonderful cocker spaniel with dedicated owners and an extremely unusual left forelimb metacarpal pad condition. Ruari's complex wound progression over the last two years has really shown us the benefit of working together as a team.
"In Ruari's case, the Dermatology and Soft Tissue Surgery services have liaised closely with each other and Ruari's referring veterinary surgeon Simon Felger, and of course his owners Mr and Mrs Mulholland, to optimise decision-making, patient care and the best outcome possible, which has included many biopsies and medical therapies, advanced imaging, two pad surgeries and the use of the K-laser to aid wound healing after pad surgery."
All wound patients are routinely barrier-nursed using disposable aprons and gloves for every wound examination and treatment. Any patients with multi-resistant infections are removed from the general ward population and barrier-nursed in a dedicated isolation ward using full bodysuit, hat, mask, gloves and apron. Nursing care, both in theatre and on the wards, is delivered by an extensive team of highly trained and dedicated registered veterinary nurses.
Sign up to get Clinical Connections in your inbox rvc.ac.uk/clinical-connections