New Sarcoid Treatments
Clinical Connections – Autumn 2017
In recent months RVC Equine has been offering electrochemotherapy (ECT) to treat sarcoids. We were the first veterinary centre in the UK to offer the treatment option.
This treatment involves injecting cisplatin, followed by application of a small electric current across the sarcoid. The procedure is painless and can be performed where other sarcoid treatments have failed. It can be also combined with other sarcoid treatments, such as laser excision.
Three treatments are usually required, all under a brief general anaesthetic. Larger sarcoids may require additional treatments. Initial published results have found a 98% non-recurrence rate over four years, following ECT.
ECT is especially valuable for sarcoids in areas where cytotoxic cream cannot be safely applied, such as around the eye, or where the cream would rub onto unaffected areas – for example the inner thigh. We have also had good success treating sarcoids where other treatments have been attempted but failed. These can be anywhere on the body.
Until recently a cost-effective treatment for periocular sarcoids was fortnightly intralesional injections of Bacillus Calmette–Guérin (BCG) vaccine. However BCG vaccines have become extremely difficult to source. Radiotherapy in the form of brachytherapy is also an effective treatment but is expensive. ECT is proving to be quick, safe and efficacious.
Typically the horse will be admitted on the morning of the procedure having been starved overnight. The treatment is performed under a brief 15 minute anaesthetic and, where necessary, sarcoids are debulked using a diode laser beforehand. Typically a periocular sarcoid will require three treatments but this is size dependent.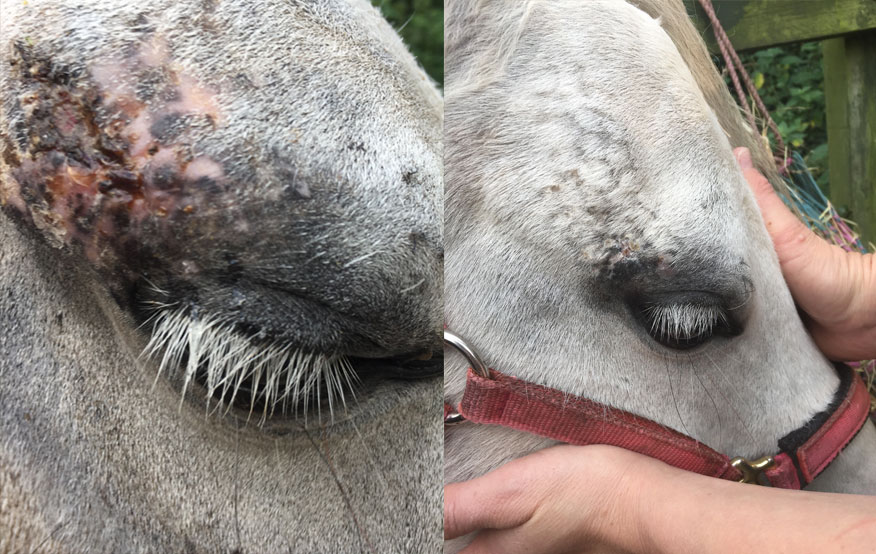 Post-treatment care
Aftercare is dependent on the sarcoid's location and whether they have been debulked by laser first, or other sarcoids have been treated with laser. If only ECT has been used, the horse will be under normal management post-treatment. The horse is kept in the hospital for 24 hours.
Three days of phenylbutazone is recommended, although there is seldom evidence of pain despite some local swelling which lasts between one and five days.
Close liaison with the referring vets is important during the post treatment phase as the need for repeat treatment will be dictated by the appearance of the sarcoid. We encourage the owners to take regular photos allowing intervention if required.
Commenting on the treatment, Senior Lecturer in Equine Surgery Andy Fiske-Jackson said: "Electrochemotherapy has given us an important treatment option for sarcoids that is very well tolerated and effective. It ensures the RVC Equine Referral Hospital has an effective treatment option for any sarcoid anywhere. "We have predominantly used the treatment for periocular sarcoids but sarcoids on the mammary glands and hindlimb pastern have also been successfully resolved. The success rate is very pleasing and particularly impressive has been the resolution of sarcoids aggressively re-growing following failed previous treatments. The treated sites appear painless following the procedure."
For equine referrals, please contact RVC Equine on 01707 666667 or email equinehospital@rvc.ac.uk