Introducing the Oncology Team
Clinical Connections – Autumn 2020
Over the past centuries, decades – and even years – veterinary medicine has developed dramatically. Those who came before us commonly treated a great variety of animals, from budgies to cows. Nowadays, veterinarians tend to either treat small animals, large animals or equine patients. A subset of vets take it to the next level of specialisation and focus on a very specific field, such as small animal oncology.
This degree of specialisation is invaluable in large clinics and universities, such as at the Queen Mother Hospital for Animals, where a multidisciplinary and transdisciplinary approach allows the highest level of patient care.
The Oncology Service at the RVC is a made up of a young, growing and dynamic team. The head of service, Irina Gramer, is supported by two senior clinicians, Alexandra Guillen Martinez and Sarah Stewart, and three senior clinical training scholars (or specialists-in-training), Hanne Moberg, Andy Yale, and Francesco Rogato. We all have different areas of special interest within the oncology field that allow us to offer a dynamic and robust approach to the management of cancer.
As an example, we are leading the way with the incorporation of novel imaging techniques in the hunt for tumour cells. This takes the form of sentinel lymph node mapping – a technique that highlights the target site for therapy, thereby reducing morbidity for patients and increasing the accuracy of treatment.
Our oncology veterinarians are supported by a highly skilled team of Registered Veterinary Nurses, who are equally specialised in the field of oncology. They are Nicola Read, Rachel McCormack, Kelly Druce, Carrie Harvey, and Lucie Wilkins. Our oncology nursing team works directly with the veterinarians to ensure a high level of client communications and patient care. Not only are these nurses skilled in the management of our patients but we are equally proud of their achievements in furthering veterinary education within the veterinary nursing programmes at the RVC.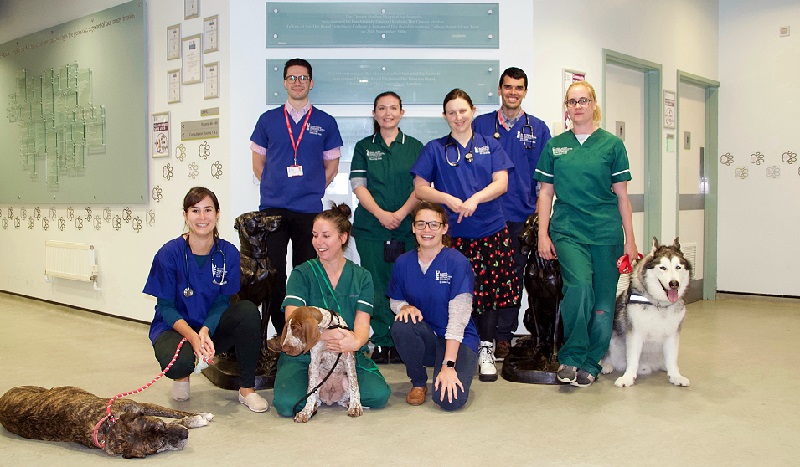 The oncology team works closely with other services at the RVC. We follow the ethos that a transdisciplinary approach will ensure the best outcome for patients. Cancer is a scary word for most veterinary clients, with different connotations for different people. When faced with the diagnosis of cancer, pet owners naturally seek reliable information and options for their pet. We believe that knowledge is power when fighting cancer. We aim to work closely with our clients to ensure they feel empowered to make decisions about treatment and ready to face the challenges associated with this fight.
Veterinary oncology closely follows advances in human medicine and pet owners can expect similar treatment choices for their pets as they might expect for themselves, their children, or their relatives and friends, albeit always focusing on each pets' quality of life first.
The RVC's Oncology Service takes pride in offering advice to referring veterinarians and owners, as well as treatment options to families who wish for the most appropriate and modern cancer care for their animals.
Our Oncology team has the vision to improve animals' quality of lives and accompany pet owners along this often challenging and emotional journey. Please get in touch via the QMHA reception on 01707 666366 if you would like further information.