Improved Monitoring of Anaesthetised Patients
Clinical Connections – Spring 2020
A new anaesthesia monitor at the Queen Mother Hospital for Animals (QMHA) enables patients to be safely monitored at all times, including during CT scans when staff are not able to be present in the CT room with the patient, due to radiation safety.
The monitor is fitted with advanced measurement capabilities which help to monitor the patient throughout the CT scan. As it is difficult to see the information displayed on the primary monitor screen beside the patient whilst the CT scan is taking place, so the second screen in the control room ensures that patients can be monitored closely, that decisions can be made quickly so that patient care is assured.
The new monitoring equipment allows CT scanning process to be kept as short as possible as continuous monitoring means that there is no need to interrupt scanning to return to the room to re-adjust the settings of the monitor or to check on the patient to ensure they are safe.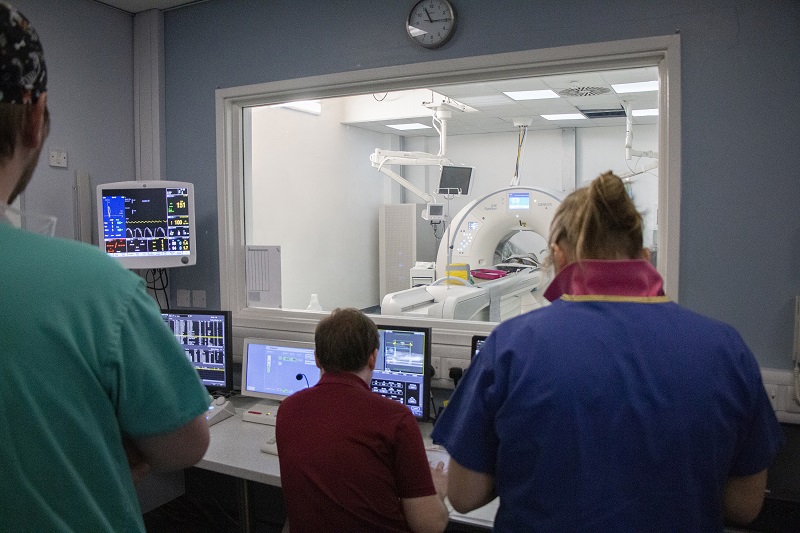 Describing the value of the monitor is to patient safety and care, Dr Ludovic Pelligand, Head of the Anaesthesia and Analgesia Service and Professor in Veterinary Anaesthesia and Clinical Pharmacology, said: "The Anaesthesia Team is dealing with high-risk patients on a daily basis and the animals requiring CT examinations can present with the most life-threatening conditions. We are fully equipped with advanced monitoring devices around the hospital to ensure patient safety to the highest standards, however monitoring patients in CT is not immediate as we have to be out of the room during the scan, for radiation safety reasons. Now, we have the ability to monitor anaesthesia remotely in our new CT suite and so we can detect complications promptly or even prevent them before they occur.
"That gives us peace of mind, as we know how our patient is doing at all times throughout the procedure – interventions are not delayed if they are necessary. This also allows faster acquisition times (less need to interrupt the imaging flow) and improve hospital efficiency, as the CT is a frequent bottleneck in the hospital flow."For the patients, it means shorter anaesthetic time and improved safety. Our 'human anaesthetist' colleagues are not exposed to this dilemma, as their patients are either anaesthetised with them in operating rooms or fully conscious during advanced imaging as CT and MRI."
Lisa Angell, Head Nurse for Anaesthesia added: "As an anaesthesia nurse, when my patient is sedated or under anaesthetic, I want to be by their side monitoring their vital signs at all times. Unfortunately, when a patient is having a CT scan, we are unable to stay with them, so having comprehensive monitoring equipment with an additional screen in our control room allows us to continuously monitor our patients for the duration of their procedure. This enables us to always monitor their airway, breathing and circulation, ensuring that if we see any changes to our patients' status, we can act immediately to hopefully prevent any emergency situations."
The purchase of our Carescape B450 with additional slave screen was supported by the Animal Care Trust.
The Anaesthesia and Analgesia Service
Our anaesthesia cover operates 24 hours a day, 365 days a year. Out-of-hours cover is provided by up to three clinicians per shift. We have one of the largest veterinary anaesthesia teams worldwide, with nine anaesthesia/analgesia specialists, seven residents and 12 veterinary nurses specialised in anaesthesia. We have a dedicated post-anaesthetic ward to ensure state-of-the-art recovery under constant monitoring until the patient is ready to be transferred to wards.
Our transdisciplinary approach ensures that complex cases which overlap several specialty fields have input or are managed by the appropriate veterinary specialists and their teams. Case-flow is managed by hospital coordinators, which allows rapid management of emergency and optimal capacity to deal with high volume / high risk operating lists.