Getting the Best out of Biopsies at the RVC
Clinical Connections – Summer 2017
Dr Jonathan Williams, Lecturer in Anatomic Pathology
The RVC anatomic pathology team provides professional expertise in post mortem examinations, histopathology and immunohistochemistry for domestic species. Farmed livestock are also examined, in a partnership arrangement with the Animal Plant and Health Agency (APHA).
The group consists of a core team of six specialist anatomic pathologists that have a broad range of expertise in diagnostic pathology and disease research. We offer both a diagnostic biopsy service and post mortem service on a first and second opinion basis and have specialists in ocular, gastrointestinal, respiratory, and equine pathology.
Our farm animal pathology and diagnostics service, in partnership with the APHA, provides livestock post mortems and national veterinary disease surveillance. It also provides post mortems for the police and RSPCA in forensic cases.
We serve our external clients and our specialist clinical teams across the RVC together with our trainee pathologist team, who take part in all aspects of our services. As a team we endeavour to deliver excellence in clinical service, whilst providing critical training in pathology. This includes teaching veterinary undergraduate students during rotations, and training within our postgraduate residency programme, which provides an important training pathway towards producing veterinary pathologists for the future and certification by the Royal College of Pathologists and American/European Colleges of Veterinary Pathologists.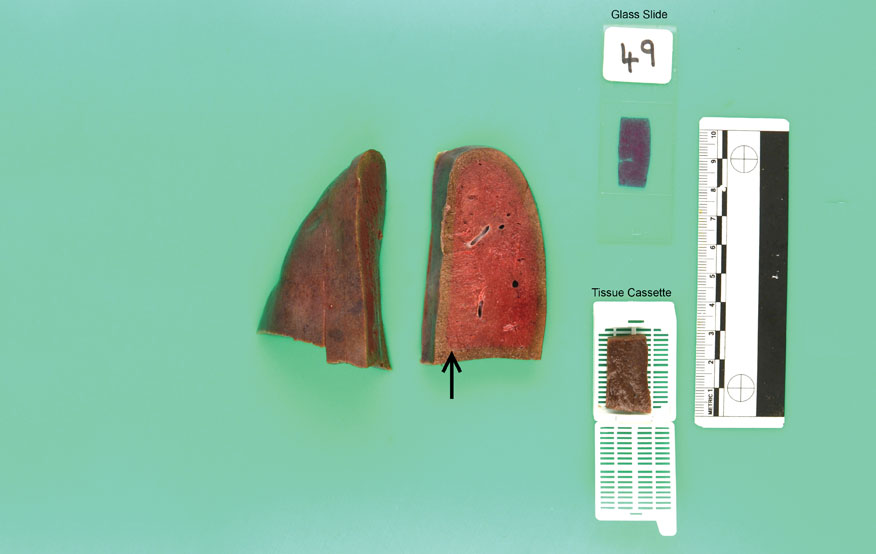 As a teaching institution, part of this training is in teaching students the day-one skill of how to perform a post mortem examination, and in helping students appreciate the principles of providing good biopsy samples to pathologists so that they can help deliver high quality information back to them to aid their clinical decision making. These principles are always worth remembering for students and vets in practice alike, and really help us to get the best out of precious samples for clinicians.
For biopsies, the final product is glass slides. The area of tissue we can view is limited by the size of the slide, and the size of the tissue processing cassette. Therefore tissue samples should be:
Representative of larger lesion(s), and incorporate both the lesion and the lesion borders/surgical margins/lymph nodes 
as appropriate.
Less than 1cm thick and properly fixed. Formalin penetrates tissue at a rate of less than 1mm per hour, and while it is doing this, the tissue is degrading (see main pic). Therefore sub-sampling the tissue is required. Incomplete slices at 1cm intervals can help fixation and maintain anatomical relationships in larger samples if critical.
Placed in 10x the tissue volume of neutral buffered formalin as soon as possible.
Placed in separate labelled containers if from different sites, which will help us give site specific information in a report.
As part of our service for standard biopsy samples, we aim for a one day turnaround of cases after processing, and where appropriate will employ relevant special stains to help reach a diagnosis as part of the submission cost. For complicated cases, we will often seek second opinions from our colleagues, and may advise performing supplementary immunohistochemical markers administered by our in-house autostainer, to further characterise lesions and aid in reaching a diagnosis.
Giving us all the relevant information, including signalment, relevant clinical history, clinical differentials and any specific questions to be addressed in the submission form will help us to interpret samples and make specific and constructive comments to the clinician.
Above all, we are a friendly and approachable team, and are always happy to advise our clients in best practice when sampling and to get the best results for them.

To find out more about the service visit the website www.rvc.ac.uk/pathology-and-diagnostic-laboratories
Sign up to get Clinical Connections in your inbox rvc.ac.uk/clinical-connections