Farm Animal Post Mortems
Clinical Connections – Autumn 2017
Dr Sonja Jeckel, Lecturer for Farm Animal Disease Diagnostics
At the RVC, we have a long-established Farm Animal Pathology and Diagnostics (FAPD) Service and represent an expert post mortem examination provider for the government's Animal and Plant Health Agency (APHA).
There are only six APHA regional post mortem laboratories and five external third party post mortem examination providers in England and Wales. We predominantly cover London and the South East but also support areas in the Midlands. The RVC also contributes to APHA's species expert groups for avian, small ruminants and cattle.
Our post mortem service is for all farmed animal species, including cattle, small ruminants, pigs, deer, camelids, poultry and gamebirds. Dr Henny Martineau, who heads Veterinary Forensic Pathology, and I have long-standing experience in pathology of farmed animal species.
Over 150 APHA farm animal post mortems have been conducted here in the past year. In addition, our workload has included private cases. Approximately 43% of our cases are small ruminants, with the remainder made up of cattle, game birds, pigs, deer and reindeer. We also process poultry cases including backyard chickens.
As well as routine disease investigations (often involving parasites or bacterial infections), we have investigated several more unusual outbreaks including poisoning cases in cattle (e.g. lead poisoning) or sheep (e.g. plant (yew / rhododendron). The RVC has also been involved in investigations of Schmallenberg virus deformities in lambs and bleeding calf syndrome.
The FAPD is a third party expert PME provider for APHA and can therefore offer PMEs for a subsidised charge if the carcass is considered suitable for surveillance purposes. This applies to backyard chickens and farmed livestock.
Suitability is assessed following telephone conversation between the submitting private veterinary surgeon and a veterinary member of the FAPD. Even if not suitable for subsidy, our charges for PME of farmed animals are highly competitive.
An APHA subsidised carcass collection service to FAPD is available for carcasses suitable for surveillance PMEs from specified postcodes within the RVC's catchment area that are more than one hour's drive away.
To check eligibility for carcass collection and delivery to the RVC please enter the farm's postcode into the APHA postcode search tool: http://ahvla.defra.gov.uk/postcode/pme.asp
We are unable to provide or organise a carcass transport for animals from outside the specified postcodes or for carcasses not suitable for surveillance PMEs. In these cases, clients will be required to organise carcass transport themselves.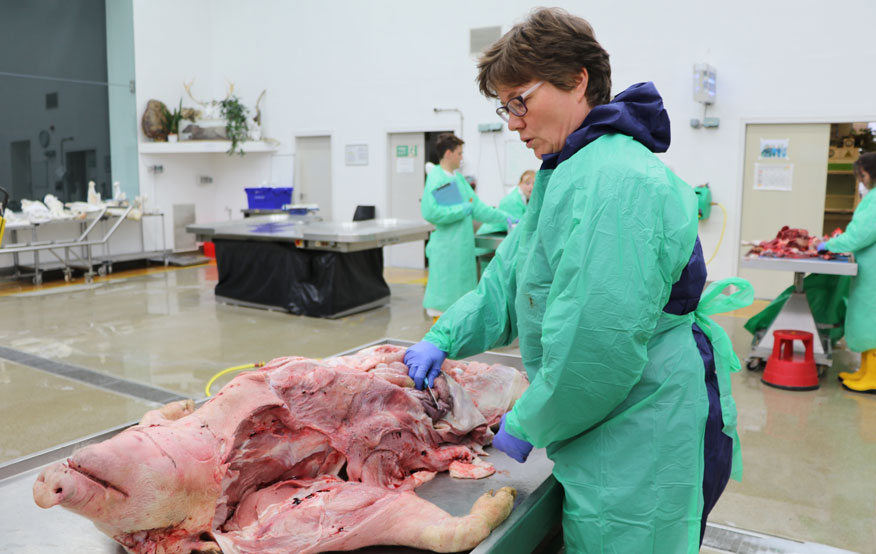 What referring vets can expect
Early telephone notification (ideally before 10am) of potential cases is important in order to try to ensure same day pickup. Advanced autolysis can impede diagnostic success.
A post mortem examination will be done the same day if submitted before 3pm. A first report/update is provided within 24 hours of post mortem examination. We often call the submitting vets the same day to update them on important findings and allow for speedy intervention at herd level. Follow up results will be provided as test results become available. Emphasis is put on fast answers for flock / herd problems. A comprehensive written report is sent to the referring vet and our team is on hand to discuss diagnostic aspects, case questions and any concerns that may arise.
As a teaching facility, our veterinary students are involved in almost all PMEs under staff supervision. Post mortem submissions provide invaluable learning opportunities for the vets of the future. We would like to encourage you to give us a call (01707 666630) to discuss any interesting cases in farmed animal species that you encounter. Where possible we will try to advise you on suitable diagnostic testing including the use of PMEs.
The FAPD gets valuable input from RVC's team of specialised anatomic and clinical pathologists and senior clinical training scholars, as well as from specialised clinicians at the RVC Farm Animal Clinical Centre.
Details about carcass submissions and prices are available on our website: www.rvc.ac.uk/pathology-and-diagnostic-laboratories/RVC-FAPD
For post mortem examinations of farmed animals please phone the FAPD on 01707 666630 (or 07793 801684) or email us fapd@rvc.ac.uk